AT&T Bets Big on OTT to 'Bend the Cost Curve' of TV & Video

Comment (1)
With an eye fixed on profitability, AT&T is placing a massive bet on OTT, streaming and direct-to-consumer products as it looks to "bend the cost curve" of its broadening blend of TV and video products over the next two to three years, top company execs said Thursday in an analyst meeting in New York.
AT&T Inc. (NYSE: T) outlined those strategies as part of its long-term plan while also announcing the development of a three-tiered SVoD product that's slated to debut in Q4 2019 and will lean heavily on content from its newly formed WarnerMedia unit and compete head-on with OTT video products from Netflix Inc. (Nasdaq: NFLX) and Amazon.com Inc. (Nasdaq: AMZN) and those under development at Walt Disney Co. (NYSE: DIS). (See Disney Dispenses Details About Its New Streaming Service.)
A big focus is to get AT&T's OTT platform "stabilized" in a way that delivers profitability, AT&T chairman and CEO Randall Stephenson said, noting later that pricing moves and a more extensive use of targeted advertising will both factor into that plan.
The challenge is to fix a struggling pay-TV business. "When you're coming from double-digit declines, flat feels like a good place," Stephenson said. "We've got to get through flat to get to positive in 2020, and that's our target."
AT&T has been trying to remedy the situation with skinny bundle streaming services such as DirecTV Now and WatchTV and has likewise "retooled our OTT profitability" in terms of how those services are being priced, packaged and promoted, John Donovan, CEO of AT&T Communications, said. "OTT profitability is a very important part of what we're going to do," he said.
That effort also includes a new Android TV-powered OTT thin-client device that AT&T has been testing to help it deliver the company's bigger, premium-level packages.
Donovan said AT&T has deployed about 6,000 of those boxes so far, and is being cautious on how rapidly it ramps up the distribution as it irons out operations and mulls final pricing. (See Operator-Supplied Boxes Still Have Role in Video Streaming Era.)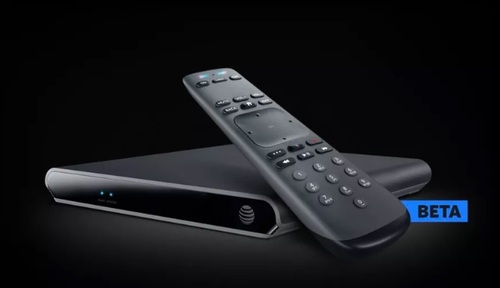 However, the plan is raise the percentage of premium pay-TV customers that will take the self-install route with the new thin-client OTT box in the early part of 2019, he said.
While AT&T expects that device to help drive down some of its upfront operational costs, the company also hopes to reduce programming costs as it re-examines its distribution deals and develops slimmed-down tailored to specific viewing profiles, and teams those products with targeted advertising from its new Xandr division. (See AT&T Launches Xandr, Signs Altice USA & Frontier to New Ad Unit.)
"We have to bend the cost curve," Donovan said, noting that it will take a couple of years for AT&T to cycle through new deals with programmers that will accommodate the company's new video models.
The front end used for that thin-client device and the retail devices that will support AT&T's various streaming services will be unified, and they'll all run off a common back-end architecture. AT&T expects that the front-end piece will enable the company to make swift changes, updates and upgrades.
"The front end is really about speed," Donovan said. While changes today take about six weeks due to current backlog, that timing will eventually be cut down to one to two weeks, he predicted.
Three-tiered SVoD arriving in late 2019
John Stankey, CEO at WarnerMedia, introduced a three-tiered SVoD product that's expected to debut in beta form in Q4 2019. AT&T dropped some initial details about that plan last month. (See AT&T Sets Sights on Another Streaming Service.)
AT&T hasn't announced pricing for its coming set of SVoD tiers, but the entry-level offering will focus on movies, while the premium tier will add in unique original programming and more theatricals. The top-tier bundle will feature content from the first two bundles along with a deeper library that includes genres such as classics, kids and family, and comedy.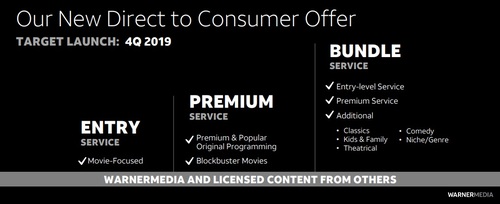 Stankey said the service has to be strong enough to be part of the "essential consumer set" that's part of the $150 that consumers spend each month on entertainment on average.
Stankey also issued a warning to existing SVoD services (i.e. Netflix and Amazon) that still rely heavily on licensed content to flesh out their libraries. Some of that content will be going away as AT&T and Disney/Fox launch their own direct-to-consumer services.
"I think some of the incumbents that are in that space today should expect that their libraries are going to get a lot thinner as we get out 18 to 24 months in the number of hours that they have available for their consumers," he said. "I don't think they go away, but they're not going to be the same size they are today."
At the same time, he sees no reason why content from third-party programmers and studios can't also live on WarnerMedia's coming D2C platform.
— Jeff Baumgartner, Senior Editor, Light Reading
PARTNER PERSPECTIVES
- content from our sponsors
GUEST PERSPECTIVES
- curated contributions