Google's Building Unity Underseas
It seems
Google
(Nasdaq: GOOG)'s plans for world domination include laying a submarine cable in the Pacific Ocean.
Australia's
Communications Day
reported last week that the search engine giant is in talks with a group of at least half a dozen carriers that includes
Asia Netcom
and
Telstra Corp. Ltd.
(ASX: TLS; NZK: TLS). The "Unity" cable would use two separate routes to provide network diversity, although exact landing points are yet to be determined.
Unity was apparently referred to in a presentation by Mike Saunders,
Level 3 Communications Inc.
(NYSE: LVLT)'s director of business development, at the Submarine Networks World 2007 conference in Singapore earlier this month -- although he did not indicate Google was involved.
A
job listing
on Google's Website for "Strategic Negotiator, Submarine Cable" makes it clear the company is mulling a larger role in the subsea space: "These negotiators will work closely with vendors to identify highly cost-effective solutions under the most favorable commercial and technical terms possible. They will also be involved in new projects or investments in cable systems that Google may contemplate to extend or grow its backbone."
Google has become increasingly active in its infrastructure investments -- buying up dark fiber, peering with telcos and ISPs, making a play for wireless networks, and investing in powerline technology. (See
Google: Dark Fiber Story Not So Dark
,
Google's Own Private Internet
,
Google Pledges $4.6B for Spectrum
,
Google Takes WiFi Plan to the 'Hood
,
Mountain View Gets Free Access
, and
Google's Powerline Play
.)
Joining a consortium to build a new cable would give Google access to its own capacity at build-cost and enable it to peer directly with ISPs in Asia, where Internet traffic is climbing steadily. It would also be a blow to other capacity providers, for which Google is a major source of traffic.
According to
TeleGeography Inc.
's Global Internet Geography research service, Internet traffic across the Pacific increased 41 percent between mid-2006 and mid-2007.
Several proposals have already been floated for new subsea projects in the region -- including the Trans-Pacific Express and the Asia America Gateway -- in addition to upgrading cables such as Pacific Crossing-1 and the Japan-US Cable system. (See
Carriers Plan $500M Transpacific Link
,
Telstra Picks ALU for Subsea
,
Fujitsu Scores Massive FLAG Deal
,
Southern Cross Picks AlcaLu
,
Fujitsu Wins Japan-US Cable Deal
,
FLAG Announces NGN
, and
Carriers to Connect China With $500M Cable
.)
According to TeleGeography, the cumulative effect of all this activity will be to boost lit transpacific submarine cable capacity by 120 percent to 7.2 Tbit/s by the end of 2008.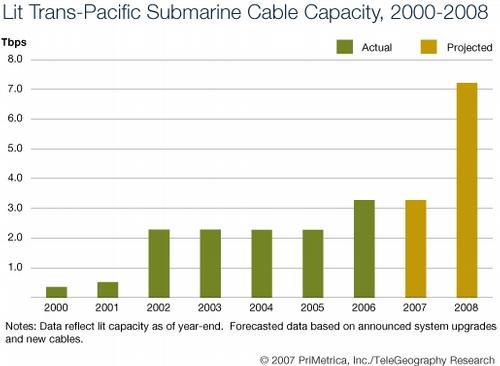 Analysts are concerned that such a ramp-up could create a bubble and lead to oversupply, much the same as what happened on the transatlantic route.
Saunders' presentation at the Submarine Networks conference was titled "Asia Pacific cable builds: another Atlantic waiting to happen?" The
program
lists such questions as: "Multiple cables have been announced for the transpacific routes... are they all viable and sustainable?" and "Can oversupply be avoided without running into a shortage?"
TeleGeography analyst Alan Mauldin notes that, although the price of leasing a 10-Gbit/s wavelength circuit across the Pacific is more than 10 times higher than comparable capacity across the Atlantic, "in the face of so many new cables, the transpacific market is in danger of a price collapse similar to that which has plagued transatlantic cable operators."
— Nicole Willing, Reporter,
Light Reading
PARTNER PERSPECTIVES
- content from our sponsors