Open source projects and telecom's standards development organizations must work together to speed production of multi-vendor interoperability and automation for NFV and SDN, according to a Linux Foundation whitepaper released today. Such an effort requires close coordination, however, as well as a realization by each side of what it does best and careful attention to legal and intellectual property challenges.
The time is ripe for such an effort, because open source projects are proliferating as standalone projects, and need to be "better aligned with end users that maintain common technology stacks," according to the whitepaper "Harmonizing Open Source and Standards in the Telecom World."
It builds on a unified architecture presented by Arpit Joshipura, head of networking for the Linux Foundation, at the recent Open Network Summit. That aligned various open source groups with existing SDOs and also pointed to places where efforts overlapped or duplicated. One of the Linux Foundation goals for this year is "harmonizing" those open source efforts to eliminate duplication. (See Time for a Telecom Reboot.)
The unified architecture, shown below, is Joshipura's effort since assuming his role in late 2016, to spell out where open source projects and SDOs fit together, as well as where they might overlap. That's a first step, he says, educating the market about what a potentially confusing array of open source projects are addressing.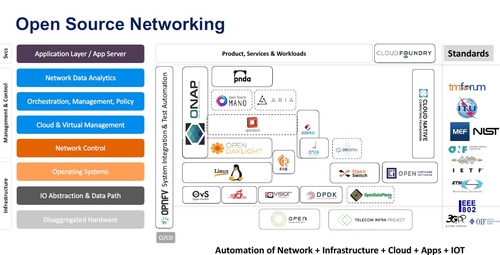 The industry is already accepting that open source projects can move faster, focusing on code and implementation and not just specifications on paper. There is a role for SDOs going forward as well, where reference architectures and use cases are concerned. Joshipura says the Linux Foundation's intent is to acknowledge both sets of groups have the same goal -- adoption of software-defined networking and network functions virtualization – and determine where to go from there. (See Together, We Can Build the Telecom 'App Store'.)
---
Want to know more about NFV and open source strategies? Join us in Austin at the fourth-annual Big Communications Event. There's still time to register and
communications service providers get in free.
---
A lot of that work is already underway -- TM Forum, MEF and ETSI NFV ISG are already engaged with open source groups, and in day-long meetings after the main part of ONS concluded other organizations were part of both open and closed sessions in which how to align their work was discussed. That underscores the Linux Foundation intent to be the place where the dialogue between SDOs and open source projects -- including those outside its purview -- take place.
"As a neutral party, we would like to facilitate those conversations, but some of that may take place in the standards groups themselves," Joshipura says. "The first step is project by project, standard by standard -- we will look at introduction goals, what are complementary things."
Agreeing on common terminology is one key step, so that organizations can communicate effectively. "We agree on the end results but the paths are different on how we get there and when the paths are different, it's important to get terminology aligned and processes aligned and start the dialogue for the actual architecture and the integration," he comments. "Open API does not mean the same thing when I say it as when a vendor says it or when another open source project says it. That is where things are -- when we say northbound -- northbound to what? We need to be talking about the same things."
There are a couple of particularly tough challenges to bringing open source and SDOs together. One is addressing the different approaches to managing intellectual property, and the other one -- not unrelated -- is creating better incentives for vendors to participate and contribute.
As the whitepaper points out, the faster pace at which open source works "can cause consternation" over how to align intellectual property models. There are different approaches to IP rights across the spectrum of SDOs -- some of which are industry forums or consortia -- that vary widely but in general, open source has a more permissive approach with minimal requirements for distribution, Joshipura says.
There will need to be significant discussion on how to align these different models to produce something that works for all parties, he adds.
Linux Foundation executives have also been very blunt in acknowledging what isn't working right now and that is the business model for many vendors to engage and contribute to open source projects, given how their existing profit-making product lines can be undermined by the advance of open source. That's another major area for continued work, Joshipura says.
For now that work will focus on getting more network operators engaged and contributing to open source projects, so that they help shape processes and speed things up on the vendor side, enabling the latter to get products to market faster and thus see revenue and profits, he adds.
— Carol Wilson, Editor-at-Large, Light Reading
---
CALLING ALL CLOUD, NFV AND SDN COMPANIES: Make sure your company and services are listed free of charge at Virtuapedia, the comprehensive set of searchable databases covering the companies, products, industry organizations and people that are directly involved in defining and shaping the virtualization industry.
---