 Heavy Reading has published its new 2023 Open RAN Operator Survey, the fourth in a series of surveys previously conducted in the fall of 2018, summer of 2020, and fall of 2021.
The question on everyone's lips, of course, is: Are we nearly there yet?
For an analyst, this is the hardest call to make — it depends on lots of factors, from definitions to measures of success. And I am not making that call here. But we can ask operators if they believe open RAN products and architectures are ready for commercial deployment.
According to the Heavy Reading survey, approximately a third (36%) say that in terms of overall system performance, open RAN is now "mature for scale deployments." This is a solid sign that the open RAN is advancing and is deployable in the right circumstances for a lead cohort of operators.
The Heavy Reading 2023 Open RAN Operator Survey can be downloaded in full for free here.
This survey shows clear progress since Heavy Reading's 2021 survey, conducted 17 months previously. The figure below compares the 2021 and 2023 responses to the question of whether open RAN is "mature for scale deployments" and shows a positive change in sentiment. For example, the response for overall system performance moves from 18% to 36% and security robustness from 9% to 29%. These results are strong indicators that open RAN technology is making consistent year-over-year progress.
Q: In terms of readiness for commercial deployment, how mature do you think open RAN products and architectures are today?
Figure 1: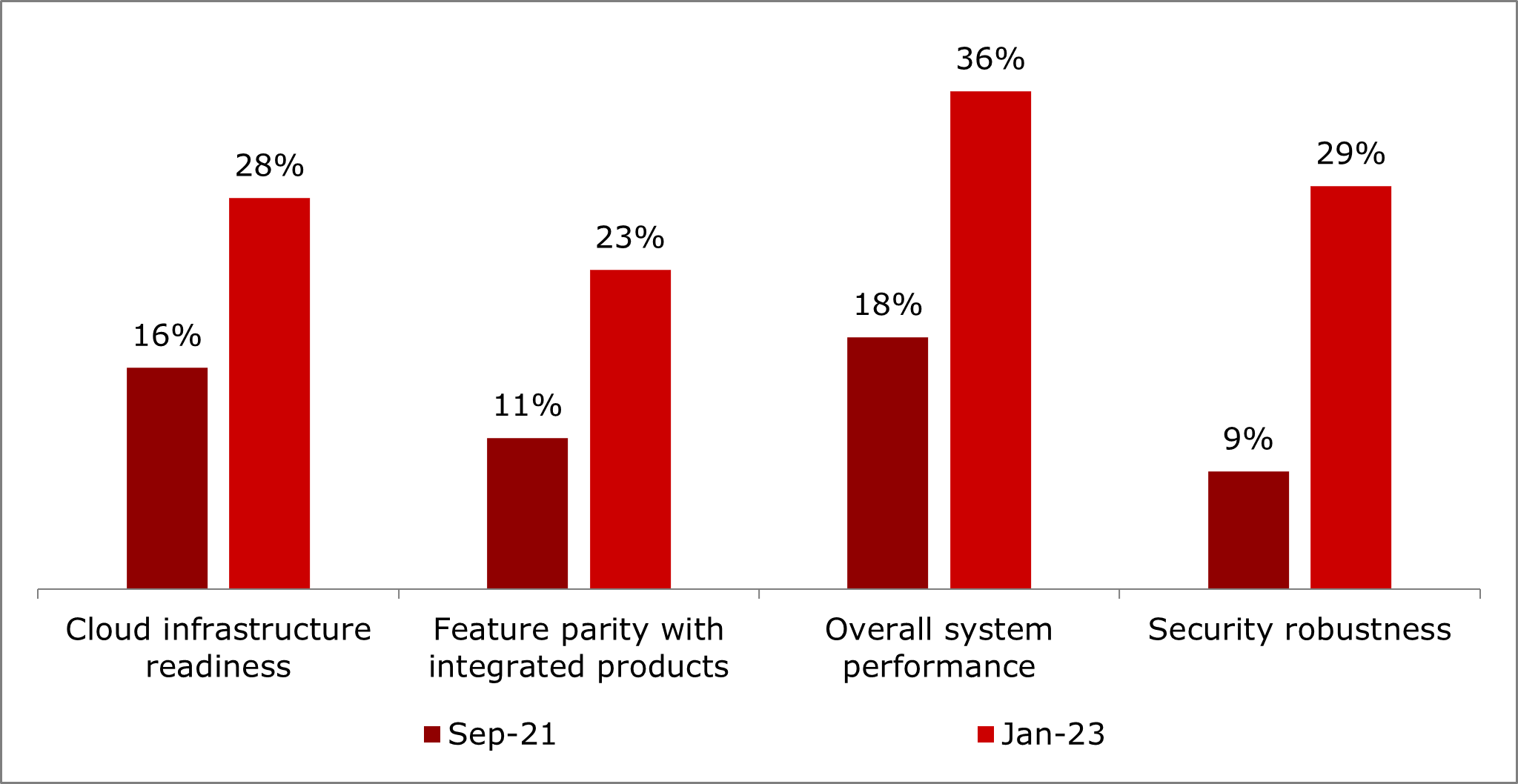 Open RAN is "mature for scale deployments" (2021 vs. 2023)
(Source: Heavy Reading)
But the data also shows that a majority of respondents (approximately two-thirds) do not yet think open RAN is ready to scale. This finding underlines that further technology, product and process development is required to meet mainstream operator needs.
The industry may not be that far away, however. Brownfield operators with experience in the field now report that open RAN can deliver equivalent radio performance and customer experience as vendor-integrated RANs. And several large incumbent operators are planning for large-scale, wide-area deployment from about 2025 onwards (see "Operators hold the course with open RAN").
Another useful reference to gauge the state of development is the Open RAN MoU progress update on maturity, security and energy efficiency paper published by the European Operator MoU Group in February 2023 (available as a PDF here). The paper notes:
The technology gap between traditional RAN and open RAN is closing … A key focus in 2023 will be around maturity of 5G for urban areas and minimising system integration overheads.
The overall picture, then, is that open RAN is maturing, and operators are closer to deploying the technology "at scale." But it is also clear that the ecosystem must keep working to meet the performance, feature and operating requirements of the world's mobile networks.
The Heavy Reading 2023 Open RAN Operator Survey can be downloaded in full for free here.
This blog is sponsored by NEC.
Subscribe and receive the latest news from the industry.
Join 62,000+ members. Yes it's completely free.
You May Also Like
---