Comcast is launching into mobile, and that's market-impacting news no matter how you slice it. But one of the cable company's big financial advantages over incumbent carriers is supposed to be that it can use its existing WiFi footprint in addition to a reseller agreement with Verizon for customer connectivity. And as it turns out, that WiFi advantage only applies initially to consumer data usage, not to the voice calls that anchor a traditional mobile service.
With the introduction of Xfinity Mobile today, Comcast Corp. (Nasdaq: CMCSA, CMCSK) is getting ready to activate a service that relies entirely on Verizon Communications Inc. (NYSE: VZ)'s network for phone calls, while also automatically connecting customers to Xfinity WiFi hotspots for online activity. Even with data usage, Comcast won't support seamless handoffs between its WiFi footprint and Verizon's cellular network. If a customer moves out of range of a Comcast hotspot, the user's Internet connection will drop until the mobile device re-establishes Verizon connectivity.
Comcast has clarified that both WiFi calling and seamless handoffs will be added to the Xfinity Mobile service. But neither function will be available at launch.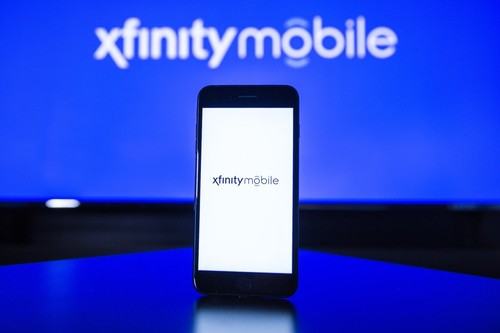 Diving into the details of the new offering, Comcast is partnering with Apple, LG and Samsung for mobile handsets and giving customers the option of paying for their phones upfront or signing up for monthly payments. Xfinity Mobile will be available with two different pricing models. Customers can choose either unlimited data, or per-gigabyte pricing at $12 per GB per month.
Importantly, Xfinity Mobile will only be available as part of a bundle with other Xfinity services, meaning that only consumers in the cable company's service area (and no business customers to start) will be able to buy the wireless offering. Comcast is also placing a clear priority on its highest-value customers in selling the new product. For subscribers with some of the top-tier X1 packages, an unlimited mobile data plan will only cost $45 per month, with no additional line access fees. That's significantly cheaper than most unlimited plans on the market, and Comcast estimates that about 25% of its customers fall into this category.
However, the cost for an unlimited plan goes up substantially for lower-tier Xfinity subscribers, rising to $65 per month per line.
Unlimited data also comes with a caveat. Comcast can throttle speeds after a customer uses 20 GBs in a month, not including an initial 100 megabytes of shared data bubdled with Xfinity Internet service.
---
Want to know more about cable market trends? Check out our dedicated cable services content channel here on Light Reading.
---
Other downsides include the fact that Comcast won't offer family plans, at least not right away, and users won't be able to bring their own devices to the Xfinity Mobile service at launch. Instead, they will be required to purchase a phone through Comcast.
On timing, Comcast executives have said they're rolling out service to employees now, but there's no date yet for commercial launch.
Next: Financial questions