Charter, Comcast Eye Sprint Tie-Up – Report

Comment (2)
Stick around long enough and history is bound to repeat itself. In a rumor that could have headlined Light Reading's pages a decade ago, The Wall Street Journal is reporting that Comcast and Charter are in exclusive talks with Sprint to create a deal that would give the cable companies access to Sprint's mobile network.
The reported talks follow the news in May that Charter and Comcast were forging an alliance to pursue wireless opportunities together. The two network operators also agreed at the time that they would refrain from doing individual deals with wireless carriers for a period of 12 months. (See Comcast & Charter Seal Wireless Pact.)
As a stipulation to the cable company talks, the WSJ is also reporting that Sprint Corp. (NYSE: S) has placed its merger discussions with T-Mobile US Inc. on hold. (See DT Wants Majority Stake in T-Mobile-Sprint Merger – Report.)
One option supposedly discussed in talks between Sprint and the two largest US cable operators is the idea that Charter Communications Inc. and Comcast Corp. (Nasdaq: CMCSA, CMCSK) would invest in upgrades to Sprint's network in exchange for favorable resale terms. The cable companies already have a mobile virtual network operator (MVNO) agreement in place with Verizon Communications Inc. (NYSE: VZ), but a tie-up with Sprint could potentially improve the economics for selling mobile services.
Today, Comcast has just begun to heavily market a new Xfinity Mobile service based on the MVNO deal with Verizon. Charter is expected to follow suit in 2018. (See Xfinity Mobile Isn't a WiFi Phone Service.)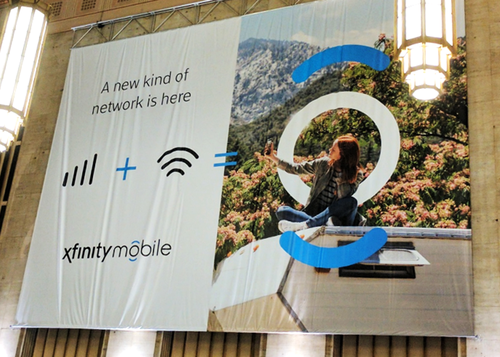 Another option reportedly discussed with Sprint is the idea of Charter and Comcast jointly acquiring the mobile company, which has a market cap of $32 billion. That notion appears less likely, however, as Comcast CEO Brian Roberts has been reluctant to buy a wireless carrier, instead favoring a solution that combines Comcast's own infrastructure assets and service bundling capabilities with a mobile partnership.
In addition to Comcast's far-reaching wireline cable network, and a significant WiFi footprint, the company also recently bought $1.7 billion of its own wireless spectrum in the 600MHz auction. (See Comcast Wins Spectrum – What's Next?.) Comcast did not provide comment on the Sprint rumors by press time. Charter declined to comment.
---
For more cable market coverage and insights, check out our dedicated cable content channel here on Light Reading.
---
This isn't the first time the cable industry has cozied up to Sprint. Comcast, Cox Communications Inc. , Time Warner Cable and Bright House Networks (the latter two are now part of Charter), formed a joint venture called "Pivot" with the wireless carrier more than a decade ago. That partnership, however, fell apart in 2008. (See MSOs Pivoting Away From Sprint JV.)
If anything, the new wireless talks with Sprint show just how hard it is for the cable industry to make its move into wireless. The costs are high and the market realities keep changing -- so much so that what turned out to be a bad idea in yesteryear may now be a viable option again. (See also Cable Sees Wireless Opps in Partners, Smart Services)
— Mari Silbey, Senior Editor, Cable/Video, Light Reading
PARTNER PERSPECTIVES
- content from our sponsors
GUEST PERSPECTIVES
- curated contributions