LAS VEGAS -- CES 2015 -- It's often hard to get people who haven't attended the annual Consumer Electronics Show to understand the sheer scale of this industry event.
But for those in the comms industry who head to Barcelona each year for the Mobile World Congress (MWC), here's one way to think of it -- this year's CES could pack in almost twice as many attendees as the 2014 MWC show, which, according to the GSM Association (GSMA) , attracted 85,000 warm bodies.
(Or if you want a slighter hipper context, more people are expected to attend CES this year than 'got down' at the 3-day Coachella music festival in California in April 2014.)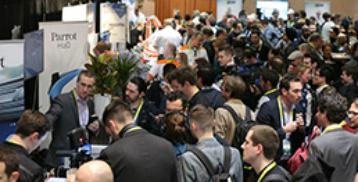 Here in Vegas, the Consumer Electronics Association (CEA) is expecting 150,000 attendees during the course of this year's 4-day CES show. "I heard it could be up to 180,000 people," my wild-eyed and excited cab driver told me Monday evening during the journey (crawl?) to the Palms Hotel.
That turned out to be the sane part of the short-distance, long-duration ride. "You ever seen a picture of a liquored-up Elvis, eating a yoghurt and speeding a wheelchair down the highway?" he asked me later, veering dangerously into the oncoming traffic as he waved his camera at me. I admitted I never had. So he showed me -- it was spectacular.
It's no wonder, though, that CES gets cab drivers and businesses in Las Vegas excited: It must be a significant fillip to the local economy.
And it's taking up more and more floorspace. This year, CES is being held across the Las Vegas Convention Center (LVCC), the Sands Expo Center and assorted hotels. It's not too bad if you understand how it works at the LVCC: The North Hall is heavily automotive focused, while the Central Hall houses the massive tech companies and the wireless companies that can afford the booths. (See Dish Slings OTT Service – What It Means, Wi-Fi Alliance Unveils Location-Based Breakthrough and New WiFi Chipsets Debut at CES for a taste of our CES coverage.)
The South Hall is more purely consumer-focused and the products -- hello drones! -- get more esoteric the further back in the hall you get. "This is where it gets weird," I heard one attendee tell another on the way in.
Full disclosure: I haven't even made it to the Sands yet.
Like Barcelona, Vegas's transport infrastructure is woefully inadequate for the task of dealing with such a massive influx of people. Your choice is sitting in traffic for an age, a long walk in a place definitely not designed for le flaneur or the rinky tink monorail (aka the monofail).
Still, there's definitely a good reason for forward-looking communications people to be here this year and most likely in the future too: It's called the Internet of Things (IoT).
---
Want to know more about the Internet of Things? Check out our dedicated IoT content channel here on Light Reading.
---
Sigh. Yeah, yeah, I know, another over-used buzzword humming loud and signifying little. But the actual business of connecting everything from heating sensors, to toasters, to traffic lights, to a network is hard enough. Then layer in decisions about whether devices need to talk to other devices, when they should wake and sleep, and what data should be collected from each connected point. All in all, it's a very complex business and not even close to reality yet, despite what the marketeers might like to tell ya.
In fact, despite the hype, the industry really is at the bottom of the mountain and rolling that IoT boulder uphill. There isn't even general agreement on a common language that would let fridge talk unto lightbulb and communicate with the network yet.
So, the CEA has made this show all about the Internet of Things this year. It's a smart move. To drive this concept of a fully-connected world -- well, the parts of the world that can afford it anyway -- forward, the mobile operators, chipmakers, appliance makers, auto manufacturers and many, many more companies and organizations will all need to work together. (See AT&T Steps Up Its IoT Offensive.)
CES already has the consumer electronics piece and its ever-expanding reach has been pulling in more and more operator and tech interest during the past few years. So, even though my aching feet might not want to hear it, there could be room for this already huge show to get even goddam bigger.
— Dan Jones, Mobile Editor, Light Reading