ITU: Mugabe Hits ITU Show Floor

Comment (0)
7:20 AM -- GENEVA --
ITU Telecom World 2009
-- So he
did
turn up. (See
ITU: Mugabe Set for Geneva
.)
Only a day after opening his country's
new parliamentary session
, Zimbabwe President Robert Mugabe flew to Geneva Wednesday to participate in a meeting of ministers discussing the impact of ICT (Information Communication Technology) on their countries. (He also allegedly managed a trip to the bank...)
In his presentation, Mugabe included some of his usual accusations against foreign powers -- Western countries are trying to destabilize Zimbabwe by bombarding it with radio waves, for example -- before he took to the show floor, accompanied by his attendant bodyguards, a swarm of photographers, and
International Telecommunication Union (ITU)
Deputy Secretary-General, Houlin Zhao.
He spent a few minutes at the
China Unicom Ltd.
(NYSE: CHU) stand (see picture below), where
Light Reading
got close enough for a picture, before heading to the
Telkom SA Ltd.
(NYSE/Johannesburg: TKG) booth and the Nigerian pavilion.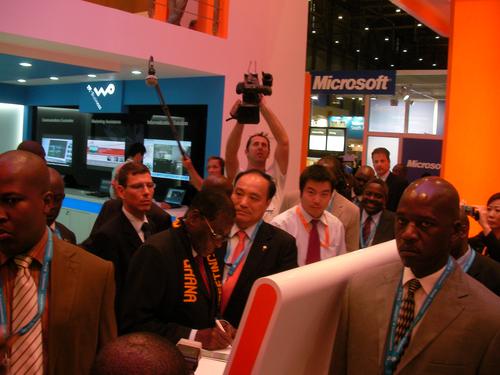 It was rather surreal to be in such close proximity to a despot, and see the bemused faces of stand staff as he walked down the show floor aisles surrounded by his entourage. But it was also a stark reminder that a single individual can, under the wrong circumstances and with enough power, impact the lives of so many people, mostly for the worse.
— Ray Le Maistre, International News Editor,
Light Reading