The router market shrank by four percent in 2001, and service providers spent substantially less on core routers in recent months, according to the latest router report from Infonetics Research Inc. (see Infonetics: Core Slips in 2001).

Infonetics says worldwide revenues for service provider core routers decreased 4 percent to $2.4 billion for the year 2001. Just two vendors, Cisco Systems Inc. (Nasdaq: CSCO) and Juniper Networks Inc. (Nasdaq: JNPR), continue to own the market, and when their revenues suffer, it's indicative of overall spending patterns.

The biggest dip came in the second half of the year, when revenues shot down 22 percent between the third and fourth quarters.

"Juniper had a dismal [fourth] quarter, and Cisco didn't do very well either," says Infonetics analyst Kevin Mitchell. In the quarter, sales of Cisco's 12000 and 12400 routers decreased 20 percent, and sales of Juniper's M160 and M40 routers fell by 31 percent, Mitchell says.

In quarterly and annual sales, the TSR and SSR products from Avici Systems Inc. (Nasdaq: AVCI; Frankfurt: BVC7) appeared to hold steady, albeit contributing only about 2 percent to overall revenues.

Other players were a wash: "Charlotte's Web Networks Ltd. and Alcatel SA (NYSE: ALA; Paris: CGEP:PA) both claim to have shipped core routers for revenues, but the figure must be very low," says Mitchell, noting that "neither vendor has been able to produce customer or shipment data. Likewise, Pluris Inc. seems to have ongoing lab trials, but continues to push out its revenue target date." Now, he suggests, it's "likely to be 2Q02."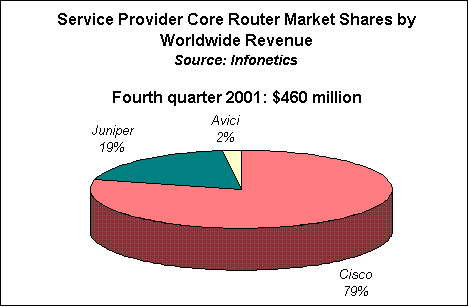 Mitchell cites the overall economic slump as a reason for the dropoff in core routing. But there are other forces at work, too. In Juniper's case, Mitchell thinks speculation about the new "Gibson" router (see Juniper Mum on Core Router... ) may have caused carriers to bide their time rather than invest before a big rollout.

It looks as though higher Sonet speeds comprise a big part of what's in demand in core carrier networks: Over 45 percent of Cisco's core router revenues last quarter came from the vendor's 12400 series, which has OC192 (10 Gbit/s) capabilities.

Infonetics says it will release its forecasts next week.

— Mary Jander, Senior Editor, Light Reading
http://www.lightreading.com