IBM Watson Faces Tough Road – Analyst
IBM faces tough barriers to adoption and profitability for its Watson AI platform, according to a note from financial analyst firm Jefferies LLC.
The problems? Watson requires "hefty services component." IBM is also "outgunned in the war for AI talent and will likely see increased competition" and "returns on IBM investments aren't likely to be above the cost of capital," according to the note from James Kisner, Jefferies senior vice president, IT hardware and communications infrastructure equities research, sent Wednesday.
To be sure, the opportunity is big. A wide range of organizations are exploring using AI in their business, mostly machine learning and deep learning for image recognition, but the competitive environment doesn't favor IBM, Jefferies says.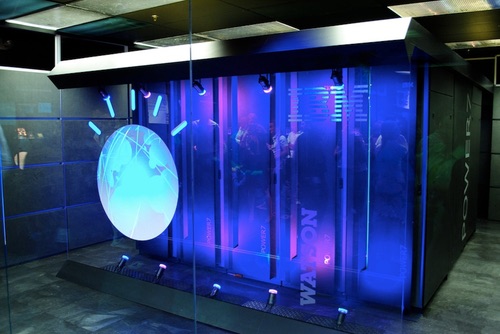 IBM Watson is "one of the most complete cognitive platforms available in the marketplace today" but "many new engagements require significant consulting work to gather and curate data, making some organizations balky at engaging with IBM," Kisner says.
And IBM faces a competitive market, with investments growing over 50% to $4.25 billion, and a whopping 1,900 startups. Moreover, other companies are doing more than IBM to attract talent -- "Amazon, for example, has more than 10x the job listings of IBM," Kisner says.
As for profitability, IBM "barely recoups its cost of capital from AI investments," Kisner says.
Jefferies reiterated its "underperform" rating for IBM.
IBM traded at $153.70, up $0.34% on Wednesday.
IBM did not respond to a request for comment.
However, in past statements IBM acknowledges that its Watson services are high-touch. They're customized to individual companies and based on in-depth knowledge of vertical industries including finance and health. It's a big-ticket purchase -- but delivers big-ticket value, IBM says.
---
Keep up with the latest enterprise cloud news and insights. Sign up for the weekly Enterprise Cloud News newsletter.
---
In contrast, IBM's public cloud competitors Amazon Web Services and Microsoft Azure are focused on delivering tools to allow enterprises and cloud application providers to build their own services based on AI.
IBM is looking to Watson, cloud and related services -- which IBM calls "strategic imperatives" -- to counter the drag that its legacy business has on earnings. Overall revenue has fallen 20 quarters in a row as of the quarter ending March 31, to $18.2 billion, down 3% year-over-year. But strategic imperatives revenue was $7.2 billion, up 12% year-over-year. (See Legacy Business Still Dragging IBM Down.)
IBM on Wednesday announced it is expanding Watson into new territory, offering Watson services to automate and streamline IT support for enterprise customers. (See IBM Automates IT Services With Watson.)
Related posts:
— Mitch Wagner
Editor, Enterprise Cloud News