Comcast to Drop Microsoft TV Guide

Comment (3)
Comcast Corp.
(Nasdaq: CMCSA, CMCSK) is preparing to switch out the
Microsoft TV
Foundation Edition set-top platform and interactive program guide (IPG) in Seattle and other parts of Washington in favor of a navigation system and IPG the MSO has already deployed in all of its Motorola systems.
Comcast recently began to alert customers of the coming switch to "iGuide," a product of
GuideWorks LLC
, the Comcast-
Gemstar-TV Guide International Inc.
(Nasdaq: GMST) joint venture. The new IPG, set for an initial launch in Spokane on June 5, will feature
Comcast Central
, a "video rich navigation" system that employs thematic video thumbnails. (See
Comcast Ramps Up 'Video Rich Navigation'
.)
Comcast expects to complete the iGuide rollout in Seattle and the rest of its Washington systems by early September. The MSO serves 1.1 million cable subs and about 500,000 digital video customers in the Washington State region, according to an MSO spokesman.
For Microsoft TV, Comcast's decision will mark the end to Foundation Edition's only remaining U.S. cable deployment, and what had served as an IPG showcase in Microsoft's corporate backyard. Comcast launched the Foundation Edition platform there in November 2004.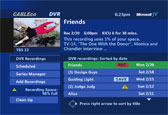 Comcast's decision "was not a big surprise," says Ed Graczyk, Microsoft TV's director of marketing, noting that Comcast has taken most of its set-top software development in-house with Gemstar, and is moving forward on a navigation and digital video recorder (DVR) integration deal with
TiVo Inc.
(Nasdaq: TIVO) "We've been working on the transition for a long time."
Foundation has found more success in Mexico, where it is in front of about 800,000 cable subs served by MSOs like Megacable, Cablevisión Monterrey, and Cablevisión Mexico. Microsoft TV timed that market better, offering a product just as those operators began to launch digital cable services. In the U.S., Foundation is viewed as a replacement product, a strategy that has produced limited opportunities. Two small MSOs in the Pacific Northwest -- Uvision and Willamette Broadband -- agreed to roll out the Microsoft IPG in 2002, but have since swapped it out.
Mirroring that lack of success, Microsoft TV has not applied much focus on the U.S. cable market. In fact, it has been absent from
The Cable Show
the past two years.
It has instead paid more attention to its IPTV platform, which has scored deployments with providers such as
AT&T Inc.
(NYSE: T) and
BCE Inc. (Bell Canada)
(NYSE/Toronto: BCE). Microsoft TV's IPTV platform presently has 17 customers on four continents, according to Graczyk.
Verizon Communications Inc.
(NYSE: VZ), meanwhile, uses a "hybrid" version of Microsoft TV's software that is more akin to the cable-centric Foundation Edition.
Under its deal with Microsoft TV, Comcast had the opportunity to purchase up to 5 million licenses for Foundation Edition. That portion of the agreement has "evolved in line with Comcast's business requirements," Graczyk says, declining to go into further detail.
Comcast officials say the decision to make the change was not based on the performance of Foundation Edition but because the MSO wanted to have a "consistent experience" in all markets that use the Motorola digital platform.
"Microsoft remains a very valued partner of ours," a Comcast spokeswoman says, adding that the MSO and Microsoft are exploring other video-related opportunities, but would not elaborate.
Some possible video service collaborations could involve IP-based TV services or Microsoft-powered PCs. The cable industry, including
CableLabs
, has started work on the Bidirectional OpenCable Receiver (BOCR), a system that will authorize PCs to support two-way digital cable services and applications, including video-on-demand. (See
Cable Developing Two-Way PCTV Play
.)
— Jeff Baumgartner, Site Editor,
Cable Digital News
PARTNER PERSPECTIVES
- content from our sponsors
GUEST PERSPECTIVES
- curated contributions