Remember when everything was about the cloud? Well times have changed and now service providers are trying to combine cloud operations with additional functions hosted at the network edge. Naturally, vendors are following suit.
Vecima Networks Inc. (Toronto: VCM) is a relatively small player in the network equipment space, but it's making some very calculated moves based on where it sees the cable industry going. Like everyone else, cable operators are interested in distributing bandwidth, computing and storage to optimize network performance and efficiency. Cable MSOs, however, have some very distinct requirements in their networks because of legacy technology associated with DOCSIS broadband and QAM video delivery. Vecima wants to address cable needs in two areas. First, through products designed for the latest rush to distributed access architectures (DAA), and second, through content delivery networking (CDN) technology and a recent decision to acquire CDN specialist Concurrent Computer Corp. (Nasdaq: CCUR) for $29 million. (See Vecima Nabs Concurrent CDN Biz for $29M.)
On the DAA front, Vecima is joining the hordes of vendors developing Remote PHY and Remote MAC/PHY solutions. This is a shift for the company that has traditionally focused on QAM decoders for the MDU market, but Colin Howlett, VP of architecture, says it's something Vecima has been working on behind the scenes since 2013. This year, the company has been involved in both industry interoperability tests and operator lab trials with its DAA-focused Entra product line. The product line includes cable nodes, an access switch and a legacy QAM adapter.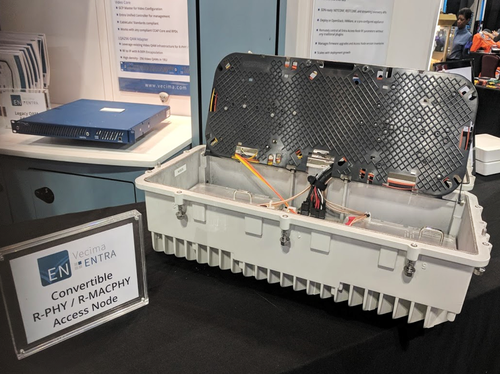 There's a huge amount of competition in this new DAA market, as evidenced by the number of companies touting their DAA wares at last month's SCTE/ISBE Cable-Tec Expo. However, cable operators are also expected to spend a significant amount of money in the space, with at least an 8x increase in nodes deployed over the next several years. Vecima is also one of the few vendors today offering both a Remote PHY node and a node that's convertible between a Remote PHY and a Remote MAC/PHY configuration. (See The Big Cable DAA Update.)
Howlett thinks the company will be able to compete successfully in the market because it's small enough to make adjustments quickly and it has a solution that was "purpose-built" for DAA. For Vecima, Howlett calls DAA "key to our future."
---
For more cable market coverage and insights, check out our dedicated cable content channel here on Light Reading.
---
On the CDN front, Vecima has gone in an entirely different direction. Instead of building its own solution, the company announced in October its intent to acquire Concurrent, one of the old-guard cable vendors that has transitioned in the cable industry from focusing largely on specialized video-on-demand hardware to open source CDN technology including transparent caching. Concurrent also sold off another portion of its business earlier this year (one focused on real-time systems for vertical markets including the aerospace and defense industries), putting it in position for a clean deal with Vecima.
Vecima expects to close on the acquisition of Concurrent by the end of the year, and when it does, the company will have set itself up nicely with two business divisions targeted at the cable network edge.
"It's a nice move for Vecima because they acquire video delivery and storage assets to complement their deeper push into HFC access with DAA products," says SNL Kagan analyst Jeff Heynen.
Heynen also notes that the deal serves a more short-term goal for Vecima as well, replacing revenue from its declining QAM decoder business. Vecima says it expects to generate more than $5.5 million in annualized adjusted EBITDA from Concurrent once the acquisition is completed.
"[The deal] didn't cost Vecima very much," points out Heynen, "and will yield solid and consistent revenue almost immediately."
Vecima also sees the need for CDN storage continuing to rise, giving it a runway for future growth.
As for how Vecima might ultimately combine content storage at the edge with its distributed access cable node platform, Howlett says only, there are "lots of things to explore."
Where the edge of the network is concerned, cable operators agree.
— Mari Silbey, Senior Editor, Cable/Video, Light Reading