US Cable WiFi Hotspots Near 17 Million
The cable industry's future in mobility is still uncertain, but while the pundits predict potential outcomes, a new Heavy Reading report sizes up exactly where cable companies stand today with their own WiFi deployments. Although WiFi isn't the same as mobility, it is the starting point for cable operators considering their next foray into mobile broadband.
With a total of nearly 17 million hotspots deployed by the US cable industry, that starting point is pretty big today. From the Heavy Reading report, "Taking Flight: Cable's New Routes to Wireless Mobility," here's a look at the latest tally of Cable WiFi hotspots deployed by the four biggest US MSOs.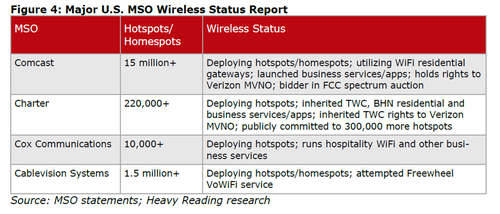 This month, Mediacom Communications Corp. , another top-ten US cable operator, also began testing new WiFi hotspots in areas of Minnesota, Missouri, Iowa, Illinois and Georgia. Those deployment numbers are still negligible today, but Mediacom is planning to invest $1 billion in broadband infrastructure over the next three years, including network upgrades that will support community WiFi services.
---
Want to know more about cable's wireless ambitions? Check out our cable WiFi channel here on Light Reading.
---
It's important to note that Comcast Corp. (Nasdaq: CMCSA, CMCSK) and Cablevision Systems Corp. (NYSE: CVC) (now part of Altice ) can only drive their hotspot numbers into the millions by including home WiFi networks that also support guest/public usage. Information is still limited on how well these home hotspots work, and how much usage they get from network guests.
However, as cable operators plan out their mobile futures, the biggest advantage they have is not the WiFi hotspots they already support, but the last-mile wireline infrastructure they own. It's still easier for cable companies to add access points to their existing hybrid fiber-coaxial (HFC) networks than it is for many telcos to drive fiber deeper into communities to support higher-capacity wireless coverage, including next-generation 5G deployments. (See Analysts More Than Bullish on Comcast MVNO.)
For more on the drivers of, challenges to and benefits from cable's pursuit of mobile broadband, see analyst Craig Leddy's new Heavy Reading report: "Taking Flight: Cable's New Routes to Wireless Mobility."
— Mari Silbey, Senior Editor, Cable/Video, Light Reading
UPCOMING LIVE EVENTS
June 6-8, 2023, Digital Symposium
June 21, 2023, Digital Symposium
December 6-7, 2023, New York City
All Upcoming Live Events
PARTNER PERSPECTIVES
- content from our sponsors