CableCARDs have failed to generate much demand for set-top-free TVs capable of delivering cable's digital video lineup, but Ceton Corp. thinks it has developed a PC-based product that could spark interest with consumers who are still eager to kiss their cable boxes good-bye.

Ceton, a startup based in the Seattle area, has a cable TV card that can turn Windows Media Center-enabled PCs into centralized video hubs capable of shuttling video around the home to other TVs and displays, and all but eliminate the need for traditional digital cable boxes.

Ceton says its product, the Digital Cable Quad-Tuner, can play back or record four simultaneous, high-definition TV channels when combined with one multi-stream CableCARD and a single RF cable connection. Microsoft Corp. (Nasdaq: MSFT) CEO Steve Ballmer highlighted the Ceton device last week at the Consumer Electronics Show.

Ceton's latest CableCARD-based product -- viewed by the cable industry as an OpenCable Unidirectional Receiver, or OCUR -- is designed to fit directly into the slots of computer towers and slimmer entertainment PCs.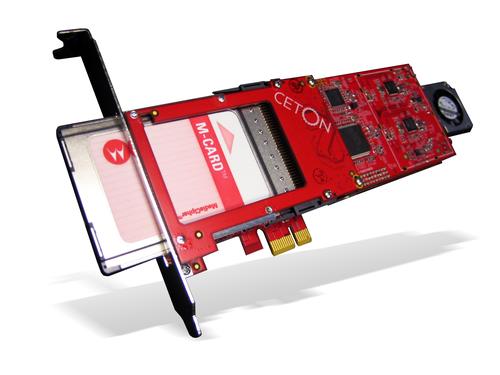 The M-Card is inserted and paired with the Ceton card to set up the tuners. Once that's up and running and authorized, the Ceton device will be able to bring in up to four HD or standard-def channels from the cable operator's lineup at one time.

Taking things a step further, Windows 7 and the PC's internal Media Center capabilities allow for video to be delivered to other devices on the home network, including Xbox 360 gaming consoles and other units with Media Center Extender capabilities. Ceton recommends using wired network set-ups, such as those based on Multimedia over Coax Alliance (MoCA) , powerline, and straight Ethernet, versus the use of wireless.

Although the CableCARD authorizes the primary cable video streams, including premium networks like HBO, heading into the PC, Ceton's tuning card "transcribes" the cable conditional access system into the Windows Media digital rights management (DRM) format to ensure those streams stay protected as they travel the home network.

Look ma, no set-top!
Ceton's TV card turns the primary PC into "a killer set-top box," with the added benefit of multi-room DVR capabilities, says Ceton chief marketing officer Ed Graczyk, a former Microsoft TV exec.

Ceton's PCTV product could open a larger market for CableCARD-based retail devices. The vast majority of the 18 million CableCARDs deployed so far have been paired with set-tops leased by MSOs. (See CableCARD Update .)

Graczyk confirms that Ceton will start by selling the card retail, at a price of $399, equal to about $100 per tuner. Graczyk insists that's a bargain when compared to single-tuner CableCARD PCTV products that would cost $800 to $1,000 when cobbled together in a four-tuner set-up.

Graczyk says Ceton's new card can hit the market by the end of the first quarter. However, one not-so-insignificant hurdle lies in getting CableLabs certification, a requirement for retail distribution.

"That's the last step before we can put in the order with our manufacturer to build the card at volume," Graczyk says, noting that Ceton's already in the CableLabs certification cycle. But it won't come cheap, since Ceton must front $80,000 to get its OCUR device tested, according to the latest data on CableLabs fees.

What could help is a recent agreement between CableLabs and Microsoft that gets rid of the certification requirement for the PC itself. Consumers will instead be required to access a free tool to ensure that the PC, once the CableCARD is installed, is up to snuff from a technical standpoint. (See Microsoft, Cable Get Cuddlier .)

"That opens up a retail market for us that wasn't even possible," Graczyk says, adding that Ceton intends to get on board with PC-TV enthusiasts initially, since that's the group that's been clamoring for a quad-product that requires only one CableCARD.

Ceton also intends to develop a dual-tuner CableCARD product for laptops that connect via USB, as well as a six-tuner version for PCs, but the company hasn't shared a formal launch timeline for either. (Windows 7 Home Premium, Professional, and Ultimate presently support a maximum of four tuners.).

Limitation: no cable VoD
Although Ceton's card can eliminate the need for set-tops and is capable of handling video coming in through an MSO's switched tier (when paired with a tuning adapter), its big limitation is the inability to deliver cable video-on-demand (VoD). [Ed. note: TiVo Inc. (Nasdaq: TIVO) DVRs and one-way "Plug & Play" digital TVs with CableCARD slots have the same issue.] (See CableLabs Stamps SDV Tuning Adapters .)

Consumers would still need a traditional digital cable box for that piece. If they don't care about that, they could always use the PC's broadband connection to bring in VoD movies from Netflix Inc. (Nasdaq: NFLX), Amazon.com Inc. (Nasdaq: AMZN), or some other Web-based source.

Ceton could add cable VoD to the mix by supporting tru2way, including its OpenCable Application Platform (OCAP) middleware component. The concept/demo for such an implementation running on middleware from VividLogic Inc. popped up at the 2007 Cable Show, but it has not been heard from since. (See Cable Developing Two-Way PCTV Play and SeaChange Snags VividLogic for $12M.)

Ceton has no formal plans to develop tru2way products, but the company "will support it if there's a market out there," Graczyk says.

Ceton might be smart to play the waiting game, since tru2way's future role with retail consumer electronics is questionable at best. Cox Communications Inc. , meanwhile, is the only major U.S. MSO to confirm that all its headends have been optimized for tru2way, though others report they are getting closer to matching that. (See Tru2way's Retail Forecast: Cloudy and Cable's Tru2way Build Continues.)

— Jeff Baumgartner, Site Editor, Cable Digital News