Verizon SVP Bridges the Network/Consumer Divide
Aparna Khurjekar describes herself in two ways that could be seen as opposites -- logical to a fault and open minded to all ideas. It's these two traits that have helped her build a career that bridged divisions that could also seen as opposites -- network focused to consumer services focused.
Khurjekar has been the senior vice president of consumer product revenue and innovation at Verizon Communications Inc. (NYSE: VZ) since April, but before that she was a vice president of network (and a VP of global strategy and a director of business solutions in M2M and in open development before that). She has had a diverse career within Verizon, and has learned how to lead internally, understand market drivers externally and work with all kinds of different people in the process.
WiC recently caught up with Khurjekar to hear her story, role models, advice and more.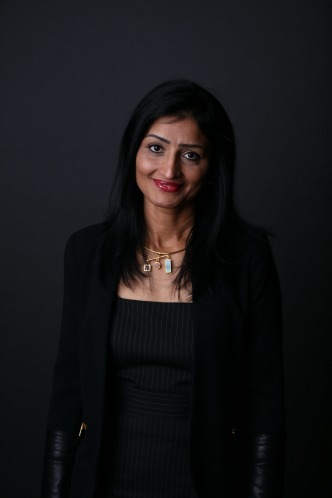 ---
Women in Comms' next networking breakfast event is coming up on Thursday, September 28 in Denver, Colorado. Find out more details and register to join us right here!
---
Women in Comms: Tell us a little about yourself and your background.
Aparna Khurjekar: I am an engineer by training -- and at heart. People say I'm logical to a fault. But I like getting my hands dirty, and I never give up on solving hard challenges. That is how I was brought up and I continue to believe in hard work. My job at Verizon today requires me to bring my experience and skills to my role. Verizon's stakeholders have high expectations amid fierce competition and rapid changes in new technologies and entrants. And this is exactly what I love about the job -- building consumer products that exceed the expectations of our discerning consumers.
WiC: How do you keep your finger on the pulse of what all consumers are interested to inform the new products and services Verizon launches?
AK: We have to listen with an open mind to people and question ourselves to bring new ideas to life. Some things are learned only by engaging with the ecosystem at large. I am always amazed at what I learn from the youngest startup founders, our newest recruits, the summer interns, even my ever-critical sons! Of course, we employ plenty of formal consumer feedback mechanisms to synthesize data on usage and preferences, but there is no substitute for "reading the tea leaves" in today's consumer business. You'd be surprised how much free great advice your Uber driver can give you to help you do your job better!
WiC: What has been the biggest change or challenge in moving from focusing on networks to focusing on services?
AK: The biggest change is the shift from an internal focus to an external one. In my earlier role, which was running part of America's best wireless network, we were our own benchmark, so we were trying to beat ourselves every quarter. Consumer services, on the other hand, is all about understanding and engaging with the external ecosystem and bracing for the disruptive forces around us. "Optimizing, calibrating, improving" were my earlier driving keywords, which are now replaced with "planning, innovating and designing." I'm fortunate to take on this role at this point in the industry's evolution where it is paramount to connect deeply with my product roots as well as bring the operational experience from the network role to build better products and services for our consumers.
WiC: What is the biggest lesson you've learned in managing people across your various roles at Verizon?
AK: Humility. Leadership is about listening, understanding, empathizing, solving and always remembering what your grandmother taught you. Be respectful, never judge, look at the bigger picture and communicate clearly and sincerely. Your team will appreciate you for sharing the business objectives of hard decisions rather than just telling them what to do. They'll teach you more about the business if you take the time to ask. Finally, you have to be a fearless champion of your team and be loyal to them, which sometimes means challenging so-called "best practices." Keeping these things in mind, I've been fortunate to have built some fantastic teams in every role I've had at Verizon.
WiC: Tell us about the mentor (formally or informally) who had the most impact on your career.
AK: We have a culture of 360-degree mentorship at Verizon, and it is the thing I value most about our organization. We work as a team and grow as a team. Mentorship comes in various forms at Verizon, from our leaders as well as peers and colleagues. Over the years I've had the pleasure of learning from many mentors here, so it's hard to name just one. Looking beyond Verizon, perhaps my late grandmother has been my biggest mentor. She worked hard, kept together a large family, always put others above herself, believed in excellence in everything she did, and in the process, earned the love and respect from the many, many people whom she inspired. I hope to become like her.
WiC: You have also been a leading voice for women and young talent at Verizon and in your previous role at Motorola. What is your biggest piece of advice for women who are looking to build a career in the comms industry?
AK: Work hard. Dream big. Never give up. Don't get caught up in managing labels of "woman," "STEM," etc. You have natural strengths that set you apart. As clichéd as this sounds, your biggest roadblock might be you. Aspire to excel. Be audacious in your goals. Verizon and the communications industry in general offer a wide spectrum of opportunities to build your career no matter where your passion lies. That's why I always remind young talent -- men and women -- to try and identify what truly feeds their passions. If you put your positive energy into your work, stay on top of technology trends and constantly try to separate the signal from the noise, our industry has only growth to offer you!
— Sarah Thomas,

, Director, Women in Comms