How to Master Being a Jill of All Trades
When it comes to professional careers, there's often the question of whether it's better to be a Jack (or Jill) of all trades or a master of your domain.
The answer is both for Karen McCabe, senior director of technology policy and international affairs for the Institute of Electrical and Electronics Engineers Inc. (IEEE) Standards Association. McCabe may have earned a marketing degree in undergrad, but her over 20-year technology career has included everything from technology to IT to standards to policy making to academia.
At the IEEE, her current role has her playing liaison between the technology community and global policy makers around issues related to Internet governance, cyber security and privacy. It requires a deep understanding of technology, standards and policy, but also an ability to get diverse groups of people communicating with each other. That means translating tech speak to legalese and standards jargon to marketing prose and understanding how it all works.
McCabe shared with Women in Comms how she tackles this immense challenge and why other women in the industry should consider a career path that is both horizontal and vertical at the same time.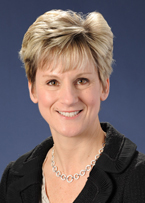 ---
Join Women in Comms in Austin, Texas, on May 23 for a one-day conference and job fair. Register here!
---
Women in Comms: Tell us a bit about your personal story and how you got to where you are today.
Karen McCabe: I've been working in the technology sector for well over 25 years. I got out of undergrad and pursued more of a marketing focus. My great vision when I got out of school was marketing, and I really loved writing, and now that I have gone through so many years, I was always passionate about helping tell the story and trying to bring good work to the forefront. My background is in English and communications, but then I landed in the technology area. I am not a technologist myself with a formal engineering background, but have been working around engineers and technologists since day one. I was always intrigued by the whole engineering profession and comms and technology -- the impact it has on our world, not only for just working better, but for social benefits and advancing the way we do things.
I worked early in my career with a group of engineers who did tremendous work but had a hard time articulating the benefit of what they're building and why it was important. I took a passion for that -- telling the story of building products. It was in the industrial sector. Working with them and customers to translate the technology and product to the customers. When I look back, that always stays with me. My roles have changed over the years from marketing and research to technology policy, but that core is always with me -- connecting technologists and the impact of technology and understanding of that with those who are making policy decisions at an international level.
WiC: You're in a unique position in that you work with engineers, policy makers, academia and standards groups. From this vantage point, what are some of the challenges facing the industry today?
KM: It's really a very different world in the sense that many engineers and technologists are heads down solving problems. They are great innovators and entrepreneurs looking to do amazing things, but the other side is we deploy the technology, and what happens when it gets into the wrong hands and is used in unintended ways? There are no simple answers; it's complex and complicated. My passion is the more we can educate and have diverse people talking to each other that normally donít, and build a foundation of an understanding, then we can start moving in the right direction. No matter where my job took me, if there was potential conflict, you need to put the issue on the table and openly talk about it and roll up your sleeves appropriately and professionally. We wont make progress if we donít take those steps. I carried that with me through my career.
I know there is a gender imbalance for sure in the comms, tech and ICT space. I've been very engaged with that, lately more so with regard to universal access to the Internet. In different cultures and regions of the world, especially underserved and underdeveloped, there is a significant gap with that. A lot is cultural and it's hard to change culture in certain parts of the world. Information can be amazing if people can get their hands on it.
WiC: What can we do, today, to address these types of challenges, particularly the ones facing women around the world?
KM: It might be generational, but it is a challenge we have to address head on and can't wait for it to circle through a generation -- it's a male dominant space. ... There's a part of me that says, 'get in there, roll up your sleeves, your good work will showcase itself, your mind is there, you have a lot to offer whether you're a male or female, it will be recognized.' You make a difference by doing. Then there's a side of it when I go to meetings or standards boards or government meetings, and I look around and there's very few women in the room. We really need to shed a light on this challenge.
I've been in sessions last year in the Internet Government space, where it's a high-profile issue. In one session it was a panel with four or five men. The issue started to be raised in real-time and one of the men gave his seat up to a woman in the audience. I had mixed feelings. Is there another way to do that? On one hand, you want the people who have the background and experience, and who cares if it happens to be men versus women. On the other hand, when they put together the panel, I'm sure there were articulate, smart women that should have been there. We have to make sure we are sensitive to it and are looking into our communities for women with that experience and get them engaged in the panel.
I don't know if women donít feel comfortable putting themselves forth as a gender DNA kind of thing or if it's, on the other hand, people organizing these events aren't making sure they're looking at that gender divide and going deeper and wider to finding the appropriate women and getting them comfortable in those roles. We need a double-pronged approach.
There's always a part of me that says, '"You're talented, smart and educated and you have all this experience to bring to the table." We've come a long way but we have a longer way to go. It's unspoken -- we think we're further along with the issue than we are. We need to put it back on the table again.
WiC: Do you think quotas are one potential solution?
KM: I would not like to have to get into a space where we have quotas. I want to see it organically happen. It's a catch-22. It's so hard.
WiC: What can women do to help themselves out in their career?
KM: I think you need to stay active and get into various communities and groups, and networking is really important as well. You may be domain-specific, but also be vertical and horizontal. Sometimes you can take a deep dive into your expertise and profession, but there's a combination of technology converging and new emerging technology coming on to the scene. You need a unique blend of hard and soft skills, and I think from my experience that being flexible and open minded [is important]. I donít work in healthcare, but I think there are things going on that can definitely be applied to other domains in one's work. There are only so many hours in the day and days in the month, but it's important to keep your eyes open and connect those dots.
I was fortunate at IEEE to be put on cross-organizational teams where we try to solve large organizational challenges. Many have to do with business systems -- 360 views of customers, etc. I got to work with people I donít work with on a day-to-day basis, and I learned so much from how they manage a project. I honed project management skills by working with people who work in IT. Jump in, roll up sleeves -- it may seem odd at times to be in marketing and work with IT but everything is blending with cross-functionality. Having that experience not only from a technical perspective, but working with different people in different disciplines, I found it fascinating. It adds to the fabric of your career. You take so much away from that even if the project is difficult and not progressing. It may be disappointing, but it was never a waste of time, because you learn so much from the people you work with.
Always have that open mind that no matter what your experience or where you are, embrace it and immerse yourself in it. You donít know what it will lead to. It's a springboard and makes connections and skills. It's a journey and you donít know who will be put on your path and offer your new opportunity.
Persevere, and be courageous and donít be afraid to take on a new project or try something new. We all get into our comfort zones sometimes. Your whole existence is a combination of your experiences and genetics, but take a deep breath and go for it with something that really interests you and perks your attention.
WiC: What can companies do to help redress the gender imbalance?
KM: I think there needs to be dedicated efforts. A lot of it is cultural. You really need to be sensitized to it. If you see a board room with no women at the table, to me that is a red flag. We have to do something about this. I think companies from the top need to do it, but it's a challenge when it's male-dominated at the top. There are companies doing amazing things and men are on board with addressing the challenge as well, but it's often put to the bottom of the list. You can't have that attitude about it. It needs to be at the forefront. It can be challenging for women in those environments to bring it up, but be courageous and bring the challenge up and put together a cross-functional, cross-gender team with males and females at different levels of the organization as well to understand the impact and what can be done.
ó Sarah Thomas,

, Director, Women in Comms