TeliaSonera's share price has risen 3.5% in morning trading in Stockholm after the operator announced plans to withdraw from its seven Eurasian markets and focus resources on operations in Sweden and Europe following a dramatic reappraisal of its long-term ambitions.
The operator has blamed the move on difficulties across the Eurasian region, where it has struggled to find suitable partners and repatriate cash. In some markets, the company's reputation has also been tarnished by allegations of corruption.
Covering the markets of Azerbaijan, Georgia, Kazakhstan, Moldova, Nepal, Tajikistan and Uzbekistan, Telia Company 's operations have more recently been hit by a fall in oil prices and currency volatility, as well as the market entry of aggressive new competitors.
The move will clearly have dramatic implications for the size of the TeliaSonera business. Of the operator's 60.6 million mobile subscribers at the end of June, 40.4 million were customers in Eurasia.
The region also accounted for about 23% of group revenues in the first half of 2015 and around one third of EBITDA.
Last year, TeliaSonera generated SEK100.9 billion (US$12.2 billion) in overall sales and SEK35.2 billion ($4.3 billion) in EBITDA.
The decision was revealed to reporters just days after TeliaSonera said it had abandoned efforts to merge its Danish business with that of Telenor Group (Nasdaq: TELN) due to opposition from European Union regulatory authorities. (See
A withdrawal from Eurasia may give TeliaSonera more scope when reviewing its strategic options in Denmark. In a presentation, the operator said that its "journey ahead" would require greater focus on businesses in the Nordic and Baltic regions.
TeliaSonera's European operations cover the markets of Estonia, Finland, Latvia, Norway and Spain, as well as Sweden and Denmark.
The operator is one of a number in Europe that has been talking up the potential of New IP technologies and opportunities in areas it sees as complementary to its core business, including the Internet of Things, e-health, music, security, financial services and TV.
During the Mobile World Congress show in February, Allan Kock, TeliaSonera's director of RAN development, told Light Reading the operator was prioritizing investment in virtualization technologies in order to boost service agility and reduce costs. By taking advantage of SDN and NFV, it expects to be able to launch new services more quickly and economically than it can today. (See TeliaSonera Preps Multi-Country VoLTE .)
---
Want to know more about the emerging SDN market? Check out our dedicated SDN content channel here on Light Reading.
---
However, the Eurasian exit is not going to happen overnight, executives have warned.
"We realize that this will be a complex task that will take time," said Johan Dennelind, TeliaSonera's CEO, in a company statement. "We are conducting this process market by market as each country and operation has its unique situation, but the ambition is to eventually leave the entire region."
Clearly, a difficulty for TeliaSonera will be identifying potential buyers in the current market environment.
While the operator was keen to point out that all of its Eurasian subsidiaries remain highly profitable, and hold leadership or number-two positions in their respective markets, the recent financial performance has been disappointing in a number of cases and competitive challenges appear to be growing. (See Pain in Spain & Eurasia Hits TeliaSonera and TeliaSonera Profits Dented by Device Costs.)
Although the businesses in Nepal and Uzbekistan reported healthy growth in service revenues in the first six months of the year, all of the other units flagged declines. In Kazakhstan, TeliaSonera's second-biggest market by customer numbers (after Nepal), service revenues fell by 12.4% in the first half, compared with the same period last year.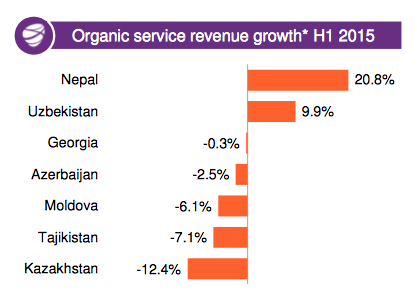 "We have a competitive problem -- we are still not yet up to our potential and we're still losing market share," said Dennelind earlier this year when commenting on the Kazakh operation during a presentation of first-quarter results.
TeliaSonera's initial approach may be to some of its shareholder partners: The operator is the majority owner of all its Eurasian subsidiaries bar Azerbaijan's Azercell, but does not own any business outright.
But the operator has warned investors that it is "currently not possible to estimate the size of potential sales proceeds."
Dennelind says there is a clear ambition to maintain a solid "investment grade rating in line with the current target of A- or BBB+."
— Iain Morris,

, News Editor, Light Reading