SAN DIEGO -- CTIA Enterprise & Applications 2011 -- A new mobile app built by startup Enterproid Inc. for AT&T Inc. (NYSE: T) lets wireless subscribers on any network carry one device with a "dual persona" that can keep their work and personal lives separate. (See AT&T App Toggles Between Work & Play.)

Called AT&T Toggle, the app splits a user's personal contacts, games and media from their corporate email, calendar and business apps. By clicking a home screen button, the user can switch between the two, entering a password to access the corporate content.

The app is targeted at the growing number of enterprises that let their employees use their own devices for work, according to Enterproid co-founder Alex Trewby. By keeping the two "personas" separate, it simplifies things for IT departments, because they only have to manage work-related functions and security in enterprise mode and don't have visibility into the device owner's personal use.

If, for example, a user gets a virus when using their consumer profile, it wouldn't affect any corporate data or functions, said Trewby.

"The company doesn't have to sacrifice its security in any way, shape or form, and at the same time the individual doesn't have to compromise [his/her] freedom or privacy," Trewby said during a CTIA demo for LR Mobile.

AT&T plans to sell the service to enterprises for devices running Android 2.2 and higher, but Trewby said support for more OSs is forthcoming.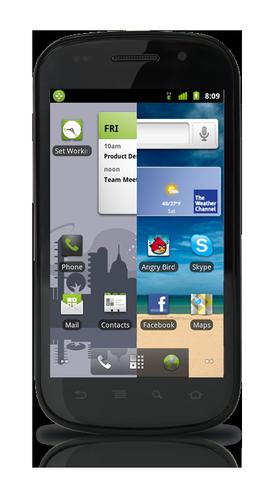 Why this matters
Apple Inc. (Nasdaq: AAPL) says 93 percent of Fortune 500 companies are testing or deploying the iPhone, and Android and Windows Phone 7 device makers are designing their smartphones to be both consumer and enterprise friendly. For those that don't want to carry two smartphones, an app such as this should help appease them and their IT departments. (See Apple: By the Numbers.)

Toggle is also a testament to AT&T's Innovation Center. Trewby said that the speed at which the carrier moved was unprecedented, bringing the app to market in less than three months. What's more, the app fulfills on AT&T's promises of openness as it works across all wireless networks, not just its own. Enterproid and AT&T plan to evolve their relationship and bring more enterprise-focused apps to market in the future. (See Innovate, Evolve ... & Open Up Already! and Demystifying Wireless Innovation Centers.)

For more
CTIA this week is all about the intersection of enterprise and apps. Read up on the latest below, and check out our official show site here.



— Sarah Reedy, Senior Reporter, Light Reading Mobile