How Microservice Architecture and Virtualization Can Make Access Networks Work with Both Legacy OSS & SDN




Date:

5/31/2017 12:00 p.m New York / 5:00 p.m. London
Sponsors: Calix
More information and registration

The simultaneous advancement of SDN frameworks and rollout of next-generation access systems with programmatic management and control APIs establishes a vision for the future of plug-and-play integration and rapid service deployment. Yet as open source and multi-vendor systems and software come together, the compatibility challenges of data models, network operations methodology and virtualization best practices become apparent.

The cost to integrate new vendors and technology is one of the largest impediments to network transformation, making the move to DevOps and automation an elusive goal. With the presentation of two case studies, this webinar describes how virtualized management and microservice connectors are bringing new physical layer technologies (e.g., NG-PON2) to cable's DOCSIS protocols and accelerating the commercialization of Central Office Rearchitected as Datacenter (CORD) architectures.
Battling Network Latency: How to Avoid the Impact of Delay on Your Business




Date:

6/7/2017 11:00 a.m. New York/ 4:00 p.m. London
Sponsors: EXFO
More information and registration

Is Network Latency Hurting Your Business?

With the explosion of data services, one network metric has risen above the others as both cucial and difficult to manage: delay (i.e., latency). Reducing network latency has quickly become critically important as our industry undergoes a shift to a full on-demand model for services and applications. And as we move into the first phase of virtualization, achieving ultra-low latency is of paramount importance and vital to success.

Considering the asymmetrical nature of network congestion and services, unidirectional delay measurement is essential for delivering the best possible QoE, especially in the case of real-time services such as VoIP, video streaming and interactive applications. On the flip side, traditional methods for measuring accurate one-way delay are both complex and expensive. This webinar introduces an innovative approach that solves this challenge by leveraging virtual active service assurance. Discover how to deliver superior quality of experience while not compromising on accuracy, by gaining unidirectional and bidirectional visibility and pinpointing the source of service-impacting latency without using complex or costly external synchronization mechanisms.

Webinar attendees will learn:
Why performance monitoring has become so critical
The main KPIs from an IP transport perspective
The main cause of network delay and its impact on service performance, quality of experience and revenue
How to produce one-way and two-way delay metrics, as well as delay variation metrics, by leveraging standards-based methodologies (OAM/TWAMP), ensuring interoperability with all compatible devices
More about mobile backhaul performance assurance by deep-diving into a use case
Is NETCONF Ready for Prime Time?




Date:

6/13/2017 11.00 a.m New York, 4.00 p.m London
Sponsors: One Access Networks
More information and registration

The latest attempt to crack the CLI vendor lock-in problem is NETCONF, an XML-based protocol created by the IETF that supports operations like transaction-based provisioning, querying, editing and deleting configuration data on network devices. In conjunction with the modelling language YANG, NETCONF is a key enabler of the new paradigm of SDN/NFV where services can be designed at a high level, independent of the complexities and device dependencies of the underlying infrastructure. NFV needs NETCONF/YANG to deliver on the promise of automation, but NETCONF/YANG can enable automation today without the need for virtualization. Why then, isn't NETCONF/YANG more widely implemented?

This webinar will discuss several issues holding back NETCONF/YANG adoption such as the installed base problem, immaturity of module standardization, skill shortages in CSPs and confusion over the overlap of NETCONF/YANG with TOSCA and REST APIs. We will also look at the challenges that operators face as they migrate to next-generation network management, including the need to manage hybrid physical and virtual network functions and the need for openness from the vendor community.
GPON Is Mature but Interoperability Slows Mass Deployment




Date:

6/15/2017 11:00 a.m. New York/ 4:00 p.m. London
Sponsors: VeEx
More information and registration

The proliferation of connected devices (IoT) and increased demand for Internet video continues to drive fiber-to-the-home (FTTH) deployment at an unprecedented pace. Whilst GPON remains the technology of choice to reach residential customers thanks to its simple architecture and tried and tested penetration worldwide, equipment interoperability is still a major challenge for service providers. At the transport layer, GPON equipment interacts well with others but in terms of managing and provisioning services, it's a very different story, due in part to ITU-T standards allowing too much vendor interpretation in the way OLT and ONT devices can communicate.

This webinar will review fiber test practices recommended to verify physical network performance and examine the use of protocol analyzers to troubleshoot the ONU Management and Control Interface (OMCI) and PLOAM that a GPON uses to configure and manage the activation and service layers of the network.
Network Convergence & the Future of Central Offices




Date:

6/21/2017 10:00 a.m New York / 3.00 p.m London / 4.00 p.m Paris
Sponsors: Commscope
More information and registration

C-RAN deployments are gaining momentum, and 5G is on the horizon. To maximize asset utilization and simplify infrastructure, service providers are considering the convergence of their wireline and wireless networks.

In addition, the development of software-defined networking (SDN) and network functions virtualization (NFV) may mean big changes for the Central Office. How big?

Explore the impact of network convergence and the approaching passive infrastructure challenges on your Central Office. Watch the webinar "Network Convergence and the Future of Central Offices." It's happening June 21 at 4:00 p.m. CET/3:00 p.m. GMT.
Threat Intelligence: A New Frontier In Cybersecurity




Date:

6/22/2017 2:00 p.m. EST
Sponsors: AT&T
More information and registration

Developing the right cybersecurity posture – one that is tailored to its specific business model in the specific industry vertical that it serves – is a critical imperative for today's businesses. Fundamental security building blocks that are common to all enterprises need to be augmented with a value-added layer that reflects the unique structure of a business, its assets and liabilities, as well as those of its customers and partners.

Threat intelligence is central to this differentiated security layer that enterprises need to have front and center in their cybersecurity posture. This webinar will examine what threat intelligence is and what its core value proposition is for Chief Information Security Officers (CISOs) and Chief Security Officers (CSOs).

AT&T's Jason Miller and Heavy Reading's Patrick Donegan will consider what it takes to generate, deliver and implement high-value threat intelligence in today's cyber threat landscape. They will examine the value to the enterprise of being able to procure and integrate threat intelligence as a component of an enterprise security architecture independently of other hardware and software components. And it considers the types of characteristics required for a company to be able to serve up a compelling threat intelligence service to augment the security posture of its enterprise customers.
SECaaS in the Carrier Cloud: How CSPs can Capture the SMB Opportunity




Date:

6/28/2017 11:00 a.m. New York/ 4:00 p.m. London
Sponsors: Nominum
More information and registration

Half of all SMBs are victims of cyberattacks. Of those that are attacked, 60% go out of business within months. For SMBs needing better cybersecurity for their employees, guests and all connected devices, the security as a service (SECaaS) model presents the perfect opportunity for CSPs to fill a growing need with a cost-effective, easy-to-deploy solution, while maintaining management of and visibility into all activities on the network.

When SECaaS is made available through the carrier cloud – as opposed to through a third-party provider – by leveraging a CSP's DNS infrastructure, service providers can ensure network performance remains at optimal levels, regardless of the traffic volume or issues caused by third-party cloud solutions. The SECaaS model also enables CSPs to provide the strongest level of protection against threats like phishing, ransomware and other malware – in a highly scalable way, at minimal cost – while creating a new revenue stream and strengthening brand loyalty.

Join this webinar, hosted by Jim Hodges of Heavy Reading, along with Nominum security experts, to learn:
Why SMBs are a key target of cyberattacks and how a SECaaS model presents new opportunities for CSPs
The benefits to CSPs and their SMB customers of offering a SECaaS solution through the carrier cloud
How the DNS infrastructure provides the best layer of protection and keeps network management and visibility with the CSP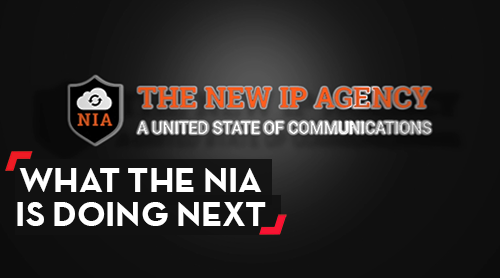 Charting the CSP's Future
Six different communications service providers join to debate their visions of the future CSP, following a landmark presentation from AT&T on its massive virtualization efforts and a look back on where the telecom industry has been and where it's going from two industry veterans.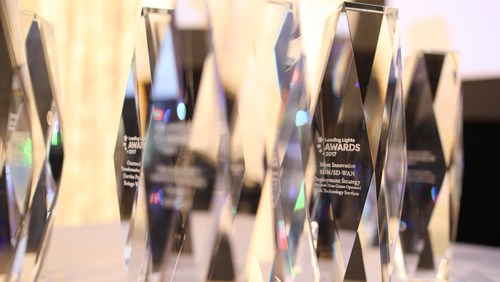 Leading Lights 2017: Winners' Gallery

More Slideshows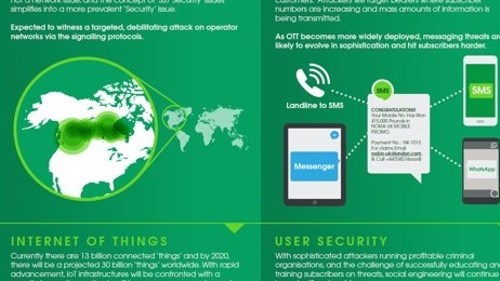 BETWEEN THE CEOs - Executive Interviews




One of the nice bits of my job (other than the teeny tiny salary, obviously) is that I get to pick and choose who I interview for this slot on the Light Reading home ...


TEOCO Founder and CEO Atul Jain talks to Light Reading Founder and CEO Steve Saunders about the challenges around cost control and service monetization in the mobile and IoT sectors.





What Brogrammers Look Like to the Rest of Us
Click Here