Nokia Poll: Microsoft Merger Expected
Nearly half of the respondents who have voted so far in the Light Reading poll regarding Nokia Corp.'s fate believe the Finnish handset firm will be swallowed by Microsoft Corp.. (See Light Reading Poll: What Will Nokia Be in 2014?)
The chart below shows the results of the votes cast by more than 150 respondents within hours of the poll going live.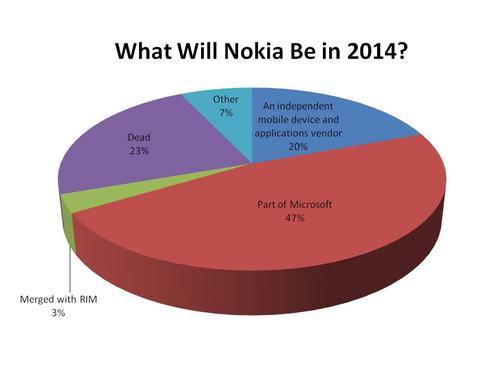 The results show that Nokia's attempts to revive itself as a growing and profitable independent company by instigating a massive restructuring program have not convinced Light Reading's audience, with only 20 percent of respondents expecting Nokia to be a standalone entity in 2014. In fact, more respondents (23 percent) believe Nokia will cease to exist. (See Nokia Cuts 10,000 Jobs, Restructures.)
A merger with Nokia's OS partner, Microsoft, is the most favored option. (See Nokia Unveils Major Revamp and Nokia, Microsoft Team Up.)
But it's early days in the voting and the results may change radically in the coming days as more people cast their votes.
Some readers have other ideas, though. Message board suggestions include Samsung Corp. and Huawei Technologies Co. Ltd. as potential suitors for Nokia, while one reader suggests a tie-up with Microsoft followed by the acquisition of Research In Motion Ltd. (RIM).
If you haven't already, you can cast your vote here.
— Ray Le Maistre, International Managing Editor, Light Reading