5G Volume Knob Cranked to 11

9/13/2017

Comment (5)

With MWC Americas now up and running, and seemingly buzzing, the 5G announcement floodgates have opened, with all manner of vendors and their operator friends whipping up a next-generation mobile standard frenzy and cranking the volume up to 11. (See MWC Americas Day 1 Recap .)
There's already been some 5G action this week, of course. (See Sprint Says Massive MIMO, Coming in 2018, Is the Bridge to 5G and Charter Reveals New Details on 4G/5G Trials.)
But there's so much more where that came from. Here are some of the more notable recent 5G blurts:
Telefónica has cozied up to Nokia Corp. (NYSE: NOK) to figure out its path to 5G and is set to trial the vendor's 4.5G, 4.5G Pro and 4.9G technology as part of an agreement to "evaluate technologies enabling an efficient network evolution to 5G in line with Telefónica's business objectives." The trials will cover a broad range of capabilities, including massive MIMO, cloud RAN, multi-access edge computing and network slicing over Telefónica's virtualized Unica cloud platform. Of course, the relationship is not exclusive as Telefónica is also exploring 5G architectures with Ericsson and Huawei too, but this looks like a pretty tight collaboration. (See Telefónica Plots Unica Expansion, Telefónica CTO on the Path to 5G, Telefónica, Huawei Team Up on the Mobile Network Cloud and Ericsson Claims 5G Demo First.)
Nokia has also teamed up with Qualcomm Inc. (Nasdaq: QCOM) to "accelerate interoperability testing and trials compliant with the 5G NR 3GPP specification," while Qualcomm has also unveiled a 5G NR mmWave prototype system based on the 5G New Radio (NR) Release-15 specifications that operates in mmWave spectrum bands above 24GHz.
Ericsson AB (Nasdaq: ERIC), meanwhile, is developing a "5G proof of concept test in several cities across Japan" with KDDI Corp. The tests, which will be completed by March 2018, will use the 4.5GHz frequency band, a "candidate frequency band" for 5G in Japan. The trials will also include interworking between 4G LTE and 5G using the 4.5GHz and 28GHz frequency bands.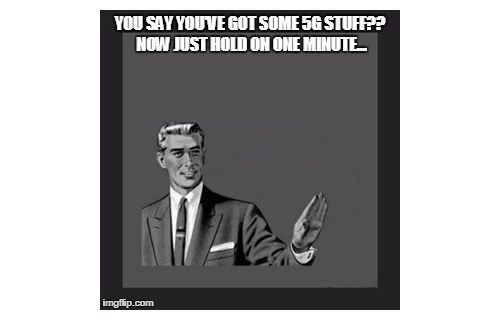 Mavenir Systems Inc. has unveiled its SDN-controlled 5G core network and cloud RAN offerings, stressing its "cloud-native" approach, its focus on virtualization and the availability of its "5G-ready" virtualised Cloud Base Band Unit (vBBU), which the vendor says can be deployed with any remote radio units. Mavenir says its systems, which support 4G LTE and which are already being put through their paces in multiple trials and proofs of concept (PoCs), enable "investment protection" as the system can be upgraded to support 5G New Radio (NR) standards through remote-upgradeable software-defined radio (SDR) capabilities.
South Korean operator LG U+ has conducted a 5G field test with Huawei Technologies Co. Ltd , using the vendor's 5G gNodeB, Ng Core and a 5G mobile bearer network across the 28GHz frequency band. Huawei has also been demonstrating potential 5G use cases with Japanese operator SoftBank Corp. The demonstration included real-time UHD video transmission (with throughput in excess of 800 Mbit/s), remote control of a robotic arm using ultra-low latency transmission (less than 2 milliseconds one way), and remote rendering via a GPU server using edge computing.
Test and measurement specialist Keysite Technologies has launched its 5G RF DVT Toolset, a network emulation solution for 5G radio design verification testing. It is designed to support a broad range of spectrum settings, from sub-6GHz to mmWave, and to test pre-5G specifications as well as the upcoming new radio (NR) standard. The announcement follows from Keysight's launch in May this year of its 5G Protocol R&D Toolset. (See Keysight Unveils 5G Protocol Test Kit.)
Chip vendor Cavium Inc. (Nasdaq: CAVM) has developed a CORD (Central Office Re-architected as Data center) SDN/NFV platform software stack on its ThunderX ARM-based data center server architecture, alongside a "full leaf and spine SDN fabric" on its XPliant programmable SDN switches. Cavium is showing off these capabilities in a multi-rack configuration running "M-CORD Virtualized Mobile Infrastructure and Edge Services" at the MWC Americas show (on the Open Network Foundation's stand, N.332). This configuration can be used in a central office or edge data center for testing "NFV, 5G and C-RAN new technology concepts like intelligent fronthaul and network slicing," boasts Cavium. The chip vendor says it has been working with China Unicom on M-CORD and Cloud RAN projects using this platform.
---
Learn more about the fronthaul and backhaul options for 4G and 5G deployments at Light Reading's 5G Transport & Networking Strategies event in New York on November 10, 2017.
---
Intel Corp. (Nasdaq: INTC) says its 5G Mobile Trial Platform (MTP), which was first announced last year, will support the new non-standalone NR standard when the specifications become available in the fourth quarter of this year for live tests and trials. The chip giant says it will work with the major mobile network infrastructure vendors and leading operators to test standards-based NR gear "in real-world situations" and "help the industry meet ambitious targets to deploy commercial 5G services before 2020."
South Korea's largest operator, SK Telecom (Nasdaq: SKM), and Bharti Airtel Ltd. (Mumbai: BHARTIARTL), India's largest operator, have forged a "strategic partnership" under which Airtel will "leverage SK Telecom's expertise to build the most advanced telecom network in India." The partnership will encompass the development of network management, customer experience, big data and machine learning tools. The two operators will also collaborate on 5G, NFV, SDN and IoT developments, "building an enabling ecosystem for the introduction of these technologies in the Indian context," said SKT in a press release.

— Ray Le Maistre, International Group Editor, Light Reading

(5) |