WideOpenWest Holdings LLC (WOW) , a cable "overbuilder" that tangles with Comcast Corp. (Nasdaq: CMCSA, CMCSK) in some markets, is about to enlist a tactic championed by its much larger competitor to help it free up capacity for more HD channels and new services like Docsis 3.0. (See WOW Gets D3 Ball Rolling.)

Instead of going with a more complicated endeavor like switched digital video (SDV), WOW plans to reclaim valuable analog spectrum using a new breed of "universal" Digital Terminal Adapter (DTA) devices from Evolution Digital LLC powered by Broadcom Corp. (Nasdaq: BRCM) chipsets that can work on digital cable networks based on the Motorola Mobility LLC or Cisco Systems Inc. (Nasdaq: CSCO) platform. (See WOW Takes the DTA Plunge.)

In this instance, WOW will be using the one-way, standard-definition TV DTAs in Cisco-mode.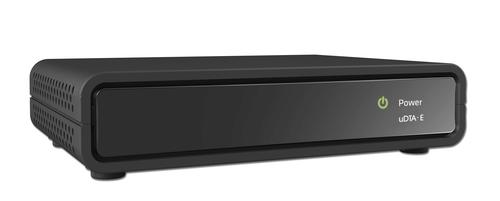 Denver-based WOW, which already has Docsis 3.0 upgrades underway, expects to start deploying DTAs later this month. It competes primarily with Comcast in Chicago and Detroit; Time Warner Cable Inc. (NYSE: TWC) in Cleveland and Columbus, Ohio; and with Insight Communications Co. Inc. in Evansville, Ind.

WOW currently offers about 40 linear HD channels and expects to add about 50 more in each market as it goes through its analog reclamation exercise, an MSO spokeswoman noted. The company plans to launch new higher-speed HSD tiers later this year, she added.

Why this matters
Count this as another vote against SDV as several MSOs, both large and small, continue to throw capital at relatively cheap DTAs (they cost about $30 per unit) as a near-term way to free up spectrum for D3 and other bandwidth-hungry services they can wield at satellite-TV and telco rivals. Comcast alone has already deployed 17 million DTAs so far.

WOW is also an early adopter of uDTAs and will use them to improve its competitive positioning. Before uDTAs came about, the vast majority of DTA deployments have been limited to Motorola-based cable systems.

And expect the DTA market to have some legs beyond the standard-def variety as MSOs such as Comcast begin to deploy a new type of DTA that can support HDTV later this year.

For more:
For more about DTAs and SDV and their respective roles with cable spectrum reclamation, check out:



— Jeff Baumgartner, Site Editor, Light Reading Cable