7/31/2003

Comment (567)

Thousands of foreign-born workers in the U.S. have put their virtual signatures on an Internet petition in the hopes of saving the H1-B visas that brought them here. The workers stand opposed to HR 2688, a bill introduced by Republican congressman Tom Tancredo of Colorado, who says he's trying to save U.S. jobs by scrubbing H-1Bs.

On the Sulekha Website, which keeps Indians in touch with cultural news and events, more than 15,900 visitors have voiced their support of H-1Bs, the visas that allow skilled foreign workers to fill jobs at U.S. companies.

During the telecom bubble, a clamor for technical skill swelled the ranks of visa holders (see Visa Envy?). As the boom busted, many workers were faced with the same unemployment issues as their U.S.-born counterparts (see Foreign Workers Sit Tight). Also, economic woes and heightened security since the September 11 attacks have slowed the H-1B visa flow. In 2002, the number of H-1Bs approved was down nearly 60 percent, from 331,206 in 2001 to 197,537.

Table 1: H-1B Visa Volumes 2000 - 2002

Filed
Approved
2000
299,046
257,640
2001
342,035
331,206
2002
215,190
197,537
Source: U.S. Bureau of Citizenship and Immigration Services
These H-1B figures include both initial approvals and requests for visa extensions. Each visa holder is eligible to stay three years and get an extension of another three years. The limit on
initial
approvals for 2002 and 2003 is 195,000; for 2004, it will revert to the pre-boom level of 65,000.
Tancredo and others are now trying to reduce H-1B quotas or eliminate the program all together. "H-1B workers continue to flood this country while we are in a terrible job market," writes
Bob Graham
, Democratic senator from Florida, in a statement supporting Tancredo. "The H-1B visa limits were set during more prosperous economic times. They can no longer be justified. We have too many highly trained Americans unemployed." Graham says the H-1B program is "abused to provide cheap foreign labor." And there's some evidence many visa holders are paid lower salaries than their U.S. counterparts.
The U.S.
Bureau of Citizenship and Immigration Services
, now part of the U.S.
Department of Homeland Security
, says that in 2002 the typical H-1B beneficiary was born in India, was 30 years old, held a bachelor's degree, worked in a computer-related occupation, and earned an average of $53,000 annually. According to the U.S.
Bureau of Labor Statistics
, the annual pay for electrical engineers in the U.S. in 2002 was $63,544, based on median weekly earnings of $1,222.
Indian workers represent close to half of all H-1B visa holders (see below), so it's easy to see why Indian groups are reacting strongly to H1-B opposition. Eliminating H-1Bs is no fix for America's unemployment problems, they say.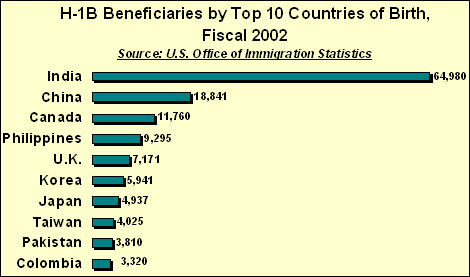 "This move is patently unfair and will not help unemployment. Rather it will cripple the high-tech and other technical industries..." says Gopal Raju, chairman of the
Indian American Center for Political Awareness
, as quoted on the Sulekha site.
Ultimately, the outcome of the legislation may not prove as dramatic for either side as some hope or anticipate -- at least not without other forces working for economic recovery. "There are eight or nine bills pending with similar provisions [to Tancredo's]," says Rajiv S. Khanna, a lawyer specializing in H-1B visa issues who practices in Arlington, Va. But he thinks the H-1B visa program already has shrunk along with the rest of the economy. "It's down, in my opinion, to 10 percent of what it was."
— Mary Jander, Senior Editor,
Light Reading

(567) |