Tumbling prices and a fivefold increase in volumes of wireless LAN chipsets is expected to create a market worth $1 billion a year by 2007, according to the latest Unstrung Insider report -- Wireless LAN Chipsets.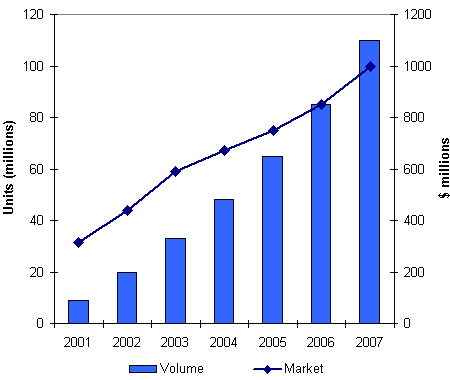 Early growth of the industry has generally been attributed to success in the consumer and home-office markets, thanks to a continued drop in 802.11 chip prices from $35 in 2001 to roughly $20 in 2002 (see 802.11 Price Crunch Redux).

Report author Gabriel Brown expects the customer base to expand significantly in the next five years, however, with a surge in demand for chipsets from all market sectors.

"Unit growth in wireless LAN chipsets looks set to accelerate over the next few years as all end user market segments (residential, SOHO, enterprise, mobile devices, and consumer electronics) expand," he writes.

Brown adds that such expansion will continue to fuel demand for the use of wireless LAN chipsets in handheld devices and notebooks.

"Laptop PCs and PDAs equipped with integrated WLAN chips will be responsible for most of the growth in unit shipments. The volumes of shipments for the access point infrastructure to service those client devices will, by definition, be much lower."

— Justin Springham, Senior Editor, Europe, Unstrung

The full report -- Wireless LAN Chipsets -- costs $400. An annual subscription to the Insider is ordinarily $1,250, but is currently available at the special introductory price of $899. For more information, including subscription information and research examples, go to: Unstrung Insider.