It's official: Despite concerns about delays, equipment availability, and mobile services, WiMax is the hottest wireless topic on wheels at the moment.

If you needed proof, you could have rubbed shoulders -- and maybe other body parts, too, given how crowded it was -- with the 200-plus attendees at Light Reading Live's first ever show about the metropolitan area standard, called WiMax: Why Now?.

For the uninitiated, WiMax is the name developed by the WiMax Forum for fixed wireless and mobile products based on the 802.16 wireless metropolitan area standard (see WiMax Guide for more details on the technology).

The all-day show was held last Thursday at the Union Square W Hotel in Manhattan. Heavy Reading analyst Rick Thompson hosted the event, which included demonstrations and speakers from Navini Networks Inc., SR Telecom Inc. (Toronto: SRX), and Stratex Networks Inc.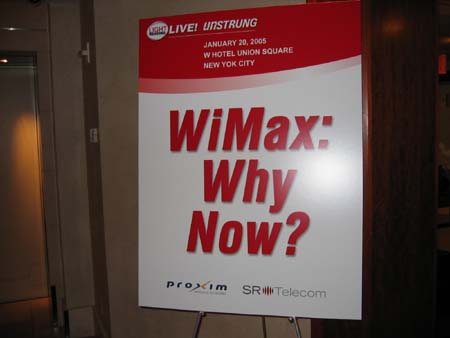 Get the whole story (with pictures!) on Unstrung.

— Dan Jones, Site Editor, Unstrung