Broadband wireless vendors looking to grab a share of the nascent WiMax market are advised to turn their attention East, according to the findings of Unstrung's latest Webinar on the much hyped technology.

Based on the technical specifications developed by the Institute of Electrical and Electronics Engineers Inc. (IEEE) wireless MAN 802.16 task group, WiMax is an emerging technology that aims to deliver last-mile broadband connectivity in a larger geographic area than wireless LAN hotspots.

In June, the IEEE ratified 802.16d, intended for fixed wireless applications (see WiMax Spec Ratified). To meet the needs of mobile users, a further extension -- 802.16e -- is under development and is touted for ratification in the third quarter of 2005.

A plurality of respondents (40.8 percent) to Unstrung's Webinar poll claim that Asia/Pacific will drive the greatest demand for WiMax broadband services, in line with the region's history of high penetration rates for wireline Internet applications.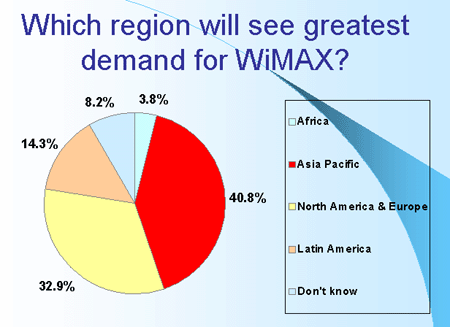 North America and Europe are also considered to be hot regions for growth (32.9 percent), while Latin America comes a distant third (14.3 percent). "Don't Know" handily beat out Africa. As for actual uses of WiMax, 47.7 percent of respondents believe its most likely application is as a complement to DSL and cable, bringing broadband services to places previously untouched by wireline technology.


Despite talk of 802.16e becoming the high-speed technology of choice for wireless carriers, only 23.7 percent of respondents believe WiMax will become a bigger and better competitor to WLAN and 3G.

A further 18.8 percent claim that WiMax will be favored as backhaul for the rapidly increasing volumes of traffic being generated by WLAN hotspots.

A record 1,292 registrants and close to 400 registered service providers signed up to the Webinar. Download the full event here.

— Justin Springham, Senior Editor, Europe, Unstrung