Internet content providers (ICPs) are gaining customers, spending more on infrastructure, creating more Internet traffic than ever before. These firms -- like Netflix, Facebook, Amazon, parts of Google and Baidu -- are set to spend more in global capex than fixed-line telcos in just a few years.
Ovum's Communications Provider Revenues & Capex Forecast 2017-22 Report shows that communications provider spending around the world will climb by more than 6% annually by 2022. But those ICPs are absolutely on fire.
ICP capex will jump by more than 100% over the next five years, from $81 billion in 2017 to $172 billion in 2022, according to Upin Dattani, principal financial analyst at Ovum. Dattani tells Light Reading that "all types of communications providers" will see capex increases "especially as 5G business models develop."
Dattani said by 2022, Ovum predicts ICP capex could double, overtaking that of fixed-line communications service providers (CSPs), a prediction that shows just how fast these companies are growing regarding revenue and influence.
"We effectively had a year when the revenue growth for ICPs was 15% last year in 2017 -- 14.7%, according to our projections and estimates," he said. "We've got that at 13% for 2018. It's a similar kind of high level."
Even as customer growth slows in some markets, ICP companies, as a group, will still be "over 10% growth on the revenue side, and out on the capex side that's 15% to 20% growth in the next couple of years," Dattani said.
Just look at two of the top ICPs to see the trend in action. Facebook said earlier that expects to spend about $15 billion on capex this year -- the high end of the company's prior estimates -- on data centers, servers, network infrastructure and office space. (See Six Key Takeaways From Facebook's Q1 Earnings Call.)
Google (Nasdaq: GOOG)'s parent company, Alphabet Inc. , spent $7.7 billion on capital investments in the first quarter of 2018, up from $2.4 billion year-over-year. Much of that investment is going to Google data centers and property acquisition, but the investment is all geared toward driving the company to grow. (See Alphabet Splashes $7.7B on Capex Spree.)
"They're only two of the companies," said Dattani, of Facebook and Google. "The other companies are not growing investment or revenues anywhere near as much, but there's a chance it [global ICP capex] possibly grows even quicker."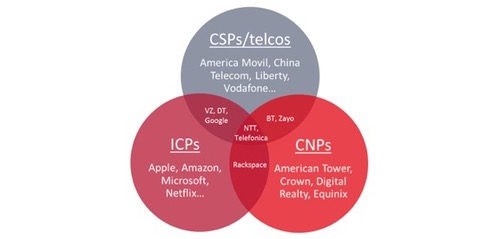 For background, Ovum measures fixed and mobile CSPs (telcos), ICPs and carrier-neutral providers (CNPs) -- tower companies and data center hosters, like American Tower Corp. (NYSE: AMT) or Equinix Inc. (Nasdaq: EQIX).
According to Ovum's tally, CSPs (fixed and mobile) spent $306 billion on capex in 2017, leading ICPs ($81 billion) and CNPs ($11 billion).
— Phil Harvey, US News Editor, Light Reading