In May 2018, Vodafone Group announced that Nick Read will take over as CEO from October this year, replacing the long-serving Vittorio Colao. Vodafone is arguably the most globalized of all telecom operators, with majority-owned networks in 26 countries and partner operations in a further 40. In mobile operator terms, this gives it enormous scale and unmatched brand cachet.
I've watched and listened to Read deliver the numbers, and the occasional bit of "color," on investor presentations for years and followed his career in various roles within the operator, from the CEO of Vodafone's UK unit, to CEO in India, CEO for the operator's Africa, Middle East and Asia Pacific business, and most recently as Group CFO. From July 27, Read will be CEO-designate of one of the largest, most influential operators on the planet. Given the lack of online analysis about Read's appointment, and the absence of profile pieces in major business publications, I thought it would be useful to reflect on what the appointment means for Vodafone Group plc (NYSE: VOD) and how it might impact future strategy.
Why this matters
The first thing to say is that running Vodafone is an immense responsibility. At the time of writing, it's the 11th most valuable company listed on the London stock exchange, which means virtually every working person in the UK has exposure to the operator's financial health via their pensions, while many more beyond the UK have an interest in its success. It has more than 500 million customers, more than 100,000 employees, and in 2017 generated turnover of €46.6 billion (US$54.7 billion) -- of which €41 billion ($48.2 billion) was service revenues -- yielding €5.6 billion ($6.6 billion) in free cash flow. (See Vodafone Prioritizes Automation as Efficiency Bolsters Margins.)
At face value, Read looks the perfect candidate. He's been groomed for the job, with commercial experience across the group, and enjoys a reputation among investors for clarity and straight-talking -- not sugar-coating bad news. In short, he's a known quantity, with a good track record and a broad executive skillset. We all saw this appointment coming and the Vodafone board are to be congratulated on their foresight.
Except, as we know, what looks great on paper doesn't always work out in practice. The cold reality is that, as CEO, Read still has it all to prove. Probably the main thing that will work in his favour is he understands that.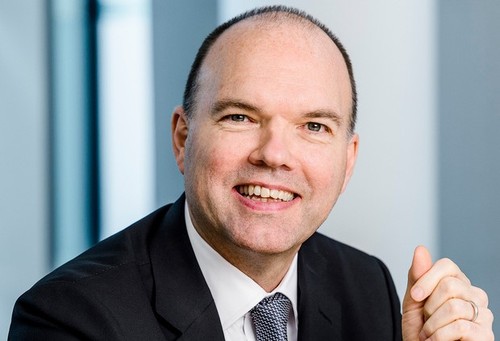 What to expect from Read
It's hard to see anything other than a "by the book" continuation of the current strategy once Read takes over. He is one of its "co-architects," according to the company, and has been intimately involved in Vodafone's growth markets and mature European businesses.
Broadly, this strategy comprises: Operating converged (mobile, fixed and enterprise) telecom businesses; making piecemeal acquisitions or organic investments as market prices allow; and considering, where needed, the odd flotation, divestment or local merger. The days of global expansionism are well and truly over, and have been for more than a decade.
In mature markets, the focus is on creating efficient, converged broadband operators that can take on national incumbents. The offer to acquire Liberty Global's German cable assets, and the tie-up with Ziggo in the Netherlands, exemplify the strategy. In growth markets, Vodafone has intense competition and sometimes difficult national politics to deal with -- would you fancy competing against RJio in India, or negotiating with the South African regulator? -- and the strategies must vary as much as the markets themselves. What works in Turkey might not work in Ghana, for example. (See Vodafone Pounces on Liberty Cable Assets in €18.4B Deal.)
This probably means Read will keep a tight rein on network investment. Even though he has worked in the industry most of his career, Read doesn't strike me as a network person, or even really as a technology person in the vaguest sense. He speaks the language of accountants and asset managers. This is an undoubted strength as CFO, but some will expect a bit more from a CEO -- something to show he's a leader with a plan. You wonder, sometimes, does he really "get" the product he's selling?
You could say this doesn't matter. Colao wasn't a product person either. He was parsimonious with capex, and generally appeared uninterested in the network, or even the product itself, unless his marketing people had developed a scheme that could win a couple of points of market share against a competitor. Yet he's had a successful 10-year tenure -- not inspiring or expansionist, but steady, and with a keen eye on free cash flow. For some, his biggest success was selling 45% of Verizon Wireless to Verizon, but we shouldn't discount his work at the operational level at such a large company. Given the sprawling state of Vodafone when he took over, that's a triumph of management of the highest order and, for me, Colao's crowning glory.
Read won't get another Verizon-scale deal. And focusing on the operating numbers does have its downsides. For example, both Read and Colao bear some responsibility for the diminution of Vodafone UK. This was once the leading operator in Vodafone Group's home market, and the heart of the company since the days of Racal Electronics. Under their watch, this iconic business has endured tough years of underinvestment, leading to poor commercial performance, which saw it drop from first to third in the national pecking order. That resulted in a fall from grace that it is only now starting to turn around under the management of Nick Jeffery.
Any chance of a flourish?
Might Read break the mold? Don't bet on it. Sometimes an ex-CFO can loosen up a bit when they finally get to the hot seat, but there are a thousand reasons why Read will likely stick to the tried-and-tested model -- all those pension fund investors, first and foremost. A BT-esque plunge into content rights seems unlikely, and I'd be surprised to see him make a move for a movie studio à la AT&T, or acquire an email service like Verizon.
Yet this strategy of business as usual has its own risks. Vodafone needs to be aware of stagnation in its operating model and, fundamentally, in how people feel about the company. Again, Read does not strike me as the most emotionally aware of executives. As good as it is, his management background doesn't appear to have much in the way of marketing, and this matters in what is, at base, a consumer business. It's fine to worry about net promotor scores, but does the customer actually like the product? My concern is, I doubt he could tell you.
Read will need to make his mark, not for his own sake, but for the company's.
The good news is that he's very capable and has lots of options. Ironically -- given many people consider Vodafone to be the quintessential mobile company -- if there is one area where he really could lay down a marker, and make the best use of his talents, it is investment in fiber.
— Gabriel Brown, Principal Analyst, Heavy Reading