Benchmarking Cloud Infrastructure – Fast Track Your NFV-Enabled Cloud
Date / Time:
Thursday, July 13, 2017, 12:00 p.m New York/ 5:00 p.m London
Overview: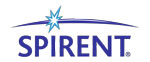 Speakers
James Crawshaw, Senior Analyst – OSS/BSS Transformation, Heavy Reading

Malathi Malla, Director, Product Marketing, Virtualization and Cloud solutions, Spirent
Complex applications placed on virtualized infrastructure require considerable amounts of testing and benchmarking. This helps determine and validate realistic expectations from cloud services and/or virtual service chains delivered by NFV. The ability to baseline and benchmark the underlying cloud infrastructure, and simulate any type of application workload allows you to validate both the functionality and performance of various applications and services (IaaS, PaaS, SaaS) running over this infrastructure. Join us to learn how Spirent can help you fast track your NFV-enabled cloud deployments and measure the health of your cloud.
James Crawshaw, Senior Analyst – OSS/BSS Transformation, Heavy Reading


James leads Heavy Reading's OSS/BSS research service. He examines the breadth of software used by communications service providers in customer, business, service and infrastructure management. James's areas of focus include BSS, OSS, SDP, policy management, revenue assurance, service assurance, analytics and business intelligence. He is particularly interested in the impact of SDN and NFV on operator's IT systems.

Prior to joining Heavy Reading, James worked for more than 15 years as an analyst covering technology and telecom companies for various investment banks and industry research firms. He previously worked as a management consultant in industry.

James holds a BSc and MEng in Electrical and Mechanical Engineering from the University of Manchester, England.
close this window
Malathi Malla - Director, Product Marketing, Virtualization and Cloud solutions, Spirent


Malathi Malla leads Cloud, Data Center and Virtualization segment for Spirent. Responsible for the Product Marketing, Technical Marketing, and Product Management, she drives go-to-market strategy across Cloud and IP solutions. She has over 14 years of hi-tech experience at both Silicon Valley start-ups and large companies including Citrix, IBM, Sterling Commerce (software division of AT&T), Comergent Technologies and NetOptics. Malathi also represents Spirent as Marketing prime through various open source communities like Open Networking Foundation and OpenDayLight.
close this window
Matt Gowarty, Sr. Product Marketing Manager, Infoblox


Matt Gowarty focuses on service providers and cloud and virtualization solutions. With more than 20 years of experience in telecommunications and networking, he leads initiatives with private/hybrid clouds, NFV/SDN and data center automation. Prior to joining Infoblox, Matt worked with leading organizations including Fluke Networks, Visual Networks and GTE/Verizon.
close this window
Walter Kenrich, Director of Product Management, Sonus Networks


Walter Kenrich has over 20 years of domestic and international product management and marketing experience for session border controllers, IP telephony solutions and contact center applications. At Sonus, Walter oversees the strategic product marketing across the entire Sonus product portfolio. Before joining Sonus, Walter held leadership positions in product management and marketing while at Cisco, Empirix, Vertical Communications and EDS. When Walter is not working on solving the next real-time communications market dilemma or customer solution he can be found on the soccer fields, basketball or tennis courts coaching and watching his 3 kids excel in action.
close this window
Frank Wiener, Vice President of Marketing, Wedge Networks


Frank leads marketing for Wedge Networks, Inc. He has more than 25 years of diverse engineering, product management, marketing, sales, and executive leadership experience, with Cyan (Ciena), Calix, Paradyne/AT&T Paradyne, and Nortel. He has a track record of success at growing and scaling organizations and companies from early stage startup through to IPO and/or acquisition. His technical and market expertise spans from wireless and wireline access, to transport, networking, and security. He has written 3 industry books: The DSL Source Book, The Book on Video, and The Book on Transformation, and has spoken at major industry conferences globally. Frank holds a BS in Electrical Engineering from the University of South Florida.
close this window