How do We Capture the 6G Experience?
Date / Time:
Wednesday, June 14, 2023, 10:00 a.m. New York / 4:00 p.m. London
Overview:

A study jointly released by InterDigital and Omdia revealed the need for new quality of "personal" experience (QoPE) metrics to measure the success of 6G-enabled services. Based on research from Carnegie Mellon University's Human Computer Interaction Institute and a variety of industry interviews, the study reveals that future 6G services will be capable of engaging our spectrum of human senses and unlock more fully immersive cyber-physical experiences. 6G will shift the focus of wireless value creation from traditional connectivity to enabling personalized experiences that can be delivered anywhere, requiring new metrics to appreciate this new potential. The future may pose unique challenges for telecom operators and industry at large unless the 6G opportunity is fully understood.
This webinar will feature expert perspectives from academia, research, and industry; each representing a critical pillar with expertise to help define and quantify the quality of new sensory-enhanced experiences enabled by 6G. The discussion will include Omdia analyst and report author Camille Mendler, InterDigital's Director of Technology Strategy Donald Butts, and Carnegie Mellon University's Master of Human-Computer Interaction (MCHI) Product Designer Gabriel Alvarez.
Moderator: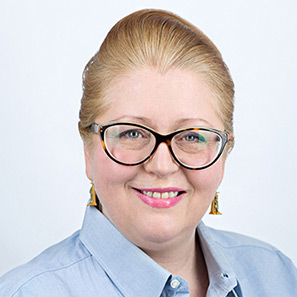 Camille Mendler, Analyst, Omdia | bio
Speakers:
Donald Butts, with more than 15 years of experience, is known for his ability to connect emerging technologies to business opportunities. He has driven innovation and growth by creating new products, technologies, and ventures, and has held positions at leading organizations such as InterDigital, Harman International (a Samsung Company), Sikorsky Aircraft Corporation (a Lockheed Martin Company), and General Electric.

Currently serving as the Sr. Director of Strategy at InterDigital, Donald leads strategic activities in emerging technology areas. His primary focus is on enhancing user experiences in the metaverse and immersive applications through user-centric frameworks and metrics. As the metaverse evolves and networks transition from people-to-device to people-to-people interactions, Donald believes that sensory-driven metrics will play an increasingly vital role in shaping these experiences.

In his previous roles, Donald has worked in various strategic and technical capacities at Harman International, Sikorsky Aircraft Corporation, and General Electric. His diverse background has equipped him with a unique perspective on the intersection of technology and business.

Donald holds a Bachelor of Aerospace Engineering and a Master of Acoustics from The Pennsylvania State University. He also earned an MBA from the University of Connecticut and holds Executive Education Certificates from the MIT Sloan School of Management.
close this window
With a Master's degree in Human-Computer Interaction from Carnegie Mellon University, Gabriel conducted 15 experiments with InterDigital and Omdia, involving more than 75 users to identify key Quality of Experience factors. Developing an interactive framework to help network engineers understand everyday users' contexts and prioritize their experience in the development and implementation of 6G technologies.

Currently, Gabriel is a Founding Product Designer for a couple of stealth startups. He specializes in designing user-friendly machine learning applications. With a background in architecture and a focus on interaction, Gabriel's design approach is centered around creating products and services that are not only beautiful but also enhance human qualities. Whether it's a building or an app, he believes that design can improve people's lives.

Gabriel has experience leveraging emerging technologies such as future 6G and ChatGPT. His professional goal is to continue collaborating with companies that share his passion for human-AI collaboration and provide opportunities for him to further enhance his design skills.
close this window
Dave is a seasoned professional with 18 years of experience in the telecom contact/support industry. For the past 7 years, he has been working at Start.ca. Dave's diverse background and varied experiences have helped him discover his passion for leading people and de-escalating tension. With a strong customer service and team management foundation, he excels in fast-paced and dynamic environments. He focuses on delivering exceptional customer service, ensuring that customers receive timely and accurate support that surpasses their expectations. Dave is a proven leader in building and managing high-performing teams and fostering positive and productive work environments.

Some of Dave's primary areas of focus are • Escalation protocol design and top-level customer interactions
• Community Management, addressing customer billing and technical concerns online
• Crisis Management, dealing with outages and or system issues that impact workflow in real time
• Support troubleshooting policy/process review and development
close this window
Joining Colt in July 2019, Shane is responsible for the operation and management of Colt's award-winning IQ Network and technology platforms across the globe. His teams cover all elements of network service and support, ranging from incident management to networking monitoring to advanced technical support for Colt customers. Shane's team is the lead for Robotic Process Automation (RPA) for the entirety of Colt and is focused on improving Colt's internal and external customer services. Shane joined Colt from Verizon, where he spent over 19 years in various leadership roles. Most recently, he held the position Executive Director, International Network Operations, Engineering and Delivery with responsibility for network strategy, implementation, delivery and assurance of services in over 80 countries in the world. Shane is based in London, UK.
close this window
Camille Mendler has more than 25 years' multi-disciplinary experience in the digital economy and a global remit to anticipate key shifts in B2B demand patterns with a current focus on how 5G is disrupting enterprise ecosystems.

Her consultancy projects solve go-to-market challenges: identifying buyer segments, creating effective value propositions, and determining sales channel mix. Areas of expertise include managed and professional services, cloud and SaaS, and private networks.

During her tenure at Omdia, Camille has launched SoHo and SME and Enterprise Verticals intelligence services. She serves as a judge for the GSMA's GLOMO Awards and TM Forum's Excellence Awards.

Camille has advised organizations including the International Telecommunications Union, Open Society Foundations and World Bank. She has also worked as a telecom contract negotiator, expert witness in dark fiber matters, and technology journalist.

Camille won a research fellowship in Russian Area Studies from Georgetown University and holds a bachelor's degree in journalism and Russian from Northwestern University.
close this window
Madeleine Noland is the President of the Advanced Television Systems Committee Inc. Widely respected for her consensus-building leadership style, she chaired the ATSC technology group that oversees the ATSC 3.0 next-generation broadcast standard before being named ATSC President in May 2019. Previously, she chaired various ATSC 3.0-related specialist groups, ad hoc groups and implementation teams since 2012.

A 15-year industry veteran, Noland held key technology management and standards roles at Backchannelmedia Inc., Telvue Corp. and LG Electronics. She received TV NewsCheck's "2019 Futurist" Women in Technology Award and was named one of 2018's "Powerful Women in Consumer Technology" by Dealerscope magazine. In 2016, she received the ATSC's highest technical honor, the Bernard J. Lechner Outstanding Contributor Award. She graduated cum laude from the University of Massachusetts .
close this window
Ralph Brown founded Brown Wolf Consulting LLC after retiring from CableLabs® where he was CTO and responsible for leading CableLabs' Research and Development staff in delivering innovative technology to the cable industry. In this role, he led research and development in a broad range of areas, including: Hybrid Fiber-Coax, Optical, and Wireless Network Technologies, as well as Open Source Software, Security, and Technology Policy. In this capacity, he was responsible for leading opportunities for convergence across all of CableLabs programs. During this period he also served on the Board of Directors for SCTE/ISBE, the Digital Living Network Alliance (DLNA), the Open Connectivity Foundation (OCF), and Kyrio®.

Prior to CableLabs, Mr. Brown worked for [email protected] as Chief Architect, Set-top Systems where he worked on broadband applications for set-top terminals and entertainment devices. Before joining [email protected], he worked for Time Warner Cable as Chief Software Architect in their Advanced Engineering Department where he worked on the Orlando Full Service Network and was a key contributor the Time Warner Cable Pegasus Program.

Mr. Brown earned a master's degree in Electrical Engineering from Massachusetts Institute of Technology. His Master's thesis was in the field of Speech Recognition. He received his bachelor's degree in Electrical Engineering, Summa Cum Laude, from North Carolina State University.
close this window