Pathways to Net Zero Emissions for the Mobile Telecom Industry
Date / Time:
Wednesday, June 15, 2022, 12:00 p.m New York / 5:00 p.m London
Overview:

Climate Change is an existential threat to humanity and the time to act is running out. Every sector of the economy, including ICT, needs to aggressively decarbonize to meet the objectives of the Paris Climate Agreement. While the ICT sector has aligned behind a Science-Based pathway to reach Net-Zero emissions, to achieve their goals MNOs need to simultaneously deploy two key strategies: first, switch to renewable electricity to power their networks and second, implement network energy efficiency initiatives. It is projected that by 2027, North America will have the highest 5G penetration at 90%. If 5G is deployed in the same way as previous generations to meet rising traffic demands, the energy consumption of mobile networks will increase dramatically.
Throughout this webinar, we will explore how mobile operators can meet the industry's aspiration for net-zero carbon emissions, using a holistic approach that reduces their energy footprint and ensures that as much as possible of the energy they do consume comes from low carbon sources.
Speakers:

James Crawshaw, Principal Analyst, Service Provider Operations and IT, Omdia | bio
Bhushan Joshi, Head of Sustainability & Corporate Responsibility, Ericsson North America | bio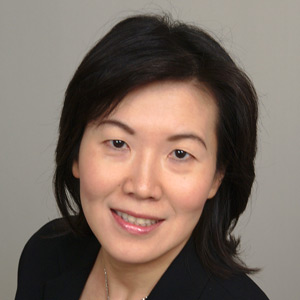 Erin Liao, VP and Head, End-to-End 5G Systems, Ericsson North America | bio
Omdia Principal Analyst in the Service Provider Operations and IT team covering managed services and OSS (service and network management systems including service assurance, orchestration/fulfillment, order management, inventory management, SON, network security, etc.)
close this window
Bhushan Joshi is Head of Sustainability & Corporate Responsibility for Ericsson North America.

In this role, Joshi advocates for the role of the Information Communications Technology sector in enabling other industries to take exponential climate action. He is also focused on developing strategies to help telecom operators in the United States and Canada achieve their energy and sustainability goals with the introduction of 5G.

Joshi has over 15 years of professional experience in corporate sustainability, business development, energy management, renewables, sustainability reporting, sustainability strategy development and program management.

Joshi is an experienced public speaker on the topics of sustainability and corporate responsibility, presenting at prestigious events including Techonomy, the Nordic Innovation Summit, Institute of Electrical and Electronics Engineers, ATIS Next G Alliance and Assembly Magazine.

He has an MBA in Sustainable Business Practices from Duquesne University and holds undergraduate engineering degrees from both Ferris State University in Michigan and Bharati Vidyapeeth Deemed University in India.
close this window
Erin Liao is the VP and Head of End-to-End 5G Systems of Ericsson North America with over 20 years of telecom product development and solution experience. She is responsible for bringing together the complete network solutions integrated with the ecosystem and pushing for the advancement of mobile communication technologies. Erin is most passionate about the transformational potential of 5G and looking forward to its powerful impacts to the society.

Erin grew up in Taiwan, holds a MSEE degree from the University of Pennsylvania, and is currently based in Texas in the US.
close this window
Joining Colt in July 2019, Shane is responsible for the operation and management of Colt's award-winning IQ Network and technology platforms across the globe. His teams cover all elements of network service and support, ranging from incident management to networking monitoring to advanced technical support for Colt customers. Shane's team is the lead for Robotic Process Automation (RPA) for the entirety of Colt and is focused on improving Colt's internal and external customer services. Shane joined Colt from Verizon, where he spent over 19 years in various leadership roles. Most recently, he held the position Executive Director, International Network Operations, Engineering and Delivery with responsibility for network strategy, implementation, delivery and assurance of services in over 80 countries in the world. Shane is based in London, UK.
close this window
Winston Caldwell received his Bachelor of Engineering degree in electrical engineering from Vanderbilt University and his Master of Science degree in electrical engineering from the University of Southern California. He is a licensed Professional Engineer in the state of California with over twenty-five years of electrical engineering experience. He is the Vice President of Advanced Engineering at Fox Corporation. In the past, he has served as a Systems Engineer in the servers and storage industry with EMC Corporation and as a Senior Engineer in the aerospace industry with the Boeing Company.
close this window
Madeleine Noland is the President of the Advanced Television Systems Committee Inc. Widely respected for her consensus-building leadership style, she chaired the ATSC technology group that oversees the ATSC 3.0 next-generation broadcast standard before being named ATSC President in May 2019. Previously, she chaired various ATSC 3.0-related specialist groups, ad hoc groups and implementation teams since 2012.

A 15-year industry veteran, Noland held key technology management and standards roles at Backchannelmedia Inc., Telvue Corp. and LG Electronics. She received TV NewsCheck's "2019 Futurist" Women in Technology Award and was named one of 2018's "Powerful Women in Consumer Technology" by Dealerscope magazine. In 2016, she received the ATSC's highest technical honor, the Bernard J. Lechner Outstanding Contributor Award. She graduated cum laude from the University of Massachusetts .
close this window
Ralph Brown founded Brown Wolf Consulting LLC after retiring from CableLabs® where he was CTO and responsible for leading CableLabs' Research and Development staff in delivering innovative technology to the cable industry. In this role, he led research and development in a broad range of areas, including: Hybrid Fiber-Coax, Optical, and Wireless Network Technologies, as well as Open Source Software, Security, and Technology Policy. In this capacity, he was responsible for leading opportunities for convergence across all of CableLabs programs. During this period he also served on the Board of Directors for SCTE/ISBE, the Digital Living Network Alliance (DLNA), the Open Connectivity Foundation (OCF), and Kyrio®.

Prior to CableLabs, Mr. Brown worked for [email protected] as Chief Architect, Set-top Systems where he worked on broadband applications for set-top terminals and entertainment devices. Before joining [email protected], he worked for Time Warner Cable as Chief Software Architect in their Advanced Engineering Department where he worked on the Orlando Full Service Network and was a key contributor the Time Warner Cable Pegasus Program.

Mr. Brown earned a master's degree in Electrical Engineering from Massachusetts Institute of Technology. His Master's thesis was in the field of Speech Recognition. He received his bachelor's degree in Electrical Engineering, Summa Cum Laude, from North Carolina State University.
close this window