Electronic and photonic building blocks for high-speed wireline transceivers
Date / Time:
Thursday, March 31, 2022, 11:00 a.m. New York / 4:00 p.m. London
Overview:

Especially inside the large data centers that underpin today's cloud and internet infrastructure, traffic keeps growing exponentially. As a result, the industry is now looking at 800G- and even 1.6T-capable optical (pluggable) transceivers, and co-packaged optics with even higher capacities. Maintaining transceiver footprints requires significant advances in terms of energy efficiency, integration density and bandwidth of both the electronic and photonic components of next-gen wireline transceivers.
Topics that will be addressed during this webinar include:
The use of SiGe BiCMOS to achieve beyond 100Gbaud operation as a more accessible alternative to compound semiconductors in analog electronic integrated circuits such as drivers and receivers.
The move towards 5- and even 3nm CMOS for next-generation ADCs and DACs.
Novel approaches for dense integration of electronic and photonic components with unprecedented integration density and manufacturing scalability.
Moving functionality from the electronic to the optical domain using new schemes such as optical domain equalizers.
Speakers:

Simon Stanley, Analyst at Large, Heavy Reading | bio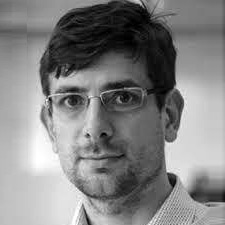 Peter Ossieur, Program Manager - high-speed transceivers, imec | bio
Simon is Founder and Principal Consultant at Earlswood Marketing Ltd., an independent market analyst and consulting company based in the U.K.

Simon's research covers a variety of communications-related subjects, including next-generation core networks, radio access, and 5G, 100G/400/800G technology, IoT, Open Compute, smart NICs, uCPE, multicore processors and switching. In addition, to leading survey-based research projects addressing these areas, he has also hosted many Light Reading webinars and events covering next-generation networking technology. Simon has over 18 years market analyst experience and holds a Bachelor's in Electronic and Electrical Engineering from Brunel University, London.
close this window
Peter Ossieur received an M.Sc. Engineering degree in applied electronics and a Ph.D. in electrical engineering from Ghent University, Ghent, Belgium, in 2000 and 2005, respectively. From 2005 to 2008, he was a Postdoctoral Fellow of the Fund of Scientific Research, Ghent University. During that time, his research was focused on 10Gbit/s burst-mode receivers and optoelectronics for automotive applications. In 2008, he became a part-time Professor of High-Frequency Electronics at the Faculty of Engineering, Ghent University.

In 2009, he joined the Photonic Systems Group, Tyndall National Institute and the Department of Physics, University College Cork, Cork, Ireland, where he became Senior Staff Researcher in April 2013. In this position he established an IC design group focusing on opto-electronic applications.

In October 2017 he joined IDLab, an imec research group at Ghent Unviersity, as Senior Researcher and is currently Program Manager High-Speed Transceivers. He leads research activity focused on the development of high-speed analog and mixed-signal integrated circuits for photonic applications. He has (co-) authored 120 peer-reviewed papers, and holds several patents in the aforementioned research areas.
close this window
Ross Owens (he/him) is a Sales Engineer at Precisely focused on Location Intelligence and Data Enrichment solutions. He's an experienced GIS data analyst with a demonstrated history of working with retail, financial, mar-tech, and real estate industries. Ross first gained conceptual and technical knowledge of geospatial analysis at Colorado State University and has since applied it to his career. Currently, he's living in rural Western North Carolina with his partner and chocolate labradoodle, Frank.
close this window
Proven technical leader with 30+ years of expertise in driving innovation and new product launches with advanced network technologies which enable new services that establish revenue generation and produce cost reductions. Focused on maximizing value of technology, utilizing SDN automation including virtualized network platforms and cloud native ecosystems for service providers. Leverage emerging technologies to improve service performance and the customer experience. Able to attract and retain industry leading engineers, leading to successful new product launches, many of which were first in the telecommunications industry.
close this window
Robert leads the Cox access engineering team that manages the technical deployments for Cox FTTH builds for both residential and commercial customers. Robert previously led the Cox commercial services engineering that built a national Cox Business services backbone and metro access network. He started his career at BellSouth and later AT&T. He was part of the product management team that launched DSL services as well as the initial fiber-to-the-cell site builds. He is a former board member and treasurer of the Metro Ethernet Forum.
close this window
Tom Williams is Chief Technology Officer with Schurz Broadband Group. Tom began his career in the cable industry as an R&D engineer at Scientific-Atlanta developing and deploying the first digital set-top boxes. He moved into consulting with KPMG and later joined Comcast as the Regional Director of Engineering where he was first to deploy new technologies for the company including the VOD, HD-DVR, CHSI, HDTV and more. In 2006 Tom joined ARRIS as Vice President of Marketing and Business Development, where he won 2 AMY awards and implemented a company-wide brand transformation and management strategy. Tom returned to consulting, as a Managing Partner with Brightset Consulting specializing in global marketing and communications strategies for technology companies. He joined the Schurz Communications leadership team in 2016 where he drives technology strategy for the company.

Tom is a long-standing member of SCTE, CTAM, NCTC and WICT. He enjoys mentoring young people interested in technology and advanced video related careers. He has served as a Board member on the Baltimore County Technology Council and the Technology Board for the University of Maryland driving technology solutions to serve students and faculty of the college. Tom was inducted into the prestigious Cable TV Pioneers in 2019.

An active participant in his hometown of Atlanta, he enjoys coaching youth sports teams, serving on community technology boards and supporting local and military-owned business growth. Tom is a member of the American Legion and a United States Marine Corps veteran. He is a member of the Marine Corps Memorial Association that educates and connects others on the history of the Corps and the sacrifices of those who serve.
close this window

Webinar Archive Registration
To register for this webinar, please complete the form below. Take care to provide all required information (indicated in
red
). Press
Register
to complete your registration. If you have already registered for our site or for one of our webinars, you may
login
to register without re-entering your information.