SCTE® LiveLearning for Professionals Webinar™ Series: Converging Wireline and Wireless Networks
Date / Time:
Wednesday, October 19, 2022, 11:00 am New York / 4:00 pm London
Overview: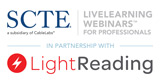 With the help of 5G mobile technology, fixed-wireless access (FWA) is rapidly emerging as a promising new platform for delivering broadband service to areas that can't be reached cost-effectively by copper, coax or fiber, as well as providing the backbone for 5G service. But combining wired and wireless networks and stacks to achieve true fixed-mobile convergence (FMC) is much more easily said than done.
In this session, leading cable and mobile technologists will discuss the promise of FWA and FMC to deliver broadband service, cut costs, attract new customers and generate fresh revenues, as well as the hurdles that still must be overcome to make them truly competitive.
Speakers:
Alan Breznick has tracked the media, telecommunications, broadband, and consumer electronics industries for more than 20 years. Before switching over to Heavy Reading in 2007, he was the original editor of Light Reading Cable Website and founding author of Heavy Reading's Cable Industry Insider. At Heavy Reading, he primarily focuses on cable/MSO services, technologies, and networks, as well as IPTV infrastructure. Alan was formerly a broadband analyst for Kinetic Strategies and a contributing analyst for One Touch Intelligence. He previously reported for Communications Daily, Cable World, Multichannel News, Broadband Daily, Crain's New York Business, and Genuine Article Press, among other publications.
close this window
Rob Wilmoth is the Chief Architect for the Americas Telco, Media, and Entertainment team at Red Hat. He helps customers and partners with challenges ranging from regulatory compliance and general IT, to changing the way that they view their business problems in the network and content delivery spaces. He has been with Red Hat for 14 years in various SA roles supporting accounts including: AT&T, Charter Communications, various financial and retail customers, as well as the North American Investor Owned Utilities Industry.
close this window
Steve is a respected international subject matter expert and thought leader in telecommunications, high technology and information technology systems engineering.

At SCTE•ISBE he is responsible for training content that can lead to increased revenue for cable system operators, resolution of business challenges and enhanced subscriber experiences. He has been integral to the development of ~800 modules of SCTE•ISBE training, as well as boot camps and certification programs for more than 100,000 telecommunication professionals.

SCTE•ISBE training supports the cable workforce in such areas as Fiber Deep, DAA, FTTx, DOCSIS, Wi-Fi, routing, switching, virtualization, cloud, IPv6, Ethernet, Business Services, Cybersecurity, MPEG, Linux, Critical Facilities, installation services, EPON and outside plant/HFC.

A holder of more than 40 industry and instructor certification, Steve has been a leader in conducting MSO IPv6 training; serves as lead instructor of the SCTE/ISBE and SMPTE Cisco Academy virtual classroom and works with international telecommunications companies to develop ADDIE-compliant career path and training programs.
close this window
Jorge Figueroa is the PON Solutions Manager at Harmonic. He's been in the cable industry for over 20 years. During his professional career he's lived in Asia, Europe, and the US helping promote DOCSIS technologies with MSOs around the world. He's held positions at Arris, Sumitomo and Adtran. Now at Harmonic his efforts have focused in making PON a viable access technology for the MSO market. He holds a Bachelor's and a Master's degree in electrical engineering from Clemson University. Jorge currently resides in sunny Tampa, FL.
close this window
For the past eleven years, Jason Morris has been involved in industries at the forefront of technology. As a marketing manager for Corning Optical Communications, Jason is responsible for marketing strategy that includes being the subject matter expert on Corning products and industry standards.

Jason has a Bachelor of Geography, GIS specialization from the University of North Carolina at Charlotte and has been a member of SCTE since 2014.
close this window
Rich Loveland is the Director of Product Line Management for Vecima's Passive Optical Networking (PON) for fiber-to-the-premise products.

With more than 35 years of experience in the telecommunications industry, Rich has held various marketing, product management, business development and engineering roles at Ciena, Ipitek, Pliant Systems Inc., Nortel Networks, Nokia (Formerly Alcatel-Lucent) and now Vecima Networks Inc.
close this window