Cloud-Native Marketplace for Telcos: Everything you need to know from IT to infrastructure
Date / Time:
Wednesday, May 19, 2021, 10:00 a.m New York / 3:00 p.m London
Overview:

5G, IIoT, Wifi6, Software & Hardware Disaggregation, AR/VR, Cloud-native, eSIM have created enormous opportunities for the enterprise segment to grow at an unprecedented speed. With everything available as a service, enterprises have options to deploy their complex payloads in real time on far edge to centralize or near edge, private clouds to public or hybrid clouds. To support this scale of deployments, Telcos need to have required agility in their platform - from IT to infrastructure layer.
In this webinar, STL and Robin.io will discuss how telcos can enhance their focus on the marketplace business model and leverage Kubernetes based platform architecture geared to support the enterprise ecosystem at scale with extreme business and technical agility at the lowest TCO.
Key topics include:
Tapping the enterprise opportunity in the digital era
A fully integrated marketplace platform with ability to manage and sell
A fully automated infrastructure with ability to scale on demand
Speakers:

Jennifer Clark, Principal Analyst – Cloud Infrastructure & Edge Computing, Heavy Reading | bio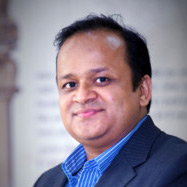 Ravi Shankar, Head of Product Management, BSS/OSS, STL | bio

Subha Shrinivasan, Head of Customer Success, Enterprise & Telco, Robin.io | bio
Jennifer Pigg Clark is Principal Analyst with Heavy Reading covering Cloud Infrastructure and Edge Computing. Clark provides actionable insight into service provider evolution, examining the challenges and opportunities facing network operators as they move towards 5G and IoT with an increasingly virtualized and cloud native infrastructure. Clark examines the solutions and technology reshaping the telco data center, technologies such as Edge Computing, Open Source, OpenStack, container networking, Network Orchestration, Software Defined Networks (SDN), Network Functions Virtualization (NFV), and SD-WAN. Clark started her industry research career with the Yankee Group, which was acquired by 451 Research in 2013. She held the role of Sr. Vice President at Yankee Group. Prior to joining Yankee Group, Clark was Manager of Network Planning and Strategy for Wang Laboratories' corporate data network. She began her career at Wang with responsibility for the domestic and international roll-out of Wang's packet network, connecting more than 250 locations in 14 countries. Before joining Wang, she was a member of the IT research and development division of Commercial Union Insurance Companies. Clark is a highly regarded speaker at industry seminars and conferences and is frequently cited by the commercial and trade press. She has been a guest lecturer at the MIT Sloan School of Management and is a member of the IEEE. She holds a B.A. degree from Mount Holyoke College.
close this window
Ravi is a seasoned professional with a customer-first approach & a proven track record of product and portfolio management, technology development, and digital transformation in the enterprise & network software domain. Being a strong advocate of a people-first, digital lifestyle, and equitable access to resources, Ravi is passionate about using technology to bring extreme agility, data-driven decision making, and significant cost savings to the enterprises. He is an accomplished leader with distinguished abilities in all facets of product design, marketing strategies, including acquisitions and portfolio consolidation through extensive experience in international and multi-cultural environments.
close this window
Subha is a passionate, highly energetic and customer focused technology leader with 360 degree experience in product development, product & program management and engineering services delivery in virtualization, datacenter & cloud native technologies. Currently serving as the head of customer success at Robin.io, working with customers across Telco, Banking, Databases, BigData/Hadoop to adopt a cloud native architecture leveraging Robin's products.
close this window
John serves as President of BitPath, a consortium of broadcasters that is planning the transition of member stations to ATSC 3.0 ("NextGen") and developing platforms to support new businesses that exploit the advanced capabilities of the NextGen broadcasting standard. BitPath is creating a nationwide data distribution network leveraging the enormous data distribution capacity of hundreds of leading television broadcast stations.

Prior to joining BitPath John was a partner in the Washington, D.C. office of Pillsbury, a global law firm with a leading technology practice, where he primarily focused on counseling clients in telecom, media and technology sectors. He was deeply involved in matters related to the development and regulatory approval of ATSC 3.0.

A "go-to" advisor on spectrum matters, before joining Pillsbury John led a large satellite and wireless network development group. He has also served in executive positions with NBC, Lockheed Martin, and New World Communications Group. He is the inventor or co-inventor of four patents related to wireless and satellite spectrum and secure authentication.
close this window
Winston Caldwell received his Bachelor of Engineering degree in electrical engineering from Vanderbilt University and his Master of Science degree in electrical engineering from the University of Southern California. He is a licensed Professional Engineer in the state of California with over twenty-five years of electrical engineering experience. He is the Vice President of Advanced Engineering at Fox Corporation. In the past, he has served as a Systems Engineer in the servers and storage industry with EMC Corporation and as a Senior Engineer in the aerospace industry with the Boeing Company.
close this window
Madeleine Noland is the President of the Advanced Television Systems Committee Inc. Widely respected for her consensus-building leadership style, she chaired the ATSC technology group that oversees the ATSC 3.0 next-generation broadcast standard before being named ATSC President in May 2019. Previously, she chaired various ATSC 3.0-related specialist groups, ad hoc groups and implementation teams since 2012.

A 15-year industry veteran, Noland held key technology management and standards roles at Backchannelmedia Inc., Telvue Corp. and LG Electronics. She received TV NewsCheck's "2019 Futurist" Women in Technology Award and was named one of 2018's "Powerful Women in Consumer Technology" by Dealerscope magazine. In 2016, she received the ATSC's highest technical honor, the Bernard J. Lechner Outstanding Contributor Award. She graduated cum laude from the University of Massachusetts .
close this window
Ralph Brown founded Brown Wolf Consulting LLC after retiring from CableLabs® where he was CTO and responsible for leading CableLabs' Research and Development staff in delivering innovative technology to the cable industry. In this role, he led research and development in a broad range of areas, including: Hybrid Fiber-Coax, Optical, and Wireless Network Technologies, as well as Open Source Software, Security, and Technology Policy. In this capacity, he was responsible for leading opportunities for convergence across all of CableLabs programs. During this period he also served on the Board of Directors for SCTE/ISBE, the Digital Living Network Alliance (DLNA), the Open Connectivity Foundation (OCF), and Kyrio®.

Prior to CableLabs, Mr. Brown worked for [email protected] as Chief Architect, Set-top Systems where he worked on broadband applications for set-top terminals and entertainment devices. Before joining [email protected], he worked for Time Warner Cable as Chief Software Architect in their Advanced Engineering Department where he worked on the Orlando Full Service Network and was a key contributor the Time Warner Cable Pegasus Program.

Mr. Brown earned a master's degree in Electrical Engineering from Massachusetts Institute of Technology. His Master's thesis was in the field of Speech Recognition. He received his bachelor's degree in Electrical Engineering, Summa Cum Laude, from North Carolina State University.
close this window