SCTE Live Learning Webinar™ Series: Sizing Up the New Cable Tech Landscape
Date / Time:
Thursday, January 21, 2021, 11:00 am New York / 4:00 pm London
Overview: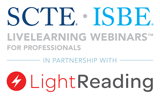 Now that CableLabs and SCTE|ISBE are becoming one, cable tech advances are bound to accelerate as the combined organization doubles down on making the industry's 10G quest a reality. Which advances will likely come first? What will be the priorities of the newly enlarged specs and standards group? Join us for a special LiveLearning session as we speak with the leaders of CableLabs and SCTE|ISBE about their vision and plans.
Moderator:

Jeff Baumgartner, Senior Editor, Light Reading | bio
Speakers:
Jeff Baumgartner is a Senior Editor for Light Reading and is responsible for the day-to-day news coverage and analysis of the cable and video sectors. Baumgartner, who previously had served as Site Editor for Light Reading Cable from 2007-2013, was most recently Senior Content Producer-Technology at Multichannel News, heading up tech coverage for the publication's online and print platforms, and was a regular contributor to Broadcasting & Cable, a sister publication to Multichannel News. Baumgartner was named to the 2018 class of the Cable TV Pioneers.
close this window
Mark Dzuban is continuing a career-long commitment to driving technological change and innovation that create a more connected world and improve business outcomes for the cable industry. Since joining SCTE•ISBE in February 2009, he has been instrumental in transforming the organization into an applied science leader in workforce education, standards, energy management and other areas. In cable's 10G era, Dzuban is breaking down industry barriers and widening SCTE•ISBE's influence in such areas as Aging in Place/TeleHealth, Telemedicine, Autonomous Vehicles, AI/ML and more.

Dzuban has been recognized throughout his career as a thought leader, particularly in the development of cable telephony and other two-way services. Working across legislative, financial and engineering areas, Dzuban pioneered the concept and market acceptance of the voice services that today contribute to cable's bottom line and was granted a patent for an approach to enhancing cable network survivability for lifeline services such as telephony. With AT&T's Broadband Consumer Services group, he engineered the first full-motion MSO-to-MSO video telephony call in 1993.

Dzuban began his career in 1968 as a design engineer for Vikoa, and advanced to leadership positions in such organizations as Clear Cable and Cross Country Cable. With AT&T, he drove deployment of more than 500,000 cable telephony lines after being promoted to senior vice president of AT&T Broadband Telephony Operations and Engineering. Prior to joining SCTE•ISBE, he had served as Vice Chairman of Cedar Point Communications, a developer and manufacturer of innovative VoIP switching equipment. Dzuban also has served in advisory positions to a variety of vendors to the cable industry, including ARRIS, Net2Phone/IDT and Broadcom.

Dzuban has been honored within the industry as a Cable TV Pioneer, a Cable Center Innovation Laureate and a Vanguard Award winner. He also has been named as a Veteran of Influence by the Philadelphia Business Journal. Dzuban served in Korea as a Combat Logistics Specialist in the United States Army. He and his wife, Shawn, now live in the Philadelphia western suburbs.
close this window
Phil McKinney is president and CEO at CableLabs, a non-profit research & development lab funded by the global cable industry. McKinney leads the development of technologies and specifications for the delivery of high-speed data, video, voice and next-generation services. He oversees testing, certification facilities and guides the technical leadership for the industry, charting the course for future technology and innovation.

During his career, McKinney has held leadership positions in major companies including serving as vice president and CTO for Hewlett-Packard's Personal Systems Group. There, he was responsible for long-range strategic planning and R&D for the company's PC product lines. In addition, he founded and led HP's Innovation Program Office (IPO), a nationally recognized incubator for new HP technologies, products and services. McKinney also served as senior vice president and CIO at Teligent and as a director at CSC.

Author, speaker and innovation guru, McKinney shares his rule-breaking approach to innovation and creativity in his book "Beyond the Obvious." He has been recognized by Fast Company, BusinessWeek, MSNBC, Vanity Fair and other media outlets for his industry contributions. In 2015, his podcast, Killer Innovations™, became nationally syndicated and carried by more than 30 radio stations. In 2017, The Cable Center named McKinney an Innovation Laureate in recognition of his role as a key influencer in mentoring, teaching and motivating the next generation of cable industry leaders. He was also an honoree in the 2018 Cablefax 100 which salutes the industry's top power players and game changers.

McKinney serves on the advisory board for Hacking Autism, he is chairman of the board for Pioneer Education Africa, and oversees the Techtrend Group, which invests in entrepreneurs in developing countries to create jobs that fuel economic growth.
close this window
Liam Bresnahan is the Senior Director of Product Management for Footprint at TiVo. With more than 12 years of experience in product management and technology, Liam drives success in creating products and partnerships for PayTV Operators that results in next-generation solutions for easily accessible content across multiple device platforms. Previously, Liam worked within Ericsson and Microsoft where he was responsible for Solution Architecture in EMEA, focused on Mediaroom, Mediaroom Reach and Mediafirst.
close this window
Jean Macher is Business Development Director of SaaS Solutions for Harmonic where he drives the marketing effort for next-generation video solutions in the Americas. Macher joined Harmonic as part of the acquisition of Thomson Video Networks, bringing with him more than 20 years of experience in MPEG-related solutions and digital television implementation. Macher holds a Master of Science in Electrical Engineering from the Institut Supérieur d'Électronique in Paris.
close this window
Dean Stoneback is the Senior Director of Engineering and Standards at SCTE•ISBE and is responsible for the development of standards and operational practices for the broadband communications industry. Specific targets include reducing energy usage through the Energy 2020 program; assuring that networks are ready for DOCSIS 3.1 deployments; enabling advanced and IP video services and digital advertising; developing Internet of things (IoT) deployment methods; and supporting the migration of networks from coax to fiber delivery.

Prior to joining SCTE/ISBE in 2014, Dean spent 26 years with the Jerrold division of General Instrument, Motorola and ARRIS. As a senior manager with ARRIS, he most recently was responsible for systems analysis and architecture development for transmission products for the cable industry, including optics, RF, Ethernet and PON products. During his career he has focused primarily on fiber optic, RF and PON transmission systems and has experience in systems engineering, hardware design, and system integration and test.

Dean was editor of and a contributor to the Third Edition of the NCTA Recommended Practices for Measurements on Cable Television Systems in 2002 and the secretary and a contributor to the SCTE Measurement Recommended Practices for Cable Systems, Fourth Edition in 2012. He co-authored a book on the return path entitled, "Broadband Return Systems for Hybrid Fiber/Coax Cable TV Networks." A longtime participant in the SCTE Standards Program, he was the recipient in 2012 of the SCTE Excellence in Standards award. Dean received a B.S.E.E. degree from Geneva College in Beaver Falls, PA in 1988 and his M.S.E.E. degree from Drexel University in Philadelphia, PA in 1993.
close this window

Webinar Archive Registration
To register for this webinar, please complete the form below. Take care to provide all required information (indicated in
red
). Press
Register
to complete your registration. If you have already registered for our site or for one of our webinars, you may
login
to register without re-entering your information.