SCTE•ISBE Live Learning Webinar Series: 10G vs. 5G
Date / Time:
Thursday, July 16, 2020, 11:00 am New York / 4:00 pm London
Overview: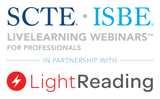 Over the last couple of years, cable operators have embraced mobile as a key part of their product bundles. In the U.S., for instance, Comcast, Charter and Altice have all launched MVNOs with either Verizon or Sprint/T-Mobile. But now, with the rollout of fifth-generation wireless technology, the big question is whether cablecos can use their bold 10 Gigabit broadband initiative to trump or leverage 5G or will lose out to telcos harnessing the technology to deliver competitive services. In this session, we will focus on the opportunities and challenges that 5G presents for the cable industry as it pursues its 10G ambitions.
Speakers

Alan Breznick, Cable/Video Practice Leader, Light Reading | bio

Michael Bangert, Senior Product Manager, VIAVI Solutions | bio
Paul Rodrigues, Director, Field Education, SCTE•ISBE | bio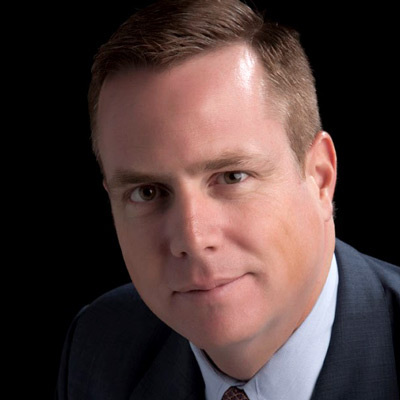 Kevin L. Bourg, Director, Commercial Technology – 5G Wireless, Corning Optical Communications | bio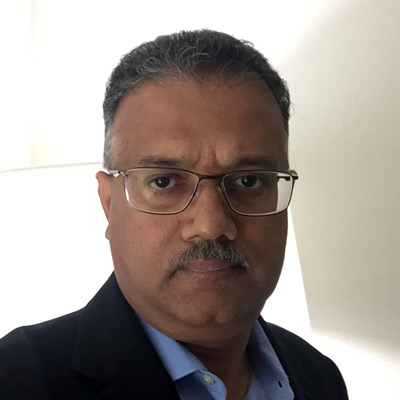 Ram Sridharan, CTO, MSO Segment, Nokia | bio
Alan Breznick has tracked the media, telecommunications, broadband, and consumer electronics industries for more than 20 years. Before switching over to Heavy Reading in 2007, he was the original editor of Light Reading Cable Website and founding author of Heavy Reading's Cable Industry Insider. At Heavy Reading, he primarily focuses on cable/MSO services, technologies, and networks, as well as IPTV infrastructure. Alan was formerly a broadband analyst for Kinetic Strategies and a contributing analyst for One Touch Intelligence. He previously reported for Communications Daily, Cable World, Multichannel News, Broadband Daily, Crain's New York Business, and Genuine Article Press, among other publications.
close this window
Mike has over 20 years of experience in telecommunications networking with a primary focus on optical network transport. He has been at VIAVI for 8 years helping Service Providers optimize their deployment and testing of business services transport and wireless networks. Prior to VIAVI, Mike held positions as sales and marketing with PMC-Sierra (now Microsemi). He has participated on numerous industry panels around 5G and high-speed network technology trends. He received his B.S. in Electrical Engineering and M.B.A. from University of Notre Dame in Indiana.
close this window
Paul Rodrigues has over 27 years of experience in the Telecommunications industry. He joined the SCTE•ISBE in 2017 to be their Director, Field Education and is responsible for developing and maintaining all the field training and certification for the SCTE•ISBE. He has a Bachelor of Science in Industrial Technology degree from Kean University.

Paul has experience in multiple areas in the industry, including Information Technology, Technical Operations, Management, and Learning and Development. Over half of his career has been focused on Learning and Development. Where he has leveraged his experience to design and deliver training programs targeted for diverse audiences such as technical operation, sales, and senior leadership.
close this window
Kevin Bourg was appointed Director, Commercial Technology - 5G wireless within Corning Optical Communications (COC) in September 2019. Kevin is responsible for working together with operators and ecosystem participants in shaping the development of Corning's product portfolio supporting the deployment 5G Wireless technology.

With over 20 years in the industry, Kevin has experience in commercial as well as technical roles where he obtained 3 issued patents and authored numerous conference articles and papers. In 2017, Kevin also coauthored the book "FTTx Networks Technology, Implementation and Operation", an industry resource for evolving fiber networks.

Previously, Kevin held positions at Aurora Networks, Wave7 Optics, World Access and Nortel Networks. Kevin holds a Bachelor of Science in Computer Science from the University of Louisiana Lafayette and a Master of Science in Software / System Engineering from Southern Methodist University.
close this window
Ram Sridharan has over 25 years in the ICT industry. As part of the Chief Technology Office MSO Segment at Nokia, he represents Nokia's long term vision and current technology, products and solutions. Ram is involved to acquire new customers and forge strategic third party relationships. His areas of focus include Cable access including FWA, MVNO CBRS/pLTE, 5G/IOT, Edge Compute, NFV/SDN, Unified Communications, Big Data, AI/ML, CEM and Security. Ram also represents his Company at forums like Cable Labs conferences, SCTE, NFV/Openstack summit, OPNFV, WBA, and CCA. Ram holds a BSCS from Concordia University, an MBA from University of Dallas and is a Project Management professional.
close this window

Webinar Archive Registration
To register for this webinar, please complete the form below. Take care to provide all required information (indicated in
red
). Press
Register
to complete your registration. If you have already registered for our site or for one of our webinars, you may
login
to register without re-entering your information.