SCTE•ISBE Live Learning Webinar: Extending the Spectrum
Date / Time:
Thursday, March 26, 2020, 11:00 am New York / 3:00 pm London
Overview: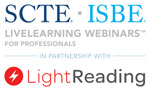 Even though DOCSIS may still have a long life ahead of it, PON is rapidly emerging as an important alternative transmission technology for cable operators as they install more fiber lines. Whether they are leveraging EPON, GPON, 10G EPON or the other various PON flavors, cablecos and vendors are increasingly deploying PON to meet their customers' bandwidth needs. How is the industry leveraging the different PONs? What are the requirements for deploying the technology? How can operators and vendors mesh PON and DOCSIS? This webinar will tackle questions like these and more.
Speaker:
Alan Breznick, Cable/Video Practice Leader - Light Reading

Dean Stoneback, Senior Director, Engineering, SCTE

Doug Jones, Principal Architect, CableLabs

JR Walden, CTO & SVP, Mediacom

Robin Lavoie, Senior Director, Network Evolution Strategies, Cogeco

Colin Howlett, VP Architecture, Vecima
Alan Breznick, Cable/Video Practice Leader, Light Reading


Alan Breznick has tracked the media, telecommunications, broadband, and consumer electronics industries for more than 20 years. Before switching over to Heavy Reading in 2007, he was the original editor of Light Reading Cable Website and founding author of Heavy Reading's Cable Industry Insider. At Heavy Reading, he primarily focuses on cable/MSO services, technologies, and networks, as well as IPTV infrastructure. Alan was formerly a broadband analyst for Kinetic Strategies and a contributing analyst for One Touch Intelligence. He previously reported for Communications Daily, Cable World, Multichannel News, Broadband Daily, Crain's New York Business, and Genuine Article Press, among other publications.
close this window
Dean Stoneback, Senior Director of Engineering and Standards, SCTE•ISBE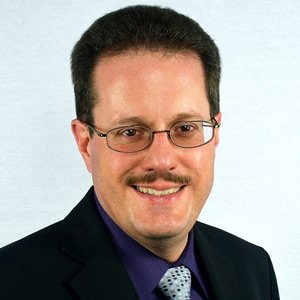 Dean Stoneback is the Senior Director of Engineering and Standards at SCTE•ISBE and is responsible for the development of standards and operational practices for the broadband communications industry. Specific targets include reducing energy usage through the Energy 2020 program; assuring that networks are ready for DOCSIS 3.1 deployments; enabling advanced and IP video services and digital advertising; developing Internet of things (IoT) deployment methods; and supporting the migration of networks from coax to fiber delivery.

Prior to joining SCTE/ISBE in 2014, Dean spent 26 years with the Jerrold division of General Instrument, Motorola and ARRIS. As a senior manager with ARRIS, he most recently was responsible for systems analysis and architecture development for transmission products for the cable industry, including optics, RF, Ethernet and PON products. During his career he has focused primarily on fiber optic, RF and PON transmission systems and has experience in systems engineering, hardware design, and system integration and test.

Dean was editor of and a contributor to the Third Edition of the NCTA Recommended Practices for Measurements on Cable Television Systems in 2002 and the secretary and a contributor to the SCTE Measurement Recommended Practices for Cable Systems, Fourth Edition in 2012. He co-authored a book on the return path entitled, "Broadband Return Systems for Hybrid Fiber/Coax Cable TV Networks." A longtime participant in the SCTE Standards Program, he was the recipient in 2012 of the SCTE Excellence in Standards award. Dean received a B.S.E.E. degree from Geneva College in Beaver Falls, PA in 1988 and his M.S.E.E. degree from Drexel University in Philadelphia, PA in 1993.
close this window
Doug Jones, Principal Architect, CableLabs

Doug Jones is a principal architect at CableLabs, a non-profit research & development lab funded by the global cable industry. He is responsible for developing the Full Duplex DOCSIS certification program. With more than 24 years in the cable industry as both an operator and a supplier, Doug has been focused on driving fiber deeper into the HFC network, the evolution of DOCSIS technology and products and the Proactive Network Maintenance of DOCSIS systems.

Prior to joining CableLabs, Doug was a broadband consultant focusing on PON, FTTH and DOCSIS technologies. He also served as a vice president at Comcast where he led PON and DOCSIS projects including fiber deep, distributed architecture and capacity planning. As chief cable architect at BigBand Networks he was responsible for innovating within the business unit, product management and product marketing.

Doug actively participates in several SCTE standards working groups including the local SCTE chapter and he has been issued multiple patents with patents pending in the areas of broadband access technology. He holds a Bachelor of Science degree in medical technology from the State University of New York at Albany, and a Bachelor of Science degree in electrical engineering and a Master of Science degree in biomedical engineering from the University of Texas at Austin.
close this window
JR Walden, CTO & SVP, Mediacom

JR Walden began his career working for the US Department of Defense in military research where he was introduced to mainframes, supercomputers and the Internet. He spent two years working on missile guidance technology and three additional years on fuse concept development and 3D imaging technology. Later, while working for defense contractors Comarco and Science Application International Corporation, he became involved with and ultimately managed an early municipal dial-up Internet business. He then began working with Mediacom and founded their Internet business with his first broadband deployment in early 1997. He was promoted to Senior Vice President of Technology in 2008 and named CTO in 2015. JR currently runs technology and engineering for Mediacom, including video, Internet, phone and enterprise products. He is the 2002 recipient of Mediacom's Chairman's Award, Multichannel News 40 under Forty for 2010 and the 2016 recipient of the NCTA Vanguard award for Science and Technology.
close this window
Robin Lavoie, Senior Director, Network Evolution Strategies, Cogeco


Robin Lavoie is Senior Director, Network Evolution Strategies at Cogeco. Robin started his career in 1984 as a technical director with Cablovision Alma, later acquired by Cogeco. In 1992 he took on the responsibility of HFC Engineering, CAD Software and Instrumentation in Trois-Rivičres. Robin then assumed the role of IP Engineering deploying Internet service and the first cable modem. In 1998, he joined Cogeco`s corporate office in Montreal, leading the deployment of DOCSIS, then served in the role of Digital Video Engineering and associated systems. Since 2008, he has been a member of the CTO`s office leading technology research and development. In parallel, Robin has always been active in Software Engineering developing tools, rewriting and improving systems.
close this window
Colin Howlett, VP Architecture, Vecima


Colin Howlett is responsible for defining overall technology strategy at Vecima and an active participant in industry standards development at CableLabs and SCTE in the areas of DOCSIS and Distributed Access Architectures. Colin holds multiple patents in cable broadband access, a Bachelor of Electrical Engineering degree and Bachelor of Computer Science degree from the University of Saskatchewan.
close this window

Webinar Archive Registration
To register for this webinar, please complete the form below. Take care to provide all required information (indicated in
red
). Press
Register
to complete your registration. If you have already registered for our site or for one of our webinars, you may
login
to register without re-entering your information.