Securing the Cable Network
Date / Time:
Thursday, November 14, 2019, 12:00 p.m. New York / 5:00 p.m London
Overview: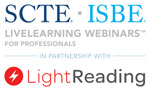 Wary of the increasing number of hacks into enterprise and consumer data networks, cable technologists are pursuing ways to protect their increasingly complex networks and their customers from cyber attacks. CableLabs, for instance, is developing a "Micronets" framework to safeguard the home network. In this session, experts from CableLabs and elsewhere will discuss what cable operators can do to keep the bad guys out.
Speakers
Alan Breznick, Cable/Video Practice Leader - Light Reading

Rob Wilmoth, Chief Architect, Service Provider Team, Red Hat North America

Randy Levensalor, Principal Architect, CableLabs

Steve Harris, Executive Director, Technical Sales, Learning & Development, SCTE/ISBE
Alan Breznick, Cable/Video Practice Leader, Light Reading


Alan Breznick has tracked the media, telecommunications, broadband, and consumer electronics industries for more than 20 years. Before switching over to Heavy Reading in 2007, he was the original editor of Light Reading Cable Website and founding author of Heavy Reading's Cable Industry Insider. At Heavy Reading, he primarily focuses on cable/MSO services, technologies, and networks, as well as IPTV infrastructure. Alan was formerly a broadband analyst for Kinetic Strategies and a contributing analyst for One Touch Intelligence. He previously reported for Communications Daily, Cable World, Multichannel News, Broadband Daily, Crain's New York Business, and Genuine Article Press, among other publications.
close this window
Rob Wilmoth, Chief Architect, Service Provider Team, Red Hat North America

Rob Wilmoth is Chief Architect for the Red Hat North America Service provider team. He works closely with customers and partners advising and assisting with challenges ranging from regulatory compliance and general IT, to changing the way that they view their business problems in the network and content delivery spaces. He has been with Red Hat for eleven years in various Solutions Architecture roles supporting accounts including; AT&T, WarnerMedia, Charter Communications, Comcast, TIAA Bank, and the utility industry.

Rob is an Appalachian State Grad with bachelor's degrees in Business Administration and Information Systems.
close this window
Randy Levensalor, Principal Architect, CableLabs


Randy Levensalor is a lead architect at CableLabs, a non-profit research & development lab funded by the global cable industry. As a principal member of the Network Functions Virtualization (NFV) team, he is responsible for creating the NFV infrastructure reference platform and progressing orchestration capabilities based on service providers' needs. Randy also leads the Software Defined Networking NFV Application development Platform and Stack project, or SNAPS®, a CableLabs initiative to accelerate and ease the adoption of network virtualization.

Prior to joining CableLabs, Randy gained extensive experience leading R&D, DevOps, and product management across several Hewlett-Packard divisions focusing on successfully delivering its public cloud, Linux and converged management solutions.

Randy is actively involved in OPNFV, OpenStack and OpenDaylight and contributes to key industry standardization efforts including ETSI NFV. A subject matter expert, he has spoken on a broad range of topics at several conferences including the Open Networking Summit, OpenStack Summit, OPNFV Summit, Big Communications, SCTE Cable Tech Expo, NFV World Congress, SDN World Congress, Linux Conference Australia, Automation Everywhere and many more. Randy holds a Bachelor of Science degree in computer science from Virginia Tech.
close this window
Steve Harris, Executive Director, Technical Sales, Learning & Development, SCTE/ISBE


Steve is a respected international subject matter expert and thought leader in telecommunications, high technology and information technology systems engineering.

At SCTE•ISBE he is responsible for training content that can lead to increased revenue for cable system operators, resolution of business challenges and enhanced subscriber experiences. He has been integral to the development of ~800 modules of SCTE•ISBE training, as well as boot camps and certification programs for more than 100,000 telecommunication professionals.

SCTE•ISBE training supports the cable workforce in such areas as Fiber Deep, DAA, FTTx, DOCSIS, Wi-Fi, routing, switching, virtualization, cloud, IPv6, Ethernet, Business Services, Cybersecurity, MPEG, Linux, Critical Facilities, installation services, EPON and outside plant/HFC.

A holder of more than 40 industry and instructor certification, Steve has been a leader in conducting MSO IPv6 training; serves as lead instructor of the SCTE/ISBE and SMPTE Cisco Academy virtual classroom and works with international telecommunications companies to develop ADDIE-compliant career path and training programs.
close this window
Sev Sadura, Director of Product Marketing – Clearfield

Sev Sadura has over 18 years of experience in telecom and data network markets. He's held product management and leadership positions at Pentair, Transition Networks, Allied Telesis and Entrust Datacard. Sev's focus is on innovation and how technology mitigates business risks and solves customer challenges.
close this window