The Impact of Full Duplex DOCSIS on Cable Networks
Date / Time:
Thursday, May 16, 2019, 11:00 a.m. New York / 4:00 p.m London
Overview: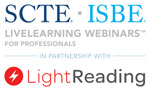 Speakers
Now that most larger North American MSOs are wrapping up their rollouts of DOCSIS 3.1, it's time to prepare for rolling out the next DOCSIS spec – Full Duplex DOCSIS. But that's easier said than done because Full Duplex requires operators to extend fiber much deeper into their access networks and eliminate all amplifiers. What kind of impact will Full Duplex have on the HFC network? How can operators cope? Our experts will tackle these issues and more.
Alan Breznick, Cable/Video Practice Leader, Light Reading


Alan Breznick has tracked the media, telecommunications, broadband, and consumer electronics industries for more than 20 years. Before switching over to Heavy Reading in 2007, he was the original editor of Light Reading Cable Website and founding author of Heavy Reading's Cable Industry Insider. At Heavy Reading, he primarily focuses on cable/MSO services, technologies, and networks, as well as IPTV infrastructure. Alan was formerly a broadband analyst for Kinetic Strategies and a contributing analyst for One Touch Intelligence. He previously reported for Communications Daily, Cable World, Multichannel News, Broadband Daily, Crain's New York Business, and Genuine Article Press, among other publications.
close this window
Steve Harris, Executive Director, Technical Sales, Learning & Development, SCTE


Steve Harris is a subject matter expert in the cable telecommunication, high-tech and information technology vertical markets, he writes technical curriculum, performs technical research, designs worldwide certifications, creates operational practices, speaks at industry technical events and designs other technical resources. In addition, he is responsible for industry networking, and outreach; strategic business development, academy and corporate partnerships; instructor-led vendors and instructional delivery.
close this window
Doug Jones, Principal Architect, CableLabs

Doug Jones is a principal architect at CableLabs, a non-profit research & development lab funded by the global cable industry. He is responsible for developing the Full Duplex DOCSIS certification program. With more than 24 years in the cable industry as both an operator and a supplier, Doug has been focused on driving fiber deeper into the HFC network, the evolution of DOCSIS technology and products and the Proactive Network Maintenance of DOCSIS systems.
close this window
Sev Sadura, Director of Product Marketing – Clearfield

Sev Sadura has over 18 years of experience in telecom and data network markets. He's held product management and leadership positions at Pentair, Transition Networks, Allied Telesis and Entrust Datacard. Sev's focus is on innovation and how technology mitigates business risks and solves customer challenges.
close this window