Taming the Home Networking Monster
Date / Time:
Thursday, January 17, 2019, 11:00 a.m. New York / 4:00 p.m London
Overview: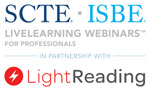 Speakers
Now that many of them have rolled out either DOCSIS 3.1 or FTTH networks in their service areas, cable operators are staking their claim in the gigabit market with the capacity to offer blazing speeds of up to 10 Gbps down and at least 1 Gbps up. But as they do so, they are running into a fresh set of challenges, particularly in the home WiFi environment. How can operators manage their new gigabit services to make sure that customers get the speeds and service they're promised? How can they improve the customer's WiFi and mobile experience? In this session, our expert panelists will discuss the early gigabit deployment lessons from the field.
Alan Breznick, Cable/Video Practice Leader, Light Reading


Alan Breznick has tracked the media, telecommunications, broadband, and consumer electronics industries for more than 20 years. Before switching over to Heavy Reading in 2007, he was the original editor of Light Reading Cable Website and founding author of Heavy Reading's Cable Industry Insider. At Heavy Reading, he primarily focuses on cable/MSO services, technologies, and networks, as well as IPTV infrastructure. Alan was formerly a broadband analyst for Kinetic Strategies and a contributing analyst for One Touch Intelligence. He previously reported for Communications Daily, Cable World, Multichannel News, Broadband Daily, Crain's New York Business, and Genuine Article Press, among other publications.
close this window
Chris Bastian, SVP & CTO, SCTE/ISBE


Chris Bastian joined SCTE/ISBE in 2015 following three decades of leadership in advanced cable and network security technologies. He is responsible for all areas of technology and engineering to ensure that SCTE and ISBE maintain a leadership role in standardizing and operationalizing advanced technology, including the SCTE Standards Program and the SCTE Engineering Committee, as well as groundbreaking efforts such as SCTE's Energy 2020 program. Prior to joining SCTE/ISBE, Chris spent ten years with Comcast, where he served as Senior Director of Converged Regional Area Network Engineering for the Comcast Network Engineering Group, Executive Director of Network Architecture for the Comcast Technology and Product Group and ultimately as Executive Director of Comcast's Xfinity WiFi network. Previously, he held network operations and engineering positions with RCN and Comcast Cellular Communications, and spent ten years in engineering and leadership capacities with the National Security Agency.
close this window
Justin Wolf, Director Product Development-Software, SmartRG/ADTRAN

Justin Wolf has more than 20 years of experience as a software engineer, engineering manager and product manager. He has worked in the service provider industry since 2012 when he joined Cisco Systems, leading development of SaaS solutions to manage, diagnose and troubleshoot subscriber home networks. He joined ADTRAN in 2018 as part of the SmartRG acquisition. His vast experience ranges from software development for Sega and Sony consoles, analyzing complex technology scenarios as a government contractor and creating analytics solutions for business intelligence.
close this window
Josh Redmore, Lead Architect, Wireless Research and Development, CableLabs


Josh Redmore is Lead Architect, Wireless Research and Development at CableLabs, where he focuses on developing Proactive Network Maintenance protocol standards. Josh is also involved in antenna performance research, LTE-U coexistence, community WiFi, next-generation hotspot standardization and user experience optimization. He holds task-group leadership positions in the Wireless Broadband Alliance and Wi-Fi Alliance -- most recently completing the creation of the Wi-Fi CERTIFIED Home Design program. Prior to CableLabs, Josh spent eight years leading a global support organization for VoWi-Fi products, and a further ten in wired networking.
close this window
Sev Sadura, Director of Product Marketing – Clearfield

Sev Sadura has over 18 years of experience in telecom and data network markets. He's held product management and leadership positions at Pentair, Transition Networks, Allied Telesis and Entrust Datacard. Sev's focus is on innovation and how technology mitigates business risks and solves customer challenges.
close this window