Date / Time:

Thursday, June 14, 2018, 10:00 a.m New York / 3:00 p.m London
Overview:

Speakers
Gabriel Brown, Principal Analyst – Mobile Networks and 5G, Heavy Reading

Ankit Agarwal, Director (Telecom Products Business), Sterlite Tech
5G promises to change the way we live our lives, with unprecedented services and unparalleled user experiences. With the heavy expectations of delivering up to 1,000 times increased bandwidth, 100 times more connected devices and latency of less than 1ms, mobile operators will have to adopt "small cell networks" which strategically bring the network closer to the users. Small cells can be backhauled over copper, microwave or fiber. With fiber being the most scalable, secure and cost-effective option, it is expected to play a pivotal role in 5G rollout world over. Most leading telecom operators are committed to investing in fiber while governments are leading the way through policy and regulatory changes.
In this webinar, Ankit Agarwal, Director (Telecom Products Business), Sterlite Tech, will elaborate on:
How the technology trends of today are paving the way for the organic roll out of 5G
Decoding 5G - What 5G means for end users
Why fiber infrastructure upgrades are critical for 5G rollout
Why CSPs should partner with network integrators for successful rollouts
Gabriel Brown, Principal Analyst – Mobile Networks and 5G, Heavy Reading


Gabriel leads mobile network research for Heavy Reading. He covers system architecture including RAN, core, and service-layer platforms. Key research topics include 5G, LTE Advanced, software-based mobile core, and the application of cloud technologies to mobile networking. Gabriel has more than 15 years' experience as a mobile network analyst. Prior to joining Heavy Reading, he was Chief Analyst for Light Reading's Insider research service; before that, he was editor of IP Wireline and Wireless Week at London's Euromoney Institutional Investor.
close this window
Ankit Agarwal, Director (Telecom Products Business), Sterlite Tech

Ankit Agarwal joined Sterlite Tech in 2007. He is Director for Sterlite Tech's Telecom Products Business which includes optical fibre, optical fibre cables and data cables. He has been instrumental in expanding the global footprint of the Telecom business by successfully executing and managing Joint Ventures in China and Brazil. Under his leadership, Sterlite Tech's global sales have crossed over 100 countries. In addition to Joint Ventures, he is also responsible for executing strategic opportunities such as Mergers & Acquisitions and Greenfield projects globally for Sterlite Tech.

Prior to Sterlite Tech, Ankit led the Corporate Strategy of Vedanta Resources and played a key role in Vedanta's strategic transactions including its $8.6 billion acquisition of Cairn India, and $2.6 billion bid for ASARCO. As an Analyst at the Investment Banking division of Deutsche Bank (London) prior to his stint at Vedanta, he played a significant role in cross-border transactions such as Tata Steel's acquisition of Corus for US$12 billion & Eurasian Natural Resources $2.7 billion IPO.

Ankit holds a Bachelor's degree from University of Southern California and an MBA degree from London Business School.


close this window
Charlie Arteaga, Leader, IBM GTS Industry Services


Charlie Arteaga is an IBM Distinguished Engineer, and Leader of the IBM GTS (Global Technology Services) Industry Services for Telecom Service providers. Charlie has an M.S. Degree in Information Technology and is certified as an Open Group Distinguished Network Architect. With over thirty-five years of experience in designing, and deploying data communication network solutions, Charlie has helped many customers over the last three decades with developing complex data network solutions for service providers, smarter cities, banking, and smart grid and smart metering applications among others. In his current role, Charlie leads the infrastructure solutions and offerings globally for communication service providers.
close this window
Steven Teitzel, Global Solution Executive, Network & OSS Transformation, IBM


Steven Teitzel is responsible for the strategy and business development for IBM cloud-based networking with NFV/SDN, OSS and security enabling network and OSS transformations. He applies cognitive analytics, cloud, assurance and agile DevOps to build IBM cloud-based networking for the service provider network operations and infrastructure to take out cost and drive monetization of the network. Steven has been with IBM for 35 years as a solution executive, a managing principal, principal, consultant and architect within IBM Sales and Global Services for IT Strategy, Networking and Service Management.

close this window



Webinar Archive Registration
To register for this webinar, please complete the form below. Take care to provide all required information (indicated in

red

). Press Register to complete your registration. If you have already registered for our site or for one of our webinars, you may login to register without re-entering your information.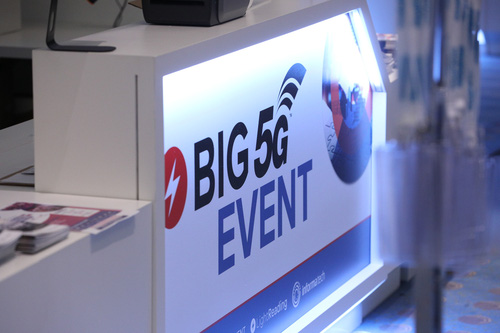 The Big 5G Event: Photos

More Slideshows