9:30 AM -- SAN FRANCISCO -- Initial thoughts from the Web 2.0 Expo...

Cisco Systems Inc. (Nasdaq: CSCO) isn't the only one that believes in Web 2.0 for the enterprise. My sprint through the exhibit floor yesterday turned up four companies claiming to work on collaborative or social networking tools for the enterprise: Igloo Inc., Reply, SocialText, and Yugma. Cisco's WebEx Communications was there, too, of course.

That doesn't prove Cisco's right. It just means the VCs smell blood.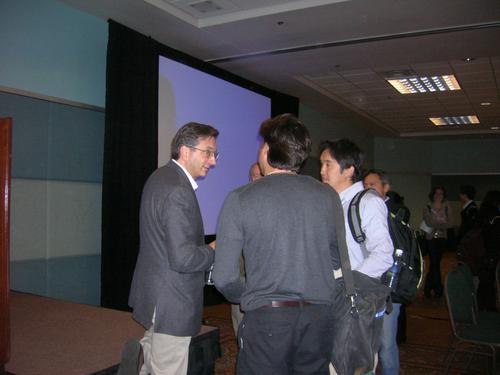 Separately, Bob Iannucci, CTO of Nokia Corp. (NYSE: NOK), is speaking at Web 2.0 Expo today. It's a 2:40 p.m. (Pacific) session titled, "Innovation in an Age of Mobility and Openness." Even if it's the same as his talk at the Mobile Future conference earlier this week, it's worth attending.

In writing up that talk, I didn't have time to include his explanation of Nokia's experiments with traffic prediction, something Google (Nasdaq: GOOG) and Microsoft Corp. (Nasdaq: MSFT) have been talking about as well. It's the example of the kind of location-based application mobile phones could be applied towards.

The idea is to monitor freeway traffic by setting up virtual trip wires; a Nokia phone crossing the wire would register as a data point. Add enough of those, and you get a picture of the traffic situation. Do that enough, and you can predict traffic.

To answer the first objection you've probably thought of: Iannucci says if only 1 percent of drivers have participating Nokia phones, the model can outpredict those traffic-alert signs on the freeways. The other common objection, related to privacy, gets a little murkier. Iannucci swears that Nokia doesn't use the system to record who's speeding (although that would be clever). That still doesn't stop the project from feeling a little creepy.

Anyway, Iannucci was a captivating speaker, and I'd recommend his talk, even if it's a rerun.

— Craig Matsumoto, West Coast Editor, Light Reading