Faced with a glut of inventory and an industry on its back, two executives at ILX Lightwave Corp. have a friendly wager to make the hard times a little less humiliating.

Well, almost.

At the beginning of the month, Dick Freeman, chief financial officer of the Montana-based optical test and measurement company, suggested throwing 1,600 WDM lasers into the dumpster so that the company could take a tax writeoff on the loss. CEO Larry Johnson, however, couldn't see the sense in wasting good components. "I really struggle with throwing away something as intrinsically valuable as a WDM laser," he says.

So Johnson laid down a bet: If he could sell 500 lasers by the end of January 2003, Freeman would have to spend an entire day at work dressed as a WDM laser.

What does a WDM laser costume look like? Johnson isn't completely sure yet. He's just starting to build one.

"I'm going to start with a rectangular cardboard box and add some pins made out of cardboard tubes," he says. "I see it as something you kind of wear on your body while dragging this huge tail-like thing, which is a fiber pigtail, behind you."

Of course, in this economy, ILX is discounting the lasers to well below their retail price. Johnson says ILX could recover about 40 percent of what they paid to make them if they tossed them and take the tax credit. But if it manages to sell some at or below its cost, it gets some cash and will write off the remaining loss.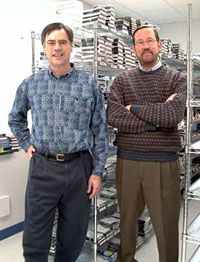 Freeman says Johnson might as well build the WDM laser suit to fit himself. "I cautioned [Larry] to spend his time doing some marketing before he starts building a suit," he says. "We're in a challenging market and I've been told by our sales department that I don't have anything to worry about."

Indeed, Johnson says ILX only sold about 26 lasers from November 1 to November 15. But the slow start prompted him to send an email sales pitch to 5,000 people. He says the sales phones are starting to ring.

"These lasers have wavelengths from 1310 nanometers to 1625 nanometers and powers up to 20 milliwatts," Johnson wrote in his email. "Here's the deal: we are offering these lasers on our Web site at $400 to $700 each in single quantities. Buy 5 or more and we'll give you an additional discount. And if you refer someone who purchases our lasers I'll pay you a five percent referral fee."

Johnson says ILX's laser customers tend to be researchers and universities, not big-volume buyers such as telecom equipment manufacturers. Like so many components makers, ILX experienced astronomical growth and a sharp recession during the past several years.

It filed for an $80 million initial public offering back in September 2000 and withdrew the offering in March 2001. Its headcount has dropped to 65 from the 217 it employed in September 2000.

Now, with so many telecom-related companies going out of business and liquidating their assets, the glut of low-priced components available from online auctions has left companies such as ILX to either write off, sell cheap, or, um... get creative.

"I really do hope I lose, though," says Freeman. "I hope to be wearing the suit."

— Phil Harvey, Senior Editor, Light Reading
www.lightreading.com