VoIP Forges Ahead
Given the unprecedented level of turmoil in 2009 – from the global economic meltdown to telecom vendor trials and tribulations – I felt a significant amount of trepidation while updating
Heavy Reading
's
IP Network Transformation Market Tracker
.
While I had assumed that replacing a tapestry of aging TDM "big iron" Class 5 switches would currently be a relatively low priority among carriers, thankfully the news is a little more buoyant than I had expected. In fact, the latest release of the
IP Network Transformation Market Tracker
shows that tangible progress continues to be made and that globally, 34.3 million VoIP switched lines will be added in 2010.
It's difficult to apply absolute weighting to the various factors that maintain and fortify the fire in the belly of network operators to forge ahead with TDM replacement. These include a lack of TDM vendor focus, the unmitigated threat of all-IP mobile broadband, increased competition from alternative carriers, and the rapidly approaching best-before date of TDM networks.
Overall, one key observation of the tracker is that operators are finally starting to see concrete impacts of IP Multimedia Subsystem (IMS) deployments, with converged carriers using IMS for both fixed and wireless subscriber migration reaping much of the benefit.
Still, as noted in the table below, which shows the percentage of packet switched (VoIP) lines by country, IP transformation remains a highly fragmented story, with significant regional variation. While some countries will have turned the corner on TDM reliance in four years, others will have just begun the journey. Countries that lead the pack in terms of VoIP adoption include France, Netherlands, Japan, Korea, and the U.S.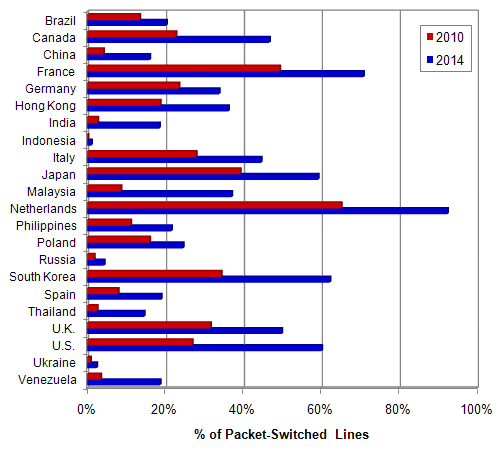 In addition, while not shown in this table, the tracker also breaks down VoIP line deployments by carrier within each country and matched with vendor footprint by technology type (i.e., IMS vs. softswitches) to assess growth potential for infrastructure providers. This is important since even countries that have relatively low VoIP adoption curves in many cases represent a considerable business opportunity based on the number of installed lines. A case in point is China, which has a low VoIP adoption rate but represents a large potential business opportunity, as it has more than 238 million installed TDM lines and is moving ahead with IMS.
Therefore, the challenge for VoIP vendors continues to hinge on their ability to break into countries and customer accounts where VoIP technology and capex commitment remain high – and the market tracker provides an objective view of which vendors are best positioned to execute over the next four years.
With all the talk of "green shoots" and capex stabilization in 2010, hopefully the next release of the tracker in June 2010 will provide additional substantiation that a VoIP recovery is alive and well. But for now, we have to be satisfied with the realization that the industry is still in slow-burn mode, with much to be still accomplished.
— Jim Hodges, Senior Analyst,
Heavy Reading
---
For more information, or a FREE PREVIEW of the "
IP Network Transformation Quarterly Market Tracker
," please contact:
---