Still using that old seven-layer OSI model as the reference architecture for your network?
LOL (as the kids say). That's just so 20th century!
Over the last 12 months, it's become apparent that the world's leading service providers are planning their 21st century buildouts using an entirely new model -- one with only four layers.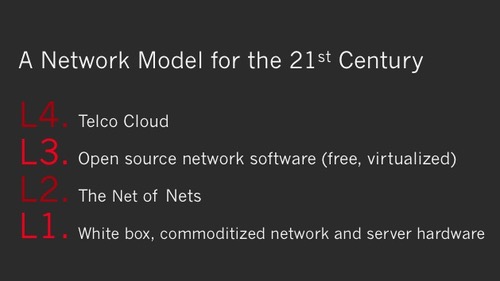 The new four-layer model is as disruptive as the technologies which it describes, and service providers that deploy it correctly stand to save huge amounts in the cost of running their networks, as well as creating a network infrastructure that allows them to reverse the revenue slump that has afflicted their businesses for the last ten years by speedily deploying new high-value services.
Conversely, those who don't get it right are almost certain to be subsumed by more agile competitors and/or the OTT players like Google, Facebook and Netflix.
Layer 1 comprises white box networks built using low-cost, commoditized network and server hardware, designed to support virtualized New IP networks implementing open source code. They're interoperable, heterogeneous, manageable and cheap.
Layer 2, or the Net of Nets, is an emerging trend. Today's communications networks exist as siloed services fiefdoms. Carriers interconnect the networks to deliver basic services like the Internet, but anything more than best effort turns into a painful and expensive mash up. In order for pervasive connectivity, and the profitable digital services of the future to happen, ubiquitously, our industry needs to find ways to seamlessly connect a "net of networks" that offers end-to-end service, together with a consistent customer experience. That's Layer 2, the Net of Nets, and it will be defined as much by business partnerships as technology advances.
Layer 3 is where virtualization lives, and 2016 is the year that the telecom market gets serious about network functions virtualization (NFV) -- putting the pieces into place that will allow them to virtualize the current network and elements, with the goal of automating it and adding "agility" to catch up with the OTT players.
Layer 4, the Telco Cloud, is the most radical level of the model, and is probably going to take another five years for CSPs to build. Among the hurdles that must be overcome before cloudification can take place are re-architecting VNFs, adopting agile approaches, enabling extreme automation, solving vendor disaggregation and some level of virtualization standardization. Despite the fact that the entire industry is now working on this four-layer model, no one has yet put a name to it. Well, now is your chance: Click here to tell us your favorite name.
And, if you are interested in learning more about the new model, I strongly recommend visiting Light Reading's BIG Communications Event in Austin in May. It is devoted to investigating and explaining the four layers of this new model and giving service provider decision makers the prescriptive analysis and advice they need to successfully plan, design and deploy a network fit for 21st century service.
I hope to see you there at BCE as we help define the DNA of the century's new network architecture.