DSL Reports notes that a network architect with Virgin Media Inc. (Nasdaq: VMED) has dropped in at the Digital Spy forum to recruit people to join "Phase 2" of a super-speedy Internet pilot based on pre-Docsis 3.0 channel bonding.

"So, if you're interested, please sign up and we'll be in touch!" the post reads.

But to participate in the trial, you must be a Virgin Media customer in Ashford, Folkestone, or Dover.

And it won't be free. According to a page detailing the pilot for Ashford-based customers, the channel-bonded Internet test service will cost £47 (US $93.88), a £10 (US $19.97) premium over the operator's 20-Mbit/s tier.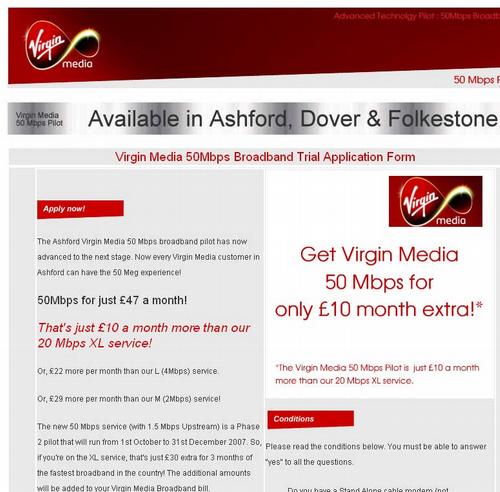 Phase 2 of the pilot, set to run from Oct. 1 to Dec. 31, 2007, will cap the downstream at 50 Mbit/s and offer un-bonded upstream speeds of up to 1.5 Mbit/s.

Customers who test out the service will also require a new modem. Virgin does not disclose the make or model, but the most likely supplier is Arris Group Inc. (Nasdaq: ARRS), which announced a 100-Mbit/s test with NTL (now Virgin Media) in February 2006 using a pre-3.0 "FlexPath" software load on its Cadant C4 cable modem termination system (CMTS) and a Touchstone Wideband modem. (See Arris, NTL Try 100 Mbit/s.)

In April, Arris officials said Docsis 3.0 "will create a market disruption" late this year and into 2008. That trend, the company hopes, will help it push its CMTS market share from about 25 percent today to 33 percent by 2010, and take away business from competitors such as Cisco Systems Inc. (Nasdaq: CSCO), Motorola Inc. (NYSE: MOT), and BigBand Networks Inc. (Nasdaq: BBND). (See Arris Angles for More Market Share .)

Most deployments and trials involving pre-3.0 gear appear to be happening outside the U.S. Jupiter Telecommunications Co. Ltd. (J:COM) of Japan hooked up with Arris for a 160-Mbit/s service earlier this year. (See Japanese MSO Moves 160 Mbit/s.

UPC is reportedly partnering with Cisco on a channel-bonding trial in the Netherlands as the MSO competes with a developing fiber-to-the-premises network operated by CityNet.

In another example, StarHub of Singapore, meanwhile, has launched a pre-3.0 service across the board using modems and CMTSs from Motorola. (See Vyyo, Moto Test 3.0 and Vyyo's Singapore Sling.)

— Jeff Baumgartner, Site Editor, Cable Digital News