US tech retail sales to dip in 2023 in wake of pandemic-fueled surge – forecast
LAS VEGAS – CES 2023 – US technology retail revenues are expected to reach $485 billion in 2023, a figure that's ahead of pre-pandemic levels but a decline following a three-year surge that peaked at a record $512 billion in 2021, projects the Consumer Technology Association (CTA).
CTA, which released its new forecast in tandem with the start of CES 2023, said it expects that a "looming recession" paired with higher inflation will dampen consumer spending in the coming year. However, total revenues will still stay about $50 billion ahead of pre-pandemic levels.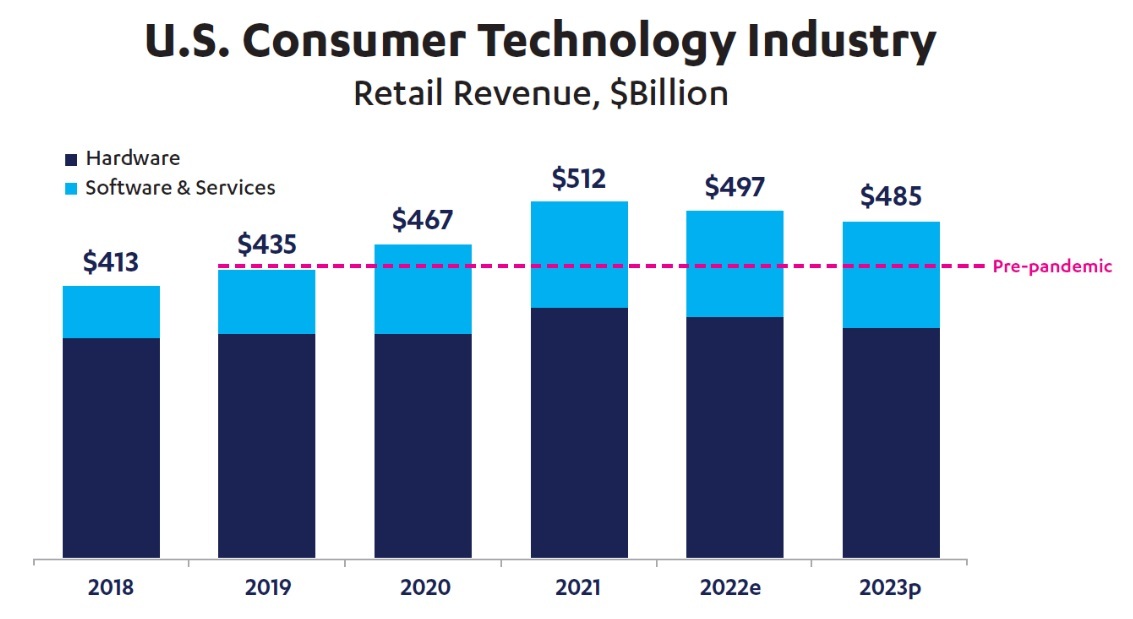 As has been the case in prior years, retail hardware revenues will continue to dominate retail revenues focused on software and services.
However, consumers' adoption of digital services, such as ordering groceries online, continues to rise even after pandemic-related restrictions have eased up. According to the CTA's forecast for 2023, 31 cents of every tech dollar will be attributed to services.
"That's a big percentage and it's only going to increase," Steve Koenig, VP of research at the CTA, predicted here Tuesday afternoon during the organization's annual "Tech Trends to Watch" session. "The key takeaway is that consumers, not just in the US but around the world, are sticking with those [digital services] … More and more, it's about services and the things we're doing with tech and less about the hardware itself."
CE sales momentum is a mixed bag
Amplifying Koenig's point about hardware, CTA has lowered expectations for sales of laptops, LCD TVs, tablets and smartphones and gaming consoles. And while overall TV sales are expected to be flat this year, OLED TVs are projected to add $2.3 billion in 2023 as the industry focuses on premium products, the CTA said.
One bright spot in the hardware domain is portable gaming consoles, projected to generate $1.5 billion in 2023, up 41% versus 2022.
The CTA predicts that consumer spending on technology services, a category that includes gaming, video, audio and apps, will grow for a fifth straight year and generate $151 billion in consumer spending this year.
Among other categories, factory-installed automotive technology revenues are projected to climb 4%, to $15.5 billion in 2023, and health and fitness technology revenues are set to jump 9% to $928 million.
Heading into the show, Koenig told Light Reading that CTA expects more than 100,000 attendees to attend this year's show in Las Vegas. That compares to in-person attendance of 45,000 at CES 2022.
Related posts:

— Jeff Baumgartner, Senior Editor, Light Reading
UPCOMING LIVE EVENTS
June 6-8, 2023, Digital Symposium
June 21, 2023, Digital Symposium
December 6-7, 2023, New York City
All Upcoming Live Events
PARTNER PERSPECTIVES
- content from our sponsors