Sling Freestream is 'another scaled opportunity' for Dish Media
Sling Freestream, the new ad-supported streaming service from Dish Network's Sling TV, is just now getting out into the advertising market. But Dish Media, the company's ad arm, views it as a capable addition to the growing market of FAST (free, ad-supported TV) services, one that can build on its inventory for Dish's other TV products.
"For us, it just means another scaled opportunity," Kevin Arrix, senior VP of Dish Media, explained in an interview with Light Reading. "As it scales up, we're excited to bring more … tier one inventory to the marketplace and bring an added scaled opportunity to advertisers. We've got full pay-TV with Dish now, we've got a vMVPD (virtual multichannel video programming distributor) with Sling TV, and now we've got a FAST service with Sling Freestream."
Sling Freestream launched on February 9 with more than 210 streaming "channels" and over 41,000 on-demand titles. Recent channel additions from Architectural Digest, AsianCrush, Vogue and Glamour have expanded that total to more than 225.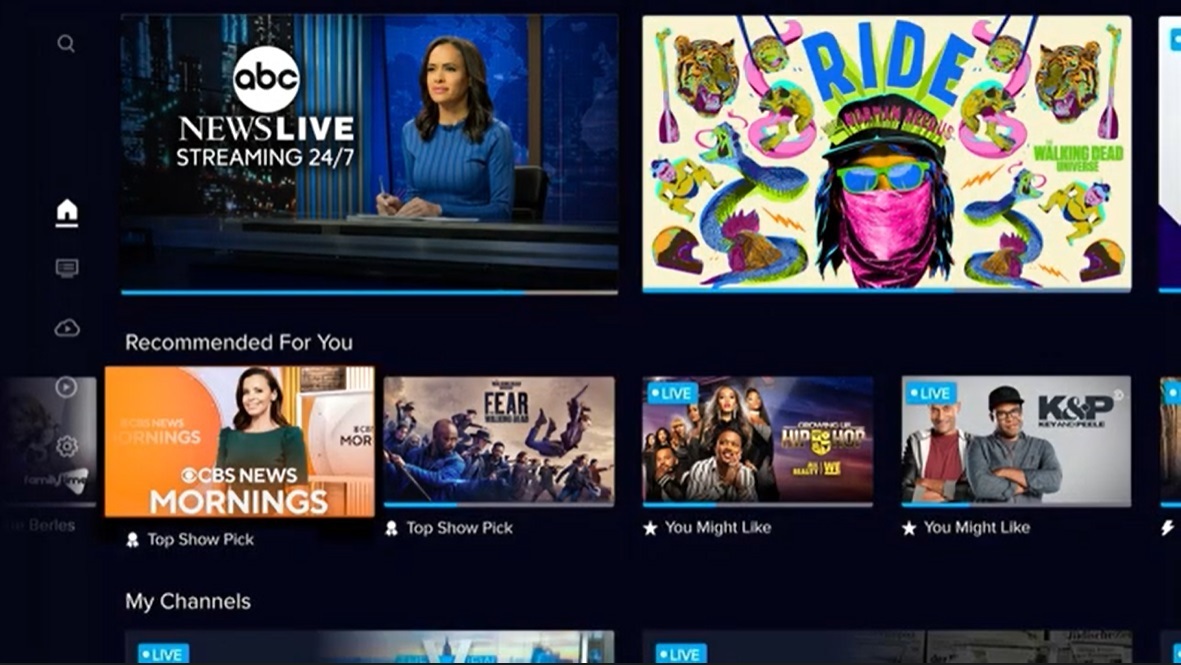 The launch effectively places Sling Freestream into a crowded and competitive FAST market that includes Fox-owned Tubi, Pluto TV (part of Paramount Global), Xumo Play (now part of the Comcast-Charter national streaming joint venture) and TiVo+.
Sling Freestream expands on some initial work at Sling TV that put a smattering of free content in front of a paywall. One aim of the new, bigger offering is to stay engaged with viewers whether they subscribe to Sling TV or perhaps take a break after a TV series or a sports season has run its course.
Covering TV's 'third lane'
"I think one of the unique things about Sling Freestream is that we are addressing what's happening [in the vMVPD market], so we have something for the subscribers to Sling TV when they are not subscribing," Arrix said. "There are consumers that want an always-on pay TV service, there are consumers that want a sometimes-on pay TV service, and there are consumers that want a free TV service."
Arrix added: "We have been squarely in those first two lanes. Now, with the launch of Sling Freestream, I think we're squarely in that third lane."
Sling Freestream also represents a new batch of ad inventory for Dish Media that will scale up as usage grows. The FAST service will sell fewer ad minutes per hour than traditional TV. Arrix didn't spell out that amount but acknowledged it's similar to the ad minutes per hour that other FAST services employ.
And Sling Freestream's ad model will not rely as heavily on data as Dish Media's pay-TV advertising products do.
"That doesn't mean it's not as valuable because it's still tier one content with a tier one ad supply," Arrix said. "It fits in the same category overall as Dish and Sling TV in terms of the quality of the content and the quality of the advertising opportunities, just a little lighter on the data side."
'A converged offering'
Dish Media is able to combine access to ad inventories on Dish and Sling TV, and will be looking to work on deals that also include Sling Freestream inventory.
"It'll definitely be a converged offering once it gets ramped up and going," Arrix said.
Sling Freestream didn't bolt out of the blocks with charter ad partners. In fact, Dish Media has been in business-as-usual mode leading up to the launch.
"The announcement is really like saying, 'Hey, we're in the game'," Arrix said. "And now we're starting to talk to partners about what it means and more importantly about what we're doing to improve the overall streaming experience. By default, I think that that will lead to lots of advertisers getting on board."
Related posts:

— Jeff Baumgartner, Senior Editor, Light Reading
PARTNER PERSPECTIVES
- content from our sponsors