BT's Division X bets on giant touchscreen in a container
Division X lives! BT's own special ops unit, previously reported to have been wiped out on its mission to unearth new sources of revenue growth for the UK telco, surfaced outside headquarters in London this week next to a shipping container with "immersive learning experience," "step into a world of possibilities" and "5G" plastered across one side.
Now subsumed into BT Business, an amalgam of the former Global and Enterprise units, Division X was showcasing the container before today's big launch of "immersive spaces" – which, in fairness, is one of the more interesting products to emerge from the former state-owned monopoly in recent years.
Equipment inside the container can transform walls and even the floor into giant wraparound touchscreens, providing access to a cloud-hosted library of interactive, audio-visual content. Users can hit icons to see menu options and manipulate graphics or text. Reporters were shown a spelling game for schoolkids, David Attenborough-like footage of whales gliding through the deep (press icons and bubbles appear) and a driver's eye view of a forklift truck bombing around a warehouse.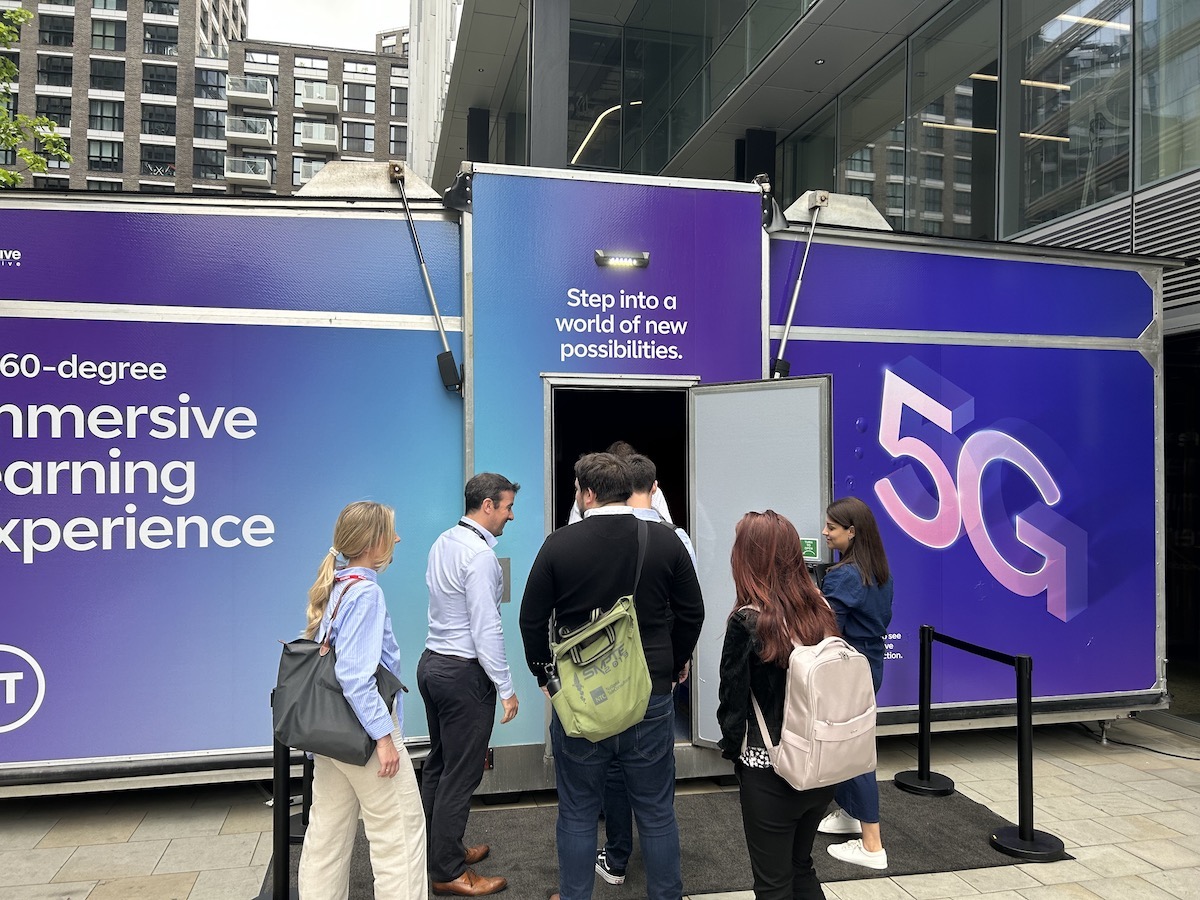 Who would be interested in any of this? Schools, for a start. Several appear to have been involved in trials of the technology, which Alexandra Foster, Division X's new boss (since Marc Overton's recent departure), was eager to present – and not without justification – as a way of livening up the classroom.
On the business side, BT reckons various firms would be keen to use it for training purposes. In trials, the forklift footage was combined with an actual but immobile forklift. Using haptics, trainee drivers seated in a stationary vehicle could operate the on-screen version much as an Xbox gamer with his joystick flies a TV-contained jet.
The product is partly the fruit of activities at Adastral Park, BT's big research-and-development facility in Suffolk. But much of the technology comes from its chief partner Immersive Interactive, a small UK software developer founded in 2012. Container units like the one currently outside BT's headquarters could be driven to venues or company premises, but permanent fixtures are also an option.
No substitute for the metaverse

Unsurprisingly, BT was not prepared to share details of set-up or service costs, saying only that organizations would initially subscribe to a three-year plan. The demand is uncertain. Schools seem to be a primary target, and yet they can barely afford to pay teachers or invest in library books these days. It's highly unlikely any grizzled forklift instructor will regard a session in the container as an adequate substitute for a go on the real thing.
Another concern that arose during BT's press briefing is the challenge from virtual, augmented, extended and any other pseudo reality conceived to meet the same demand. For anyone who has caught the merest whiff of the metaverse, immersive spaces may seem quite low tech. The same experiences can essentially be had on a smartphone or Xbox, albeit in smaller form.
Yet big displays of interactivity could work better than more sophisticated VR/AR/XR in classrooms or for other groups. Ian Robertson, Division X's technical principal, notes the drawbacks of VR headsets that stop people from engaging with fellow pupils or colleagues during an immersive experience. BT promises evolution and innovation, suggesting the service could make greater use of haptics or other interactive technologies in future.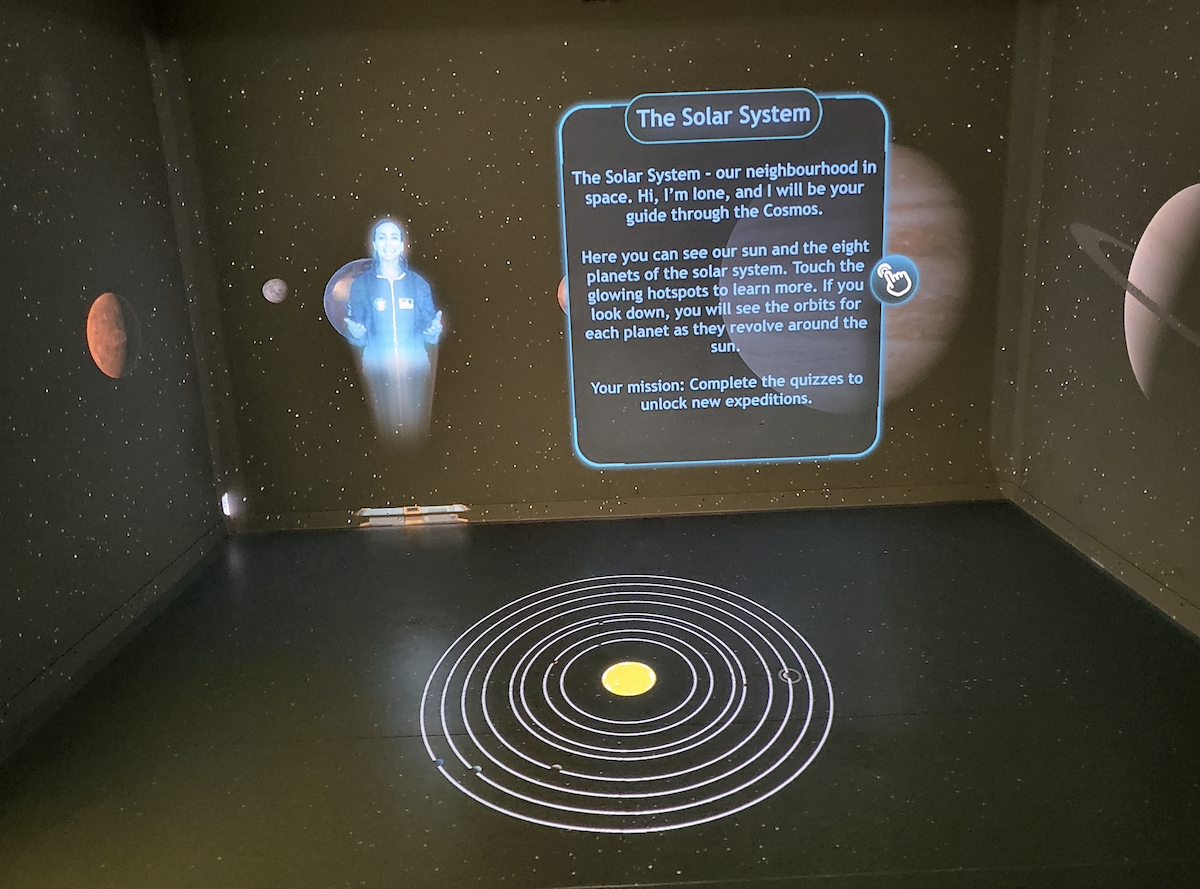 Despite the 5G label on the side of the demo container, immersive spaces can also use fixed-line technology and 4G, although problems are likelier with the older mobile standard and a fixed-line connection could be much harder to set up, depending on the scenario. The availability of 5G standalone – which comes with a new and more advanced core network, besides new radios – is certainly no prerequisite, although it might be for some future applications.
It's easy to be churlish about telco efforts to expand their line-up of product offerings beyond pure connectivity, and this is at least something tangible and with potential. Judging by the giggly delight of jaded hacks (considerably younger and less jaded hacks than your correspondent, it should be noted) invited to participate in a basic spelling challenge, children would love much of the content if equipping schools is feasible.
BT could evidently do with a new and lucrative product. Overall revenues last year dipped 1%, and the Openreach networks division was the only one that managed any growth. CEO Philip Jansen talks more about cutting jobs and other cost-saving measures than he does about opportunities to boost sales. Division X will pray immersive spaces brings something more positive.
Related posts:
— Iain Morris, International Editor, Light Reading
PARTNER PERSPECTIVES
- content from our sponsors