Tracking TiVo's Ups & Downs
It's been a newsworthy few weeks at TiVo, with the DVR pioneer winning in court, losing its CEO and hyping its next-gen Hydra user interface, which has been largely MIA in the US since an appearance at CES in January.
First up, and probably most importantly for TiVo Inc. (Nasdaq: TIVO), the company has won a critical ruling from the U.S. International Trade Commission in connection with a patent infringement lawsuit against Comcast Corp. (Nasdaq: CMCSA, CMCSK) and set-top vendors Arris Group Inc. (Nasdaq: ARRS) and Technicolor (Euronext Paris: TCH; NYSE: TCH).
Why is the win important? Because Comcast is the lone holdout among top-ten US pay-TV providers, all the rest of whom pay licensing fees to TiVo for use of UI-related intellectual property. Comcast has argued that it doesn't need to pay licensing fees because its X1 video service doesn't infringe on TiVo copyright. But the ITC disagrees, and says that two of TiVo's patents related to digital video recording and interactive program guide operations are in play in Comcast's X1 deployment.
TiVo has been careful not to include any licensing revenue from Comcast in its revenue projections. But if the cable company were to settle the lawsuit in the wake of the latest legal decision, that could mean a significant windfall for TiVo.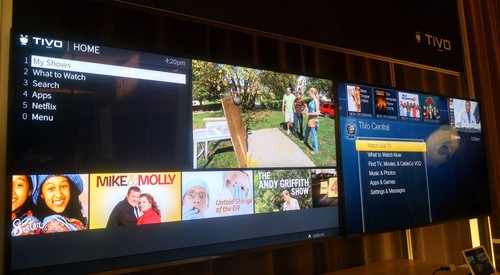 Meanwhile, shortly before the ITC ruling, TiVo issued its own announcement of a different sort. CEO Tom Carson has told the company's Board of Directors that he intends to retire, although he'll stay on in his position until a successor is chosen. It's only been nine months since Rovi merged with TiVo and took the TiVo name, which perhaps makes the timing of Carson's departure a bit tricky. However, TiVo said in its latest earnings report that integration of the two companies is progressing well, and that 65% of an expected $100 million in cost synergies is expected to be realized within the next three months. (See TiVo Tops Earnings Estimates for Q1.)
An important question for TiVo is who might take Carson's place as the company continues its transition away from traditional DVR hardware and toward more software sales. One internal candidate might be COO Pete Thompson, who counts Ericsson AB (Nasdaq: ERIC) and Microsoft Corp. (Nasdaq: MSFT) among previous employers and has significant experience in the video industry. Another candidate could be Dan Moloney, who sits on the boards of TiVo and several other companies, and who previously rose through the ranks of Motorola's connected home business before becoming president of Motorola Mobility.
---
Want to know more about video and TV market trends? Check out our dedicated video services content channel here on Light Reading.
---
Speaking of TiVo's transition to software, the company recently started recruiting beta testers for its latest user interface iteration. Although the website for trial sign-up references a "Project Barbados," Multichannel News confirmed that the testing is for TiVo's Hydra UI. (A code name for a code name?) Hydra first showed up at IBC last year, and was then on display in Las Vegas at CES 2017. A US deployment is expected later this year, although Vodafone España S.A. has already implemented the new guide software abroad. (See New-Look TiVo Smartens Up Its UI and TiVo's Big Consumer News Isn't at CES.)
And last but not least in the TiVo roundup, blogger Dave Zatz is reporting that TiVo is adding to its voice control arsenal, with one source suggesting that a new voice-powered remote control is on the way, and another noting that TiVo is testing out integration with Amazon.com Inc. (Nasdaq: AMZN)'s Alexa platform for voice commands. Zatz also received a tip that TiVo may bring the IFTTT app to its platform. So far, no further details on that front are available.
— Mari Silbey, Senior Editor, Cable/Video, Light Reading
PARTNER PERSPECTIVES
- content from our sponsors